Johnathan Pushkar gets paid to talk about Legos for a living.
Maybe that's not giving him enough credit. The Nashville-based creator of the YouTube channel MiniSuperheroesToday gets paid to research trends in the world of Lego collecting and building. He also films and edits videos about the hobby and manages an online presence with more than 125,000 followers across Instagram, YouTube and TikTok.
Ultimately, he gets to talk about what he loves — and yes, indulge in his childhood hobby — every day.
"You may watch my content and think, 'Oh, this guy is super super positive — how could this guy be so excited about everything?'" Pushkar says — excitedly — beneath a brown mop of hair. "The reason is, look what I get to do for a living!"
Pushkar's collection is staggering. He's got a Star Wars set once owned by Daniel Logan, who portrayed a young Boba Fett in Attack of the Clones. He has a Lego alien that has been to the International Space Station and was given to him by a fan who worked at NASA. At his home he's built an ever-growing city with several minifigure-scale buildings, a beach and an amusement park. He last counted his collection of minifigure characters in 2019 and found that he had more than 3,000.
Pushkar, a Pennsylvania native, says he's always loved Legos but wasn't a hardcore collector when he moved to Nashville in 2014 to study music business at Belmont University. He started posting Lego content on Instagram as a daily creative challenge to stay busy during an unusually light second semester. While his first posts didn't gain much traction, eight years later, he's proud that he still hasn't missed a day of posting on the account.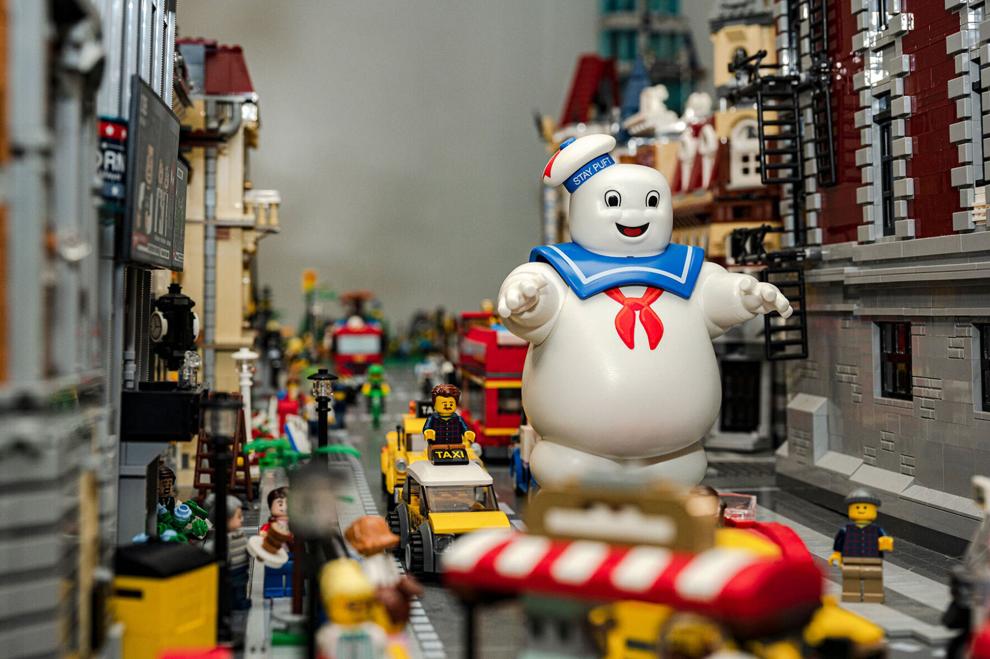 When Marvel released Avengers: Age of Ultron in 2015, comic and superhero fans were left hungry for superhero-related merch and content. Pushkar's growing audience gave him a chance to gain revenue through sponsorships and things like YouTube's Partner Program. But Pushkar — who eventually graduated from Belmont with a PR degree and still works in the field when he's not creating Lego content or making music — says it's not like "money falls from the sky" for creators like him. He spends a lot of time researching trends, searching for brand partnerships and figuring out how to squeeze multiple videos' worth of content out of, say, a $35 Lego set.
"Social media, as far as being an influencer, is a hamster wheel," he says. "As soon as you stop chugging, the wheel stops moving."
The Lego wheel, blocky though it may be, hasn't stopped moving for Pushkar. In 2020, he joined the Lego Ambassador Network and now gets access to sets for review and communicates with the company as a brand ambassador. (He's careful to note that he is not paid for positive reviews, and one of his most popular videos since he joined the program is titled "EARLY REVIEW: $550 LEGO Hulkbuster is a MASSIVE Let Down!") Earlier this year, he visited the company headquarters in Billund, Denmark — "stuff that 9-year-old me would have never believed."
While his viewers come from all ages and walks of life — Lego collecting can be a prohibitively expensive hobby, as you'll see from his channel — Pushkar knows young kids make up a large part of his audience. With that in mind, he says, why wouldn't he strive to be a smiling, positive character in his videos?
"As adulthood has rolled on, it's so important to have a mental space to be able to play," Pushkar says. "While I'm not necessarily flying my [Lego] planes around and making noises and mashing my cars into each other, being able to just not follow the instructions, build whatever, tweak what is there — there's a certain freedom that comes in just being able to go and play like that. It's something I hope I never lose sight of."
From Nextdoor drama and TikTok bans to broadband access and beyond, here's a look at Middle Tennessee's internet footprint