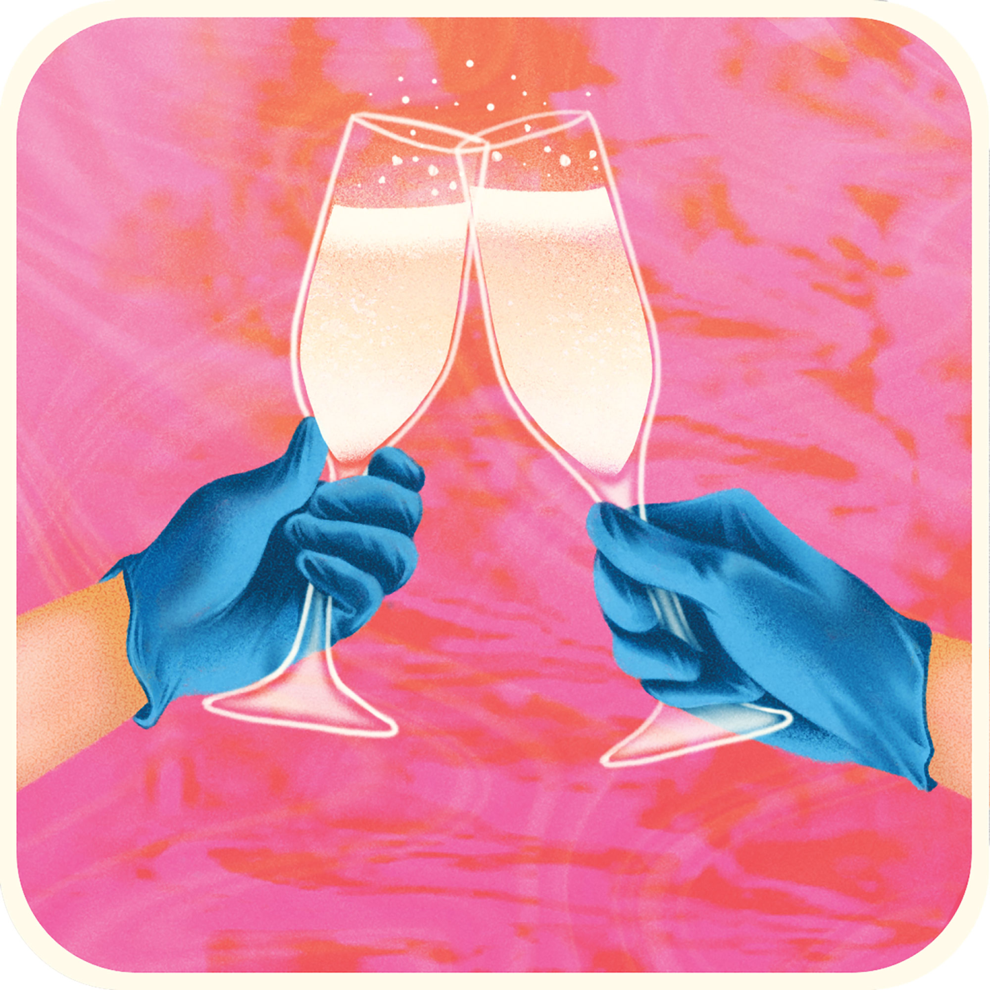 On Sept. 10, 2019, I asked Mary — then my girlfriend of five years — to marry me. Earlier that day, I'd picked up our matching engagement rings from Consider the Wldflwrs, with plans to surprise Mary on our anniversary later that month. Never one for patience, I made it all of six hours before popping the question.
We were watching the season finale of Bachelor in Paradise — the episode in which contestants can propose to the person they've been drunkenly lounging around on the beach with. I thought, "How funny would it be if I whipped out real engagement rings while we watch all these hot idiots make huge mistakes on national television?"
So I did. It wasn't the romantic beachside proposal I'd originally planned, but it was all the better because it suited us as we really are: snuggled on the couch with our dog, decked out in our favorite sweat suits, watching reality TV and laughing our asses off. She said yes. The following day, we shared the news with our friends and family, most of whom were excited and supportive (not to mention teasing me for my impatience).
We'd known we wanted to get married for years, having even bought a home together in 2018, but homophobia was one of several hitches on our journey to getting hitched. It slowed our actual engagement process, as a jeweler I approached to make rings for us refused to serve a same-sex couple — an experience I wrote about for the Scene's 2019 Pride Issue. And it tempered our excitement to plan a ceremony, as a close member of our family did not approve of our engagement. To ensure a wedding we would actually enjoy, we decided to plan for September 2020, which coincides with the anniversary of when we met. That would give us a year to iron out logistics and details in a leisurely manner, and more importantly, it would allow us time to heal from an important family member's refusal to attend.
But it wasn't long before COVID-19 changed our plans yet again. We set wedding planning aside, revisiting the idea in late summer when the thought of a working vaccination began to seem more realistic. We researched possibilities for early summer 2021, hoping that by then we could host a small gathering of close friends and family for a fun, informal and safe ceremony.
A week later, my dad David was diagnosed with metastatic salivary gland cancer. His doctors shied away from giving us survival odds, but my own research told me there was a 60 percent chance he'd still be with us at the end of his treatment. While I was grateful that his cancer was treatable, I didn't — and still don't — like those odds. I wanted my dad, who loves Mary like she's his own daughter, to see us get married. I wanted him to know that I was committing myself to someone who loves me, respects me and cares for me in ways I never dreamed I'd experience. And most of all, I wanted to do that in a way that kept him safe and healthy.
Mary and I put our heads together to devise a COVID-safe ceremony with only close family, but as my dad's condition deteriorated we realized it wouldn't be possible. With few options left — and with the blessing of our loved ones — we decided to tie the knot on our own. We booked an hour at our favorite bar — The Fox Bar & Cocktail Club, just up the road from our house — hired an officiant and a photographer, and scraped together two outfits with the help of express shipping and some very generous friends.
On the afternoon of Friday, Jan. 1, we exchanged vows over cocktails and a homemade playlist with songs by our favorite artists, like Andrew Combs and Jaime Wyatt. Our bartender Ryan was warm and gracious, serving me my first pour of Pappy Van Winkle and offering kind conversation. All throughout the day, we were far from alone. Pre-ceremony, our neighbors came outside to send us off. A group of friends pitched in to pay our tab at The Fox. When we got to our room at the Noelle Hotel for a one-night honeymoon, several other friends and my parents sent Champagne and snacks to our room, with sweet notes of congratulations. And my dad, safe at home in Chattanooga, got to see our photos and celebrate with us on our next visit to my parents' home.
What I'd feared would be a lonely day proved to be anything but. Our community may not have been with us physically, but they made their love known to us, whether through offers of loaned jewelry, requests for photos or simple notes of support and excitement. Like our engagement, our wedding looked nothing like we'd thought it would. Instead, it looked more like us than either of us ever could have dreamed: intimate, playful and with the focus on love, not expensive centerpieces.
We chose Jan. 1 because it marked a new beginning after a difficult year, but also because New Year's Day is traditionally a time to come together with loved ones. We made a pact to spend our future anniversaries with friends and family, starting each year with a scaled-down version of the communal celebration we couldn't have. After all, who needs one party when you have a lifetime?