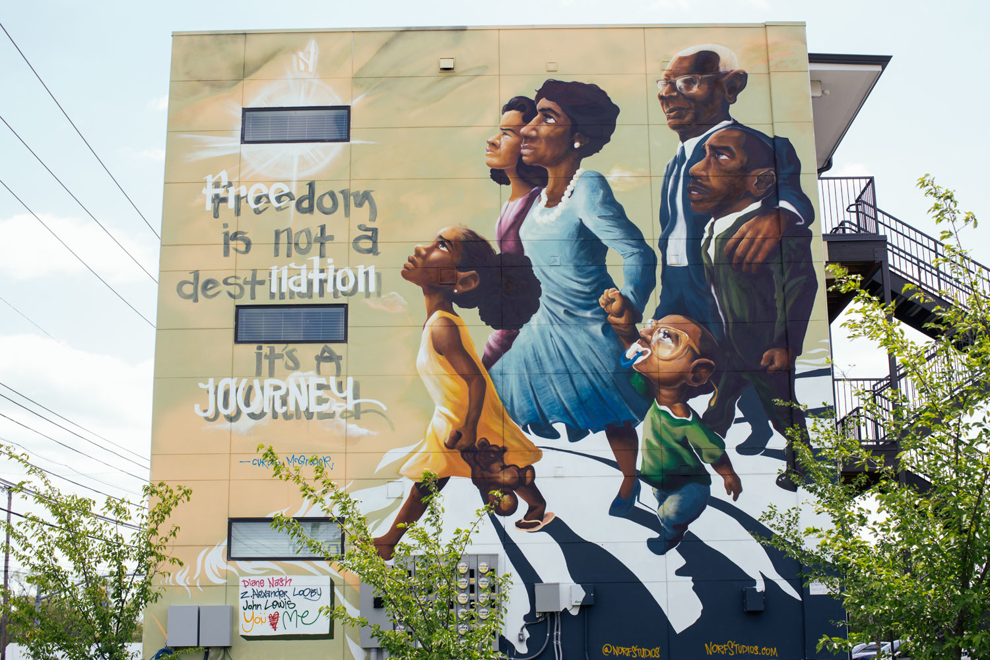 Driving southbound down Clarksville Pike, the mural reveals itself from the top down. First you see their heads, tilted skyward, their eyes focused on a shining star. Even if you don't know the civil rights luminaries by name, their purpose is clear: This is a march.
At the back of the pack, John Lewis and Z. Alexander Looby walk side by side, Looby's arm casually swung over the shoulders of young Lewis, who clenches his fist at his side. Just ahead of them, a toddler-age boy wears She's Gotta Have It-era Spike Lee glasses and sucks a pacifier. Diane Nash, a leader in the Nashville sit-in movement of the 1960s, strides ahead, her eyes narrowed the way they must have been when she led the march to City Hall. It was there, after Looby's home was bombed in 1961, that she asked Mayor Ben West to desegregate the lunch counters — and he finally agreed. Nash is well-known in the city's civil rights canon, but the woman who walks beside her is not. Curlie McGruder was a mama-bear figure to the young people involved in the Nashville Student Movement. She provided guidance, advocated for them at their colleges, and raised bail money when they were arrested. During the Freedom Rides, the Nashville team used her house as a home base. But it's a little girl who leads the pack. She wears a bright-yellow dress and holds a teddy bear by its arm. Like everyone in the mural, she has a look of determination.
At 1,000 square feet, "Family Matters" is the largest public artwork that Norf Art Collective has executed. The group of artists — based in historically black North Nashville — painted it on a three-story affordable housing apartment building owned by Urban Housing Solutions; the mural was sponsored by Google Fiber. In a city where affordable space is becoming scarce and longtime residents are scrambling to avoid displacement, North Nashville artists are strategically creating cultural spaces that matter.
Norf member Joe Love (aka doughjoe) says the little girl is inspired by local activist Rasheedat Fetuga, who founded Gideon's Army, a group that, among other things, put out a comprehensive report about racial bias in Metro police traffic stops in 2016. For doughjoe and others, the movement isn't over. There's much more work to be done. The words adorning the mural are McGruder's: "Freedom is not a destination. It's a journey." Doughjoe learned about the quote from Kwame Lillard, another movement leader who remains a prominent figure in the North Nashville community. "He gave us those words," says doughjoe, "and it just resonated, because we feel it so much that we are not free."
"Family Matters" is more than a piece of public art. It's a monument to the people both at the forefront and in the background of Nashville's student-led civil rights movement, and it's a hopeful articulation of a future where black Nashvillians continue on that journey.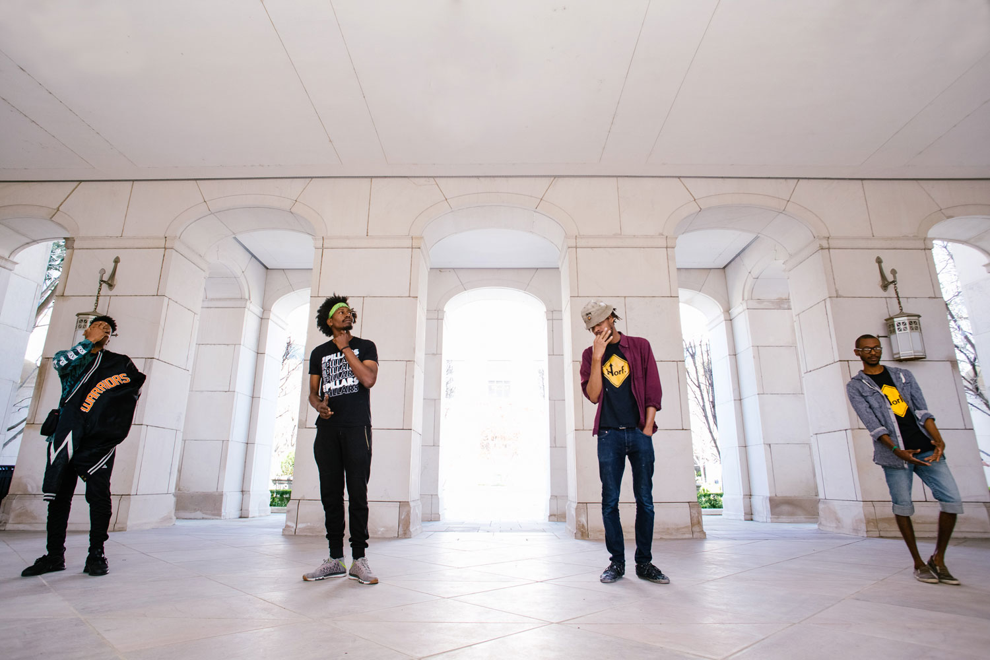 Norf Art Collective formed out of a 2015 event called Norf Wall Fest. Headed by Jay Jenkins (aka WOKE3), the event brought together artists with a connection to the neighborhood, who transformed a courtyard beneath Jubilee Bridge into an outdoor gallery. With permission from the owner of the property, WOKE3 applied for a micro-funding award from the Metro Arts Commission's THRIVE program to commission artists for the courtyard and around the neighborhood. WOKE3's contribution is on Buchanan Street and features a woman in profile with her natural hair spooling behind her like a banner of black pride.

Norf Wall Fest brought together new talent like ArJae Thompson, Keep3 and doughjoe. The group of young people planned another event the following spring that galvanized their energy and named their collective. After that, they started being commissioned for murals, like the ones at Green Fleet Bikes, Slim and Husky's, and the Elks Lodge on Jefferson Street. They also began leading workshops through the McGruder Social Practice Artist Residency at the McGruder Family Resource Center. These ventures became a way for the artists to express their ideas while they transformed the face of their neighborhood. In fall 2016, Norf Art Collective worked with other artists and small businesses to launch the Jefferson Street Art Crawl on the last Saturday of every month.
WOKE3, doughjoe, Keep3 and ArJae form the core of Norf, but there's no list of members or rules for collaboration.
"We are ambiguous," says doughjoe. "We are legion." The rest of the group laughs. Their work is full of pride, joy and movement. The Jefferson Street Art Crawl feels like it easily could be the most welcoming art event in the city. But conversations with Norf are sometimes somber, as when the topic turns to gentrification and displacement. They walk a fine line that's demonstrated in their artistic practice, their public artwork meeting the aspirations of what's called creative placemaking — it improves livability, raises the aesthetic value of the area and holds a place for artists to learn and grow. But they're also using art to stake a claim in their changing neighborhood. It is a tool of survival.
To start to understand the neighborhood and its history, it's helpful to look to the mecca of black cultural life in Nashville: Fisk University. 
When you enter Fisk's Carl Van Vechten Gallery, you're greeted by student volunteers who are in the Gallery Ambassador Program founded by Fisk two years ago. The program gives students experience in curation, art conservation and gallery maintenance. The art market is unpredictable and often gives privilege to artists with the right connections and social capital — and a look at the rosters of galleries from Nashville to New York shows that those artists are disproportionately white. The Gallery Ambassador Program has the potential to form a pipeline for black arts professionals who will have the experience to sit on the boards of arts organizations and run galleries.
Jamaal Sheats is the director of Fisk University Galleries and a talented artist and curator in his own right — he was one of eight artists commissioned to create work for the Music City Center, and he's exhibited his paintings and sculpture internationally. His sunny office sits opposite the student ambassadors' desk, and he's eager to talk about Fisk's place in the arts landscape of Nashville.
"People say, 'What's the role of Fisk University Galleries, or Fisk?' " says Sheats. "It's an academic institution. So we're supposed to facilitate the learning process. … And how do artists use Fisk in the community? They use it as a resource. There's also been a strong avenue of mentorship."
Sheats studied under well-known Nashville artists Michael McBride and James Threalkill. His mentor was Greg Ridley, whose dramatic metal repoussé series, A Story of Nashville, lines the walls of the Grand Reading Room in the Nashville Public Library downtown. Ridley was mentored by the modernist Aaron Douglas, who created the visual aesthetic of the Harlem Renaissance that emphasized Pan-Africanism and African-American narratives. Douglas first arrived at Fisk in 1930 to develop a cycle of murals in the Cravath Library — and returned a few years later to teach. The murals reveal what can be seen as an illustration of what Douglas and his contemporaries believed black Americans needed: the formation of a collective history drawn from various African cultures. His style was influenced by international modernism —  monochromatic palettes, sharp lines, bold design — but also by African pictograms, masks and modern city life. Echoes of his style and themes are found in the work of contemporary giants like Kara Walker and Kerry James Marshall.
Growing up in Nashville in the '80s and '90s, Sheats didn't have to travel far to find artwork that resonated with him. Nate Harris, the owner of Jefferson Street's Woodcuts Gallery and Framing, has provided opportunities to meet artists and engage with their work for the past 30 years. "When Nate started," Sheats says, "there was no Fifth Avenue of the Arts. … There was no Frist Center. ... And for me, growing up in Nashville, if I wanted to see artwork of people that I could relate to, I had to go to Woodcuts."
The construction of I-40 displaced North Nashville residents and forced black-owned businesses along the Jefferson Street corridor to shutter. By the the time I-440 was built in 1982, the neighborhood was a shell of its former splendor. Harris grew up in the neighborhood — his family lost its home to I-440 and had to move east of the river when he was in high school — but he returned to North Nashville to attend TSU. He worked as an engineering technician, and in his spare time, he took up woodworking, framing art prints and originals for friends. In 1987, he bought a small, dilapidated Jefferson Street building from Fisk. He worked nights and weekends to restore the building. Even though people in the neighborhood knew him — or perhaps because they knew him — they thought he was crazy.
Says Harris: "People would come to see me working [on the building], and they would ask me, 'What are you going to put here?' And I'd say, 'A frame shop.' And they'd say, 'Man, a frame shop! Nobody is going to buy enough picture frames for you to make a living here!' Because it was sort of a nontraditional business for the area. But I had done my research. I had gone to trade shows. I had studied up on framing, and I knew that there was a market."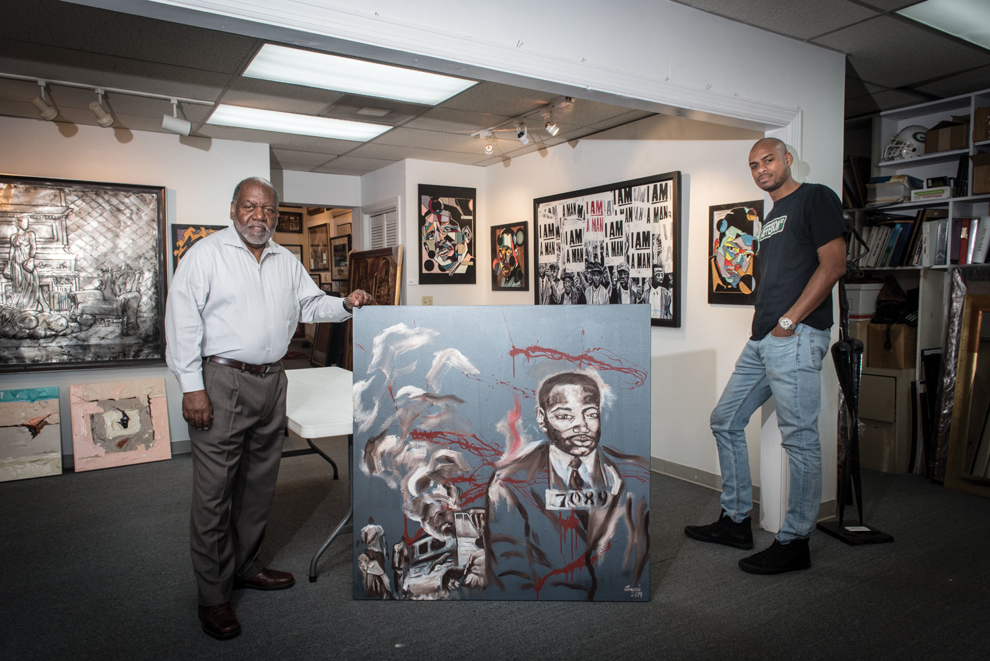 He knew from the beginning that he had to make framing and buying artwork affordable to the people who lived in the neighborhood. It's not that art was foreign to his clientele — African-American art was on the upswing of mainstream culture, Harris says. People would see it on The Cosby Show and know where to find it in Nashville. He started selling small prints to hook customers, and he'd grow his selection along with their interests.
"And over the years," Harris says, "many of the artists I carried visited the gallery, and people would come in, and the artist would be right there. It sort of developed their palate for art, developed their desire to have originals and be collectors."
The gallery doesn't spread out the work — or let it breathe, as it's said. There's simply too much to display, and with the help of artist and framer Omari Booker, who acts as curator, there's always something new to check out. The staff is welcoming and friendly, and Harris, now 68 with buzzed gray hair and a short beard, strikes a balance between dignified businessman and endearing uncle.
Woodcuts Gallery and Framing has long served another function: providing a space for black Nashville artists to sell their work, often for the first time. "Every artist knows — especially of the generation that was making work at that time — they know Nate," says Sheats, who had his second solo show at Woodcuts. "He's been a champion for the community for a long time, and if I'm trying to get a show together and I got to get stuff framed up, Nate would have that stuff knocked out."
Harris' first employees were Fisk students, and he still employs young artists who are trying to make a mark. Booker is one of them and a founder of the Jefferson Street Art Crawl, though he tosses the credit Harris' way — and Harris volleys it right back. With three crawls already around town –– in downtown, Wedgewood-Houston and on the East Side –– it might be easy to wonder if a fourth is really needed. But in fact, the North Nashville crawl developed out of a need for a haven.
"I'd run into my own hurdles with just being able to show work in spaces without having to edit it, basically," Booker says. But there's editing, which artists must do, and then there's something else that many black artists talk about — making the work palatable to a white audience. "Our idea was if we can create a space where we can showcase our work and the other artists coming out of the [historically black] universities. ... If you can create your space, you can sort of say what you want to say. If you're going to another space, then it so often has to be diluted a little bit to fit the clientele of another business."
Doughjoe's criticism is more pointed. "A lot of times we only get invited to be a part of the other art crawls during the month of February for Black History Month, as if we're not doing these things all the time," he says. Other times, black artists are invited to participate in a themed show around a "black issue," or a gallery might lend its space for a night or two without integrating the work into their regular programming or promotion. "You can try and knock on the door to be let in," doughjoe says, "but when you don't see any purpose of the gatekeepers being in the way … it's kind of like, Nashville needs this. So why don't they have it? Let's create it."
So they started talking logistics. "We needed a hub," Booker says. "We needed a place where we could have those shows that could bring a bunch of people that we could then disperse to all the other spots."
Woodcuts was the natural choice, but it's not the only local business that supports the crawl by staying open late. Garden Brunch Cafe was a founding member, and a little spot named One Drop Ink became another hub.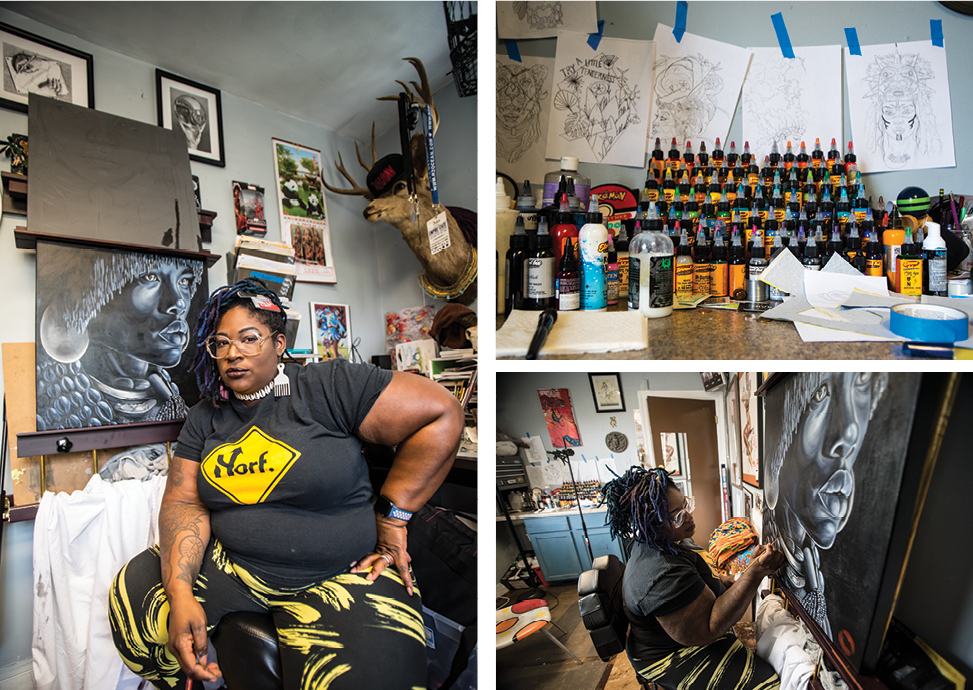 According to doughjoe, Elisheba Israel Mrozik is black history. She moved to Nashville in 2007 with a degree from Memphis College of Art. Back then she didn't have a single tattoo. She started bringing her fine arts portfolio around to galleries but was turned away. Then she saw a tattoo on Facebook that looked like a painting — like something she would see on a gallery wall. That got her thinking: What if she could make art that wasn't confined to a white-walled gallery where she wasn't accepted anyway?
To become a licensed tattoo artist, Mrozik needed an apprenticeship. Again she was turned away — she couldn't find a single black licensed tattoo artist in Middle Tennessee, and she didn't want to cut corners and do it on the fly. Eventually, she found a woman on Craigslist who was willing to teach her, and she got licensed. She used the money from her tax return to open One Drop Ink Tattoo Parlor in 2011 in a one room studio above the NAACP on Jefferson Street. Seven years later, she has expanded to a bigger shop two blocks from Jefferson Street on Ed Temple Boulevard. It has multiple rooms that are decked out with Afrocentric paintings — no framed sheets of tattoo samples, because her team only does custom work. Her studio bursts with color and displays her passions (anime posters, a portrait of Tupac), personality (a Totoro plushie) and love of weird, random shit (a taxidermy deer head wearing a Lauryn Hill tour hat). She wears big granny glasses, and her purple and teal dreads peek out of a crocheted wool hat with enamel pins featuring likenesses of Maxine Waters, Shirley Chisholm and Angela Davis.
Opening on Jefferson Street was important to Mrozik because there wasn't yet a tattoo shop that served the community. "A lot of black people don't get tattoos from shops because they've been told no so much, and they don't understand the value of a piece of body art." Many artists, she explains, simply don't know how to tattoo on dark skin. Mrozik says it takes a different approach that some artists aren't willing to learn, so they turn black customers away. 
"You just have to think about it like you're working on a sepia-toned paper and plan accordingly," she says. "You can't use every single color. You don't have to dig deep. … You can't do as much tiny detail in one space. … You just have to open up your design a bit more, but you can still do a lot."
One Drop Ink is one of the Jefferson Street Art Crawl's founding businesses, and Mrozik has been at the table since the beginning. Many white gallerists in Nashville say they simply can't find people of color making art in the city to line their walls. It's a touchy subject, not only in Nashville but around the country, as artists ask questions about exposure and representation. With the Jefferson Street Art Crawl, white galleries now have a place to look.
"We really just wanted a place where we could get into galleries, because we weren't getting into other galleries," says Mrozik. "The same with the tattoo shop. We had to make our own space because space wasn't available. … It was being picked and chosen by people who didn't want that kind of work. A lot of times, black art, especially ours, has a political statement." Even if there isn't an overt political message, there's one baked into it — like when she displays symbols and imagery of black pride. "Not to beat a dead horse," Mrozik says, "but the horse ain't dead."
During the February art crawl, One Drop Ink collaborated with Norf to put up tents in the parking lot for a show inspired by Black Panther, the film that sparked mainstream conversations about they way people of color are represented in the arts. It's an unapologetic anthem of black pride and African heritage, and Mrozik is into it. "There are thousands of cultures on that continent, and we don't know which one we come from, so we try to pick and choose from all of them to make our collective consciousness in trying to figure out who we are."
One of Mrozik's paintings features a woman who's wearing a gold headdress and is reminiscent of Black Panther's all-women special forces, the Dora Milaje. The painting appeared in the Black Panther-inspired exhibition Heroes, Legends and Queens on Feb. 24 alongside everything from fan art to contemporary stuff to a throne and spear for snapping pictures. The show drew people of all ages, including many families. Kids sat on the throne wearing Black Panther costumes.
Mrozik wants to put to rest the myth that black communities want to be siloed. The Jefferson Street Art Crawl isn't just for North Nashvillians, or just for black people. "We want everybody to come," she says. "That's the thing I don't think people understand. We don't want people to leave us alone. Or 'You have your thing.' We want the exact same thing you want. Equal opportunity to do what we're doing in the way that we do it. Nobody's trying to take over."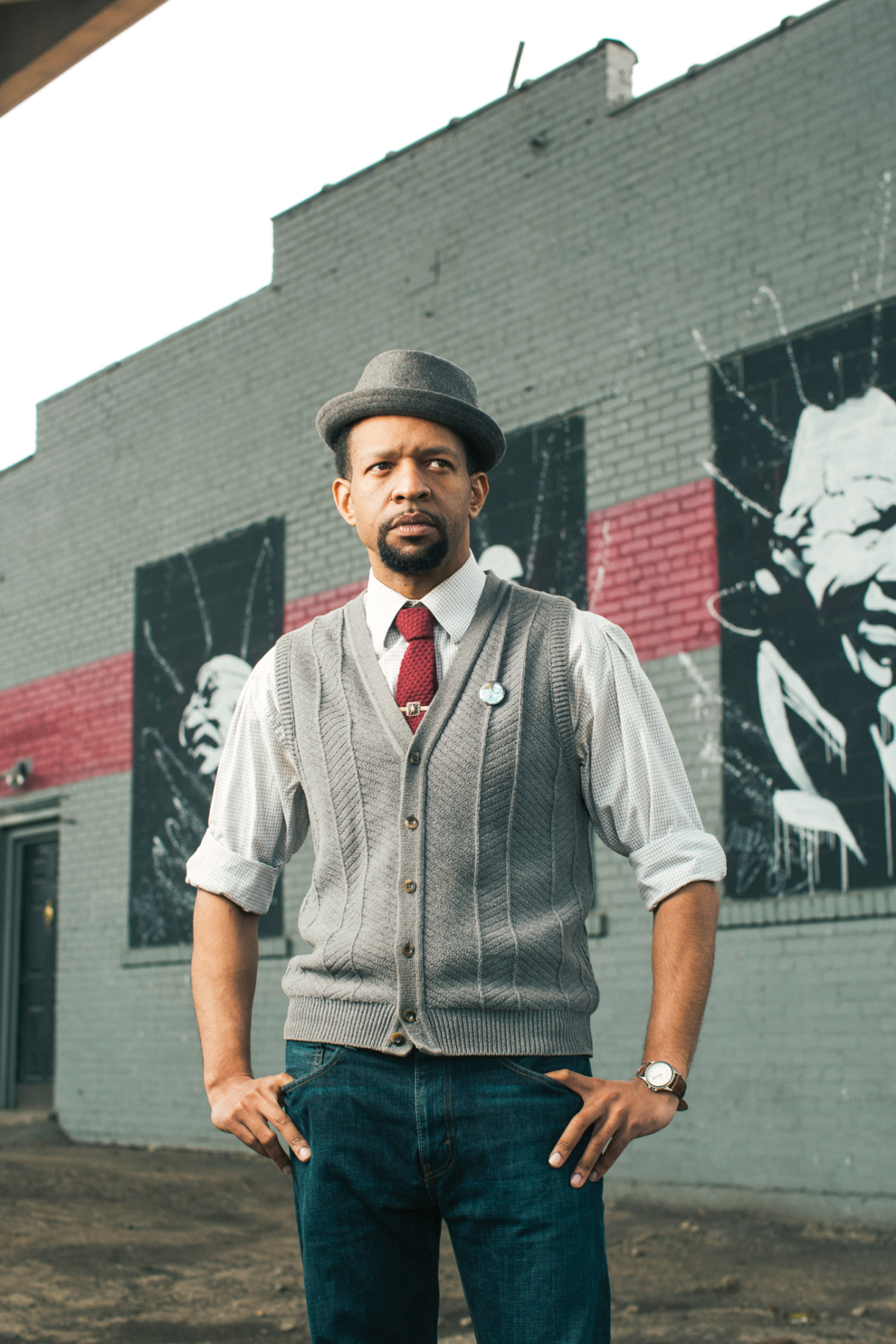 But as more people move into the North Nashville community, it puts these very arts institutions at risk. No one knows that better than Thaxton Waters, the founder of the defunct Art History Class Lifestyle Lounge and Gallery, which opened in 2007 in a rented storefront on Jefferson Street. Waters is an artist and a historian of both historically black colleges and universities and Nashville itself. For events, he often looks like he stepped straight out of the Harlem Renaissance, dressed in a tweed suit, suspenders and a newsboy-style cap. With Art History Class, Waters created something truly special — a parlor like those found in the time of the Harlem Renaissance. But he's quick to correct you if you refer to it that way — small, speakeasy-style centers of black cultural life also existed in Nashville in the 1920s, not just in Harlem. Waters populated the lounge with memorabilia from the surrounding universities, antique furniture and art made by locals. He held panel discussions about issues affecting the community, lively lectures on black history, film screenings, poetry ciphers, concerts, mentoring sessions with kids from the neighborhood, chess tournaments and more. Each month after the first Saturday art crawl downtown, Waters hosted his popular Wine and Whiskey Social, which sometimes went on until 2 a.m. But the building was crumbling. Rainwater was coming through in seven places. Waters couldn't keep up with the cost of maintaining the space, and the landlord wouldn't put up the money to do so. The venue closed in August 2016 with a celebration of Waters' 35th birthday.
It's difficult to put a value on Art History Class. Waters saw a hole in the community, and he filled it. In doing so, he also attracted outside interest, and artists like Waters and his colleague Joseph Bazelais are now asked to be at the table with people who are looking to grow the area. "I was just trying to read cool stuff in history books and tell black people about it, you know what I'm saying?" Waters says. "I just see how important that is. With this whole conversation about gentrification, the culture, the arts … I think sometimes, we're approached and we're in and we want to do what we do, but we're doing it with great apprehension because we know that our neighborhood is up for grabs right now."
In some cases, when developers come to the black arts community in Nashville, some see it as pandering. Bazelais, a Fisk graduate and another founder of the Jefferson Street Art Crawl, echoes the sentiment. "The arts community is one that developers and individuals that are proponents of gentrification — whether directly or indirectly — they come to a lot of our great artists and our great visionaries constantly seeking ideas," says Bazelais. "Almost like if they can utilize our name and utilize our image to warrant buy-in from that community, to add some some sugar to the medicine — but still to mask the overall impact of what they're doing, which is displacement of so many communities."
Now Waters is getting priced out of the area and looking for a place in Clarksville to live. But looking at it from a historical perspective — "climbing a summit and looking down" — can be useful. Black Americans, Waters says, have never been able to put down roots. Historically speaking, communities have been at the mercy of external factors: slavery, industrialization, white flight, suburbanism, urban renewal. "We never really get a foothold on our life and have agency over our own destiny," says Waters. "It's 400 years of reacting."
Despite these odds, the Jefferson Street Art Crawl is motivated by this need: to stake a claim in the neighborhood creatively and collectively. Bazelais attributes the momentum to Waters. "I have to honor and appreciate Thaxton. Coming up as an apprentice — the first classmate at Art History Class, as I call myself — the art crawl itself is very much a child of Art History. For millennials coming out in the past 10 years on Jefferson Street, [Art History Class was] the one institution that was continually delivering artistically passionate events on a monthly basis like the Wine and Whiskey Socials. There was already a brewing, a drive, and people's palates were whetted for like, 'Oh, we want this Jefferson Street artistic experience.' And so we were able to come on the tail end of that."
Waters still hosts pop-up events during some art crawls, and next on the docket is an event centering on real-life Wakandas — black communities that have been left alone for 50 years that now have to learn to diplomatically work with outsiders to survive. Part of that is moving past the survival mode that Waters describes as a historical stumbling block. That's why the Jefferson Street crawl matters. The artists have created a cultural space that is cathartic — the crawl's hashtag is #MagicOnJeffersonStreet — and Nate Harris feels optimistic.
"It's kind of getting the atmosphere that it once had when Jefferson Street was vibrant, and you could walk up and down the street to different businesses," says Harris, remembering Jefferson Street as a thriving corridor of black commerce and culture. He smiles.
"I notice during art crawl, some people will walk. Some people will ride bicycles. Some will ride the shuttle, and you're starting to get that feeling again."