In late April, a group of women gathered around a fire in an East Nashville backyard. They passed around chocolate cupcakes, wine and Topo Chico, and toasted Tamara Reynolds, who sat gleefully in the middle of the group.
They were there to celebrate Reynolds' Guggenheim Award — it's one of the most prestigious honors in art that is given to only a handful of photographers each year (and includes a cash prize of approximately $50,000). The women discussed what Reynolds would do with the award, and acknowledged how hard she'd worked to get it. And then she asked for advice, because this unofficial collective of women photographers — which also includes Kristine Potter, Stacy Kranitz, Christine Rogers, Vesna Pavlović, Robin Paris, Rachel Boillot, Beth Trabue Gorham and Julia Steele — has an unusual amount of experience winning awards. In the past three years, two of the group's other members have won a Guggenheim. There have also been two Fulbright fellowships, and more than a handful of other prestigious awards and recognitions.  
Potter and Kranitz — who won Guggenheim Awards in 2019 and 2020, respectively — joked that they needed to make some kind of crown to pass around, and maybe even create a ceremony. They could call themselves something over-the-top, like The Society of Tennessee Guggenheim Award Winners. That actually may be the closest they'll come to settling on a name for the informal group of photographers — all of them women, all of them exceptional. And although they've considered calling themselves a "coven," the fact that they're all women is pure coincidence.
"It's really just a fluke," says Kranitz, "but it does create a different atmosphere. There's a sweetness to the group — it's very supportive. There's a generosity that feels very feminine."
For the past year, the collective's meetings have largely been virtual, but there have been occasions that warranted in-person gatherings. In January, they celebrated Rogers, a two-time Fulbright Award winner who was granted tenure at Belmont. Before that, they gathered to celebrate Potter's inclusion in But Still, It Turns, a group show that's on view through Aug. 15 at the International Center of Photography in New York. They got together once again to celebrate the publication of Pavlović's book Stagecraft, a sumptuous capsule of four major photographic series. As Kranitz says, these are well-awarded women.
Before the pandemic pushed their meetings online, the group usually met at Reynolds' home, a West Meade ranch with a back porch that overlooks an expansive yard. The photographers would sit around a table in a kitchen with beechwood-panel walls, unchanged since Reynolds bought the home in 1998. A chandelier in the room made from antlers hints at the multitude of deer that regularly graze through the yard, practically sniffing at her door. "They ruin the trees in the rutting season, rubbing their velvet antlers against everything," Reynolds says with the casualness of someone accustomed to coexisting with wildlife.
Reynolds' photography studio is in the dining room. She's working on the publication of The Drake, a photo series documenting a one-block stretch that includes the historic Nashville motel. There are test prints pinned across the wall — a woman holding onto a chain-link fence smoking a cigarette; the front window of a bar called Your Place Cafe, which was converted from a Waffle House; a woman crouching in front of a pay phone, her shirt falling over her thin shoulders.
"It's very direct," Reynolds says of The Drake. "There's not a hidden message of any sort — it's purely personal."
---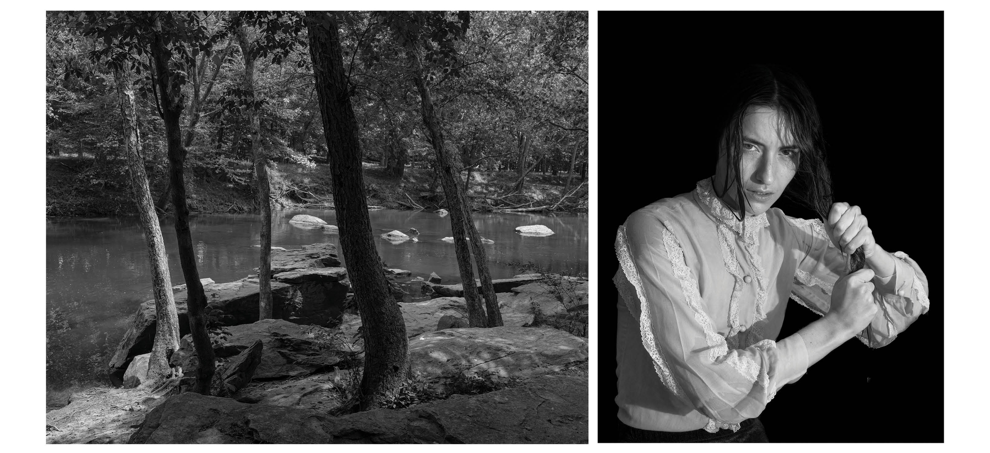 The group started meeting in 2018, when Kristine Potter moved to Nashville from New York, where she'd lived since finishing graduate school at Yale about 13 years earlier.
Potter's photography examines the relationship between landscape and violence — her series Manifest explores the consequences of Manifest Destiny.
"It's about what became of that enormous white-male energy," she says. "It's basically portraits of men and landscapes — but not typical of most stories we hear about the West."
Her most recent body of work, Dark Waters, has similarly macabre undertones. The black-and-white series includes studio portraits of women dressed in wet clothing, and landscape photographs of bodies of water. The connection between them is ambiguous, but undeniably eerie.
"The bodies of water that have violent names," she explains, "like Bloody River, Murder Creek, Dead Man's Pond. I see them as holding a particular energy in the landscape, and I'm also thinking about the storytelling that happens in the periphery of that energy."
Potter speaks about her hesitancy to leave New York City with candor and self-awareness. She sees the irony in the fact that some of the highest points of her career arrived after she left the city, seen by many as the center of the art world — she won a Guggenheim Award (on her first try, as it happens) in 2019, and in 2020 she won the international photography award Grand Prix Images Vevey. 
"When I left New York," Potter says, "I was kind of afraid of leaving the art world behind. I had my community in New York, and my friends are everything to me. And when I left that, I didn't want to lose those conversations.
"But of course," she continues, "there are smart, interesting people everywhere."
Kranitz notes that the photo group lacks the hyper-competitive element that tends to infiltrate artist communities in bigger cities.
"We've all been doing this for long enough to know that [being competitive] does not work," Kranitz says. "That's why I don't live in New York or L.A. — I didn't want to be part of that constant clawing, ladder-climbing struggle. But that's what's so crazy — we're all climbing the ladder anyway."
Kranitz introduces herself as a sixth-generation Southern Jew. Her family emigrated to Kentucky from Germany in the 1800s, and eventually started Kuhn's Department Store, which merged with Walmart in 1981. Her unusual but deep-seated Southern ancestry informs much of her work, which documents various cultures around the region — particularly Appalachia.
"I was making work in Appalachia," she says, "and one of the concepts in that series is about how my fantasy of a place collides with the actual reality of my experience of a place. I'm sure that's true for everyone — we read books, we watch movies. But I was interested in objectivity — and there is no objectivity, because we all have our own conceptions of these places, in particular in Appalachia, where there is a lot of writing done about it, a lot of films, a whole genre of Appalachian horror films. So for me, what I knew of Appalachia was from Christy."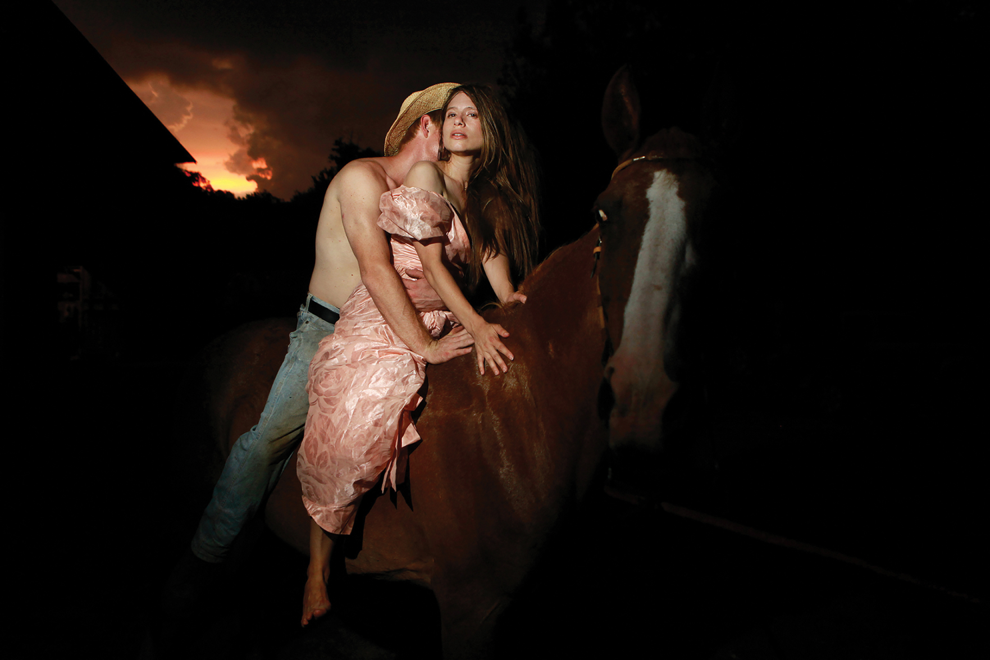 Christy is a 1967 historical novel about a missionary teacher that became a CBS series that aired from 1994 to 1995, and starred Kellie Martin as the title character. It was canceled after 20 episodes, but remained beloved among its fan base, particularly Tennesseeans. That show was the partial inspiration for her series of self-portraits.
"I'm a contemporary version of Christy," Kranitz says. She goes on to acknowledge the complicated and sometimes problematic nature of documentary photography. "Christy is a missionary, and she is asserting a right and wrong onto a group of people — because that's what the missionaries did, under the guise of capitalism and morality. And I am — as a photographer, with the history of photojournalism in the region — I'm part of that legacy."
Kranitz began work on this series of self-portraits in the late Aughts. She's petite with a sharp jaw, and tends to pile her hair on her head in a style that's already a rough approximation of Christy's Gibson Girl hairstyle. Kranitz bought dresses from vintage stores in the towns where she was working, and making the transition to a storybook character was more of an organic process than you might expect. 
Still, when it came time to publish her work in the photo book she'd been working on for more than a decade, Kranitz wasn't sure if the self-portraits belonged. She asked the group for help.
"Half the group thought they should be in the book, and half of them thought I needed to take them out — it was actually kind of heated," she says. "I mean, we don't normally have opposing views like that. But I realized that what I want is that contention. So I had to keep them in. Because I don't mind if they make people uncomfortable — that's working, for me. If people are judging me, that's kind of the point of it. My arrogance is the point of it.
"The conversation about including this was so interesting to me. I was talking to people one on one, but I needed the group. Not just to tell me their feedback, but to interact with each other and have the discussion."
Kranitz plans to include a mention of the group in her book's acknowledgements. 
"You don't feel put-down," she says of the group's critiques. "You're uplifted and filled with possibility. You walk away thinking of the way to move forward."
---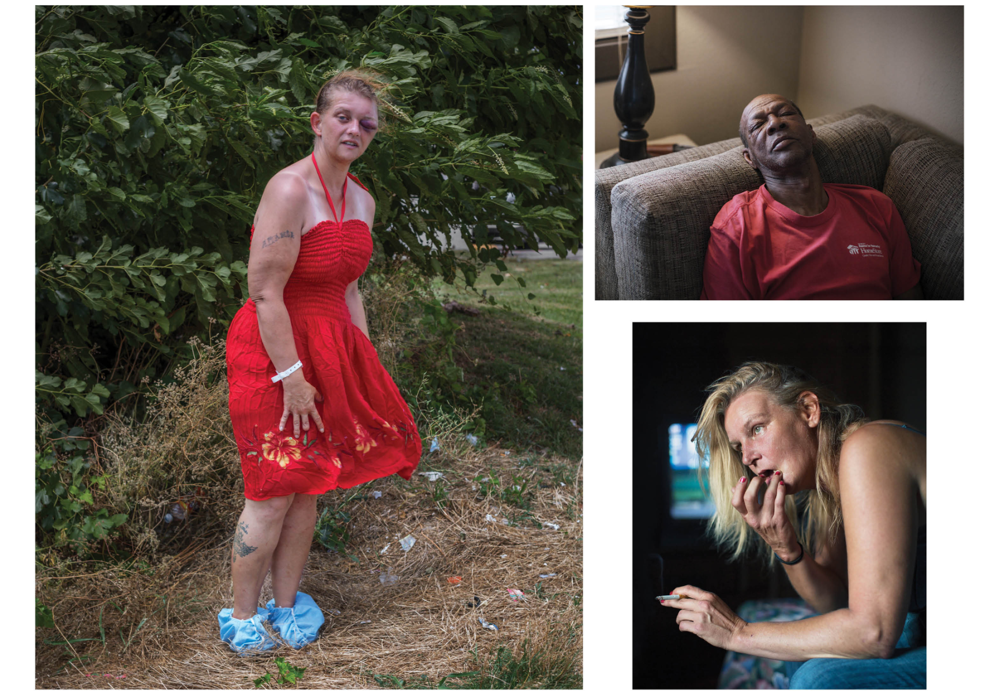 Later this year, Reynolds plans to begin the project that she proposed to the Guggenheim judges — documenting the Melungeon people in Northeast Tennessee. The Melungeons are a group of multiracial Americans who are said to be of mixed European, African and Native American ancestry. They're a historically guarded group, but Reynolds is determined to win their trust. She credits photographs from The Drake, which were included in her Guggenheim application, with showing the judges that she is capable of gaining access to hidden communities.
"A lot of it is about empathy," she says. She tells the story of showing the Drake series to fellow photographer Alec Soth. She gave him no biographical information, and no background about her motivation. Still, Soth recognized something.
"Without any explanation," she says, "he asked me how long I'd been sober."
Reynolds has been sober for nearly two decades. 
"When I got into recovery," she says, "I realized that it's that lack of connection, that shame that we carry, that keeps it going. And then society helps perpetuate that shame, and we look down on those that are addicted like it's a question of willpower, or laziness. There's a lot of judgment around it. 
"That's the reason, or one of the reasons, that I photographed what I did — to give [the subjects] the option and the opportunity to be viewed in another way. And then, hopefully, people will look.
"My ability to speak the language somewhat, that I've been there, that I related, that I understood that feeling — I think that helped give me entrance into the world, and I gained some of their trust. I don't shoot down at them, I'm typically at their level — I didn't want to make them grandiose, nor did I want to demean them."
The Drake series includes portraits and street scenes, but it's Reynolds' portraits of women that are the most memorable. One photograph shows a woman with a swollen black eye, her wrinkled red halter dress blowing with the same wind that's moving the leaves behind her.
"This was the first photograph I took of her," says Reynolds. "It reminds me a little of Marilyn Monroe standing on the grate. It's very feminine. She's holding her dress down, but she's missing a finger."
That small detail is something Reynolds discovered later, but it stuck in her head, telling a small part of the woman's life story. On this day, she'd just been released from the hospital following a violent interaction — you can see she's wearing an ID bracelet and disposable booties. But the dress wasn't hers — it was Reynolds'.
"That was Fourth of July weekend, and I happened to have some clothes that I was taking to Goodwill in my car," she says, looking at the photograph. "She hadn't let me take a picture of her, and I didn't know her very well yet."
When the woman pulled that particular red dress out of the Goodwill pile, Reynolds could tell she liked it. She tried it on, and it fit perfectly. She told Reynolds, "You can take my picture now."
"When you're doing it, you're there as a photographer," Reynolds says. "It's not until you come back and look at the images, and especially when you're talking about the images, that you begin to realize what it is. There's this thing that happens inside of you. There's a guilt about that. My intention is to bring empathy. 'Where's my emotion here?' I had to really work at looking at my images."
Reynolds plans to donate a portion of her Guggenheim Award to Thistle Farms, the local nonprofit dedicated to helping women recover and heal from trafficking, prostitution and addiction.
"Photography is an adventure to me," she says. "It gives me an invitation into people's lives, and they're so willing. That's what breaks my heart sometimes, that I'm so invited into these people's — into anyone's — lives, because of my camera. I love people, I'm fascinated by them, and I identify with them. I don't know what I would do without photography, honestly. That's why getting this Guggenheim has been so special to me. It's given me a stamp of, 'Yes, continue.' "
---