In 2011, Ann Patchett published her sixth novel, State of Wonder, amid a disheartening retail trend: One after the other, bookstores were closing all over the country. That experience left Patchett so concerned about the state of bookselling in America that by the time the year was out, she had opened a store of her own. This month that store, Parnassus Books, celebrates its 10th anniversary.
Not only does Patchett no longer need to worry about where locals can buy her books, but neither does any other author hoping to be read in Nashville. Together with her business partner Karen Hayes, Patchett and the staff of Parnassus (full disclosure: that staff used to include me) have grown the Green Hills shop into a mainstay of Nashville's book-loving community. 
Literary luminaries come from afar to make Nashville a stop on their book tours; tourists make the pilgrimage to take "shelfies" with their favorite books and a willing shop dog or two. Meanwhile, neighbors stop by every day to peruse staff-recommended fiction and nonfiction, using the store as a hub for book clubs, story time and collaborations with local organizations such as Humanities Tennessee, The Porch Writers' Collective and Book'em. While COVID put many of these traditions on hold during 2020 and much of 2021 — and the airport outpost, co-branded with Hudson Booksellers, remains temporarily closed — the shop is again open for browsing and has been carefully adding live events back to its fall calendar.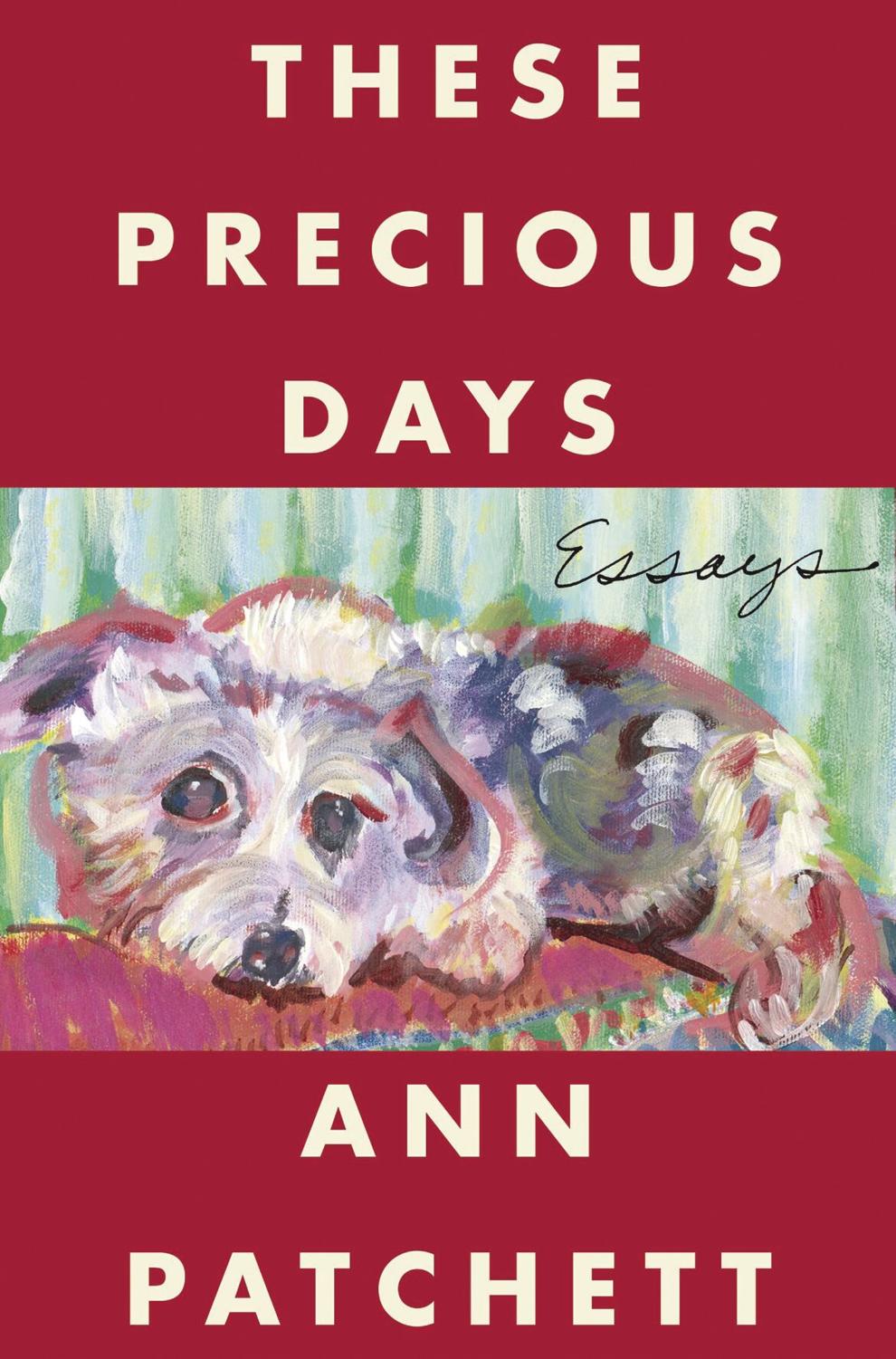 Since that sixth novel in 2011, Patchett has written seven more books: two additional novels, including Pulitzer Prize finalist The Dutch House; two children's books; a coffee-table book about Nashville with photographer Heidi Ross; and two essay collections as of this month. 
Although she maintains no social media accounts of her own, Patchett makes an appearance on the store's Instagram account (@parnassusbooks) for each Tuesday's "Laydown Diaries" post, show-and-telling a pile of new book releases. On Tuesday, Nov. 23, the stack will include These Precious Days, Patchett's new collection of personal essays. She'll sign books in the store from 9 a.m. to noon on Friday, Nov. 26, and will speak about the book at a virtual event in conversation with novelist Amor Towles on Dec. 7 at 6:30 p.m. (Get more details at ParnassusBooks.net.)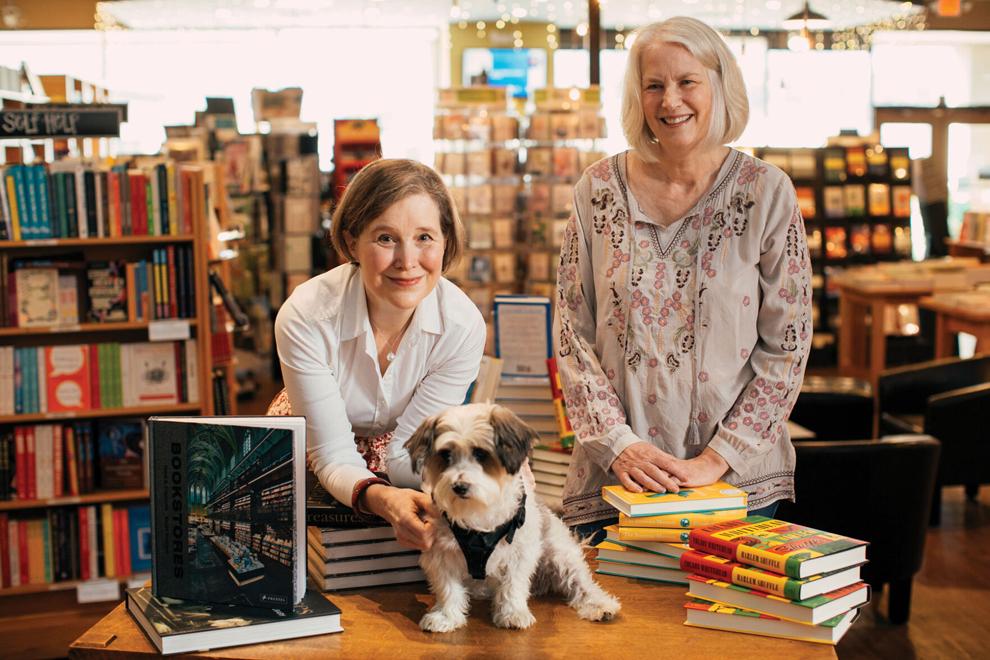 This is quite a November for you. A new book and the store's 10th anniversary, all at once. What a happy coincidence — or was that timing planned? 
It certainly looks planned, doesn't it? But no. I've been interested in when books get published for a long time, and since we started doing the Tuesday posts on social media, I've become obsessed. Some weeks are overloaded with amazing books; other Tuesdays there's practically nothing, and I'm talking about a new book on how to sketch your cat. Why don't publishers spread things out more evenly? Why are all the beach books in July and the serious novels in September? It would be nice to read something challenging at the beach when you actually have the space in your brain to concentrate. 
While we have a ton of customers between Thanksgiving and Christmas, there aren't many new books coming out between those two holidays. It's mostly the season of cookbooks and fitness guides. All books are published on Tuesday, in the same way all the horses leave the gate at the same time in a race. The Tuesday before Thanksgiving is particularly dead because bookstores aren't open on Thanksgiving, and no one wants to lose a day of sales in the all-important first week. I figured I'd have a chance to be pretty much the only fish in the pond if I published just before Thanksgiving.
Smooth. And it turns out to be right around the store's birthday. 
For the first nine years of Parnassus Books, our anniversary meant Karen Hayes and I exchanging cards or little presents. It has always felt more like the anniversary of our partnership and friendship than a store event. This year, however, is different. It's big, and Karen started making real plans. She got Tennessee artist Billy Renkl to design a heart-stoppingly gorgeous broadside poster. She nudged me to come up with a little anniversary book [The Shop Dogs of Parnassus]. She had some great anniversary T-shirts designed. Thanks to Karen, we're ready to celebrate the store in a big way.
I know that I write books that we sell at the store, but the part of me that's a writer and the part of me that co-owns Parnassus with Karen have remarkably little overlap, which is how it's possible for me to realize so late in the game that the publication of These Precious Days is more or less going to coincide with the 10th anniversary of the store.
You told The New York Times at the time of the store's opening, "I have no interest in retail; I have no interest in starting a bookstore," but you didn't have an interest in living in a city with no bookstore, either. Are there parts of this business that you've found more interesting than you thought you would? Surprises? 
All of it has been a surprise, exactly because I'd never envisioned opening a store. I had no expectations. I knew nothing. My deep, deep love for the staff is the biggest surprise, the sense of community we share. Certain employees leave — I'm looking at you, Mary Laura — and I think, "I will not be able to survive this. We cannot be a store without Mary Laura." But then here comes Steve Haruch, and he brings a whole other perspective. Mary Laura and Steve can do the same job in very different ways and both be amazing.
But then as soon as I say this, Steve gets a great new job at WPLN, and we wind up promoting the wonderful Sarah Arnold to take his place [managing marketing and communications]. As much as I hate this, I love it too. Things keep getting shaken up, and ready or not, we're made into something new again and again. I don't want things to change, I don't want anyone to go, but that's the way business works. It's like the cycle of life in miniature. This goes for the shop dogs as well.
The pandemic is another example of how we've had to change: We figured out how to run a business without letting customers in the store, and we got really good at making videos and shipping books. And then it was time to let customers back in, and we were utterly flummoxed. "Wait, what? Real people in the store? Does anybody remember how we did this?" The challenges keep us flexible even when we don't particularly want to be flexible. We finally figured out how to do author events virtually, and I hope we'll always have some events that way; but then I interviewed Lauren Groff [author of the new novel Matrix] in the store recently, and there were about 50 people there, all of them wearing masks, and the event felt downright holy. It meant so much to see people at an author event again. I was so moved by this thing I used to take for granted. How beautiful is that?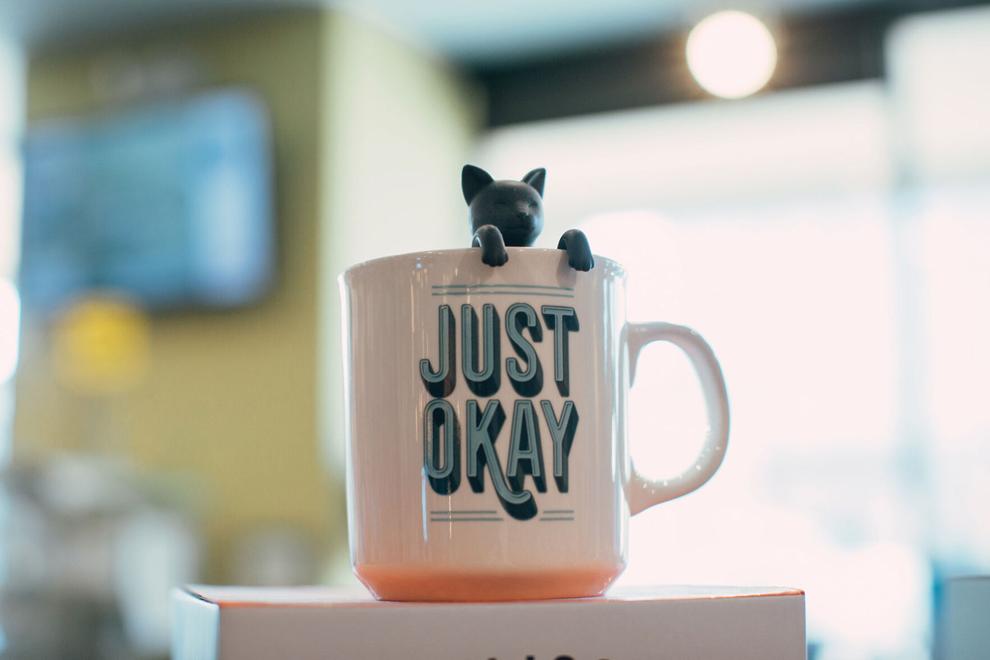 Obviously the shop has changed a lot in 10 years, but tell me this: When you think about Ann Patchett of a decade ago and Ann Patchett right now, what's different? 
The big difference between me a decade ago and me today, aside from general issues of aging, is how I read. Before Parnassus, I used to read around. I'd read a current bestseller, then a Dickens, then something a friend had written, then a little French novel from 1900, then a book two friends had recommended, then I'd go on a Jane Gardam tear, then I'd start thinking about a Roth novel from the '70s I wanted to read, then I'd read a book someone wanted me to blurb, then I'd re-read some Henry James. If I woke up thinking about Toni Morrison, I'd read Toni Morrison. I cherry-picked throughout history, tapped into the present day, and then scurried backwards again. My relationship with books and reading is completely different now.
What changed? 
For the last 10 years I've read almost exclusively books that have yet to be published, otherwise known as galleys. My main responsibility at the store is that I play a big role in picking the books for our First Editions Club. If it's November, I'm reading for next April. And it never stops, because I need to find a great book for every month of the year. People send books to me constantly. I used to think I got a lot of galleys, but I had no idea what was possible. The downside is I waste a lot of time reading five, 10, 50 pages of things I wind up not finishing.
The great thing about the staff is that we're always exposing one another to new books and favorite authors. Someone falls in love with a thriller, a middle-grade title, a piece of political nonfiction, and they're going to push me to read it, because they know I can sell it. And that's great, because my range is expanding. Sci-fi, dystopian, things I would never touch before, I've come to appreciate. The best example was several years ago when our manager Andy Brennan wanted me to read a 500-page galley about surfing called Barbarian Days, by William Finnegan. He said, "I've never asked you to read anything." So I read it, and I really loved it. It went on to win the Pulitzer. We're still selling that book.
In thinking about time, I'm contemplating how your writing career has had a pattern of sorts to it over the past decade: write some fiction, then a collection of essays, then fiction again, then more essays. 
I don't feel like there's any sort of plan in the trajectory of my writing. I know I'll always write novels, but the essays come as more of a surprise. Nonfiction is easier for me than fiction. It's somewhere between a comfort and a guilty pleasure. During the pandemic, I couldn't imagine writing fiction, it just wasn't there for me, so I took solace in essays. Writing about what was going on inside my house and inside my head felt exactly right. I kept looking at my life, the world, and thinking, "Is this an essay?"
I know that feeling. In the introduction to These Precious Days, you wrote that you think about death whenever you're writing a novel — because if you get hit by a bus with an unwritten or partially written novel in your head, all the characters die with you. It made me laugh because it's so grim, but it's true. Death and loss seemed to be on your mind throughout the writing of These Precious Days too, but in a different way. 
Wasn't death on everyone's mind this last year-and-a-half? There was someone on Bowling Avenue who kept a running total of COVID deaths on a handmade sign in their front yard. No commentary, nothing flashy or big, just a number. Sometimes it felt like they must have updated it twice a day. And that's all they needed to do. Whoever lives in that house kept reminding me that people are dying in the pandemic, but they were also reminding me that eventually, one way or another, we're all going to be a part of the greater tally. It's not a bad thing to hold onto, because while keeping your eye on death is heartbreaking, it also has the potential for great joy: We're here; this is what we have; pay attention; these days are precious.
Speaking of which: The essay about your friendship with Sooki Raphael [Tom Hanks' assistant, whom Patchett met while interviewing Hanks at an event in 2017 and who died in April of this year], "These Precious Days," provides the title of the book. Do you consider that piece the heart of the collection?
I was just going along writing essays, but once I wrote the essay about my friend Sooki, I knew I wanted to put a book together. In some ways I felt that was the best piece of writing I'd ever done. Sooki came to stay with us just before the pandemic started. She was someone I barely knew, we'd met for just a few minutes two years before and had kept in touch through email. She was looking for a clinical trial for recurrent pancreatic cancer, and the one she needed was at Centennial Hospital, where my husband works. 
She thought she'd be here for a few weeks, but once the pandemic came, she was stuck. Sooki and my husband Karl and I were all home together all day. Sooki had cancer, Karl couldn't go into the hospital, I canceled all my talks. We were so happy together. For so many reasons it was a time of heightened awareness. We knew it wasn't going to last, but we felt so lucky for what we had.
She did the cover art for the book too, didn't she? 
Sooki painted downstairs all day while I was upstairs writing. She was painting what was in front of her or what was in her imagination. She painted me, my dog, herself. She painted the mountains in Topanga where she lived. She worked so hard and so freely. Her work was incredibly vibrant and alive. She gave me two paintings, one of our dog Sparky and one of a woodpecker with a stack of books. I couldn't decide which one I wanted on the cover, so I put one on the front and one on the back. She picked the red and the pink for the book jacket. She had such a profound understanding of color. It was her language.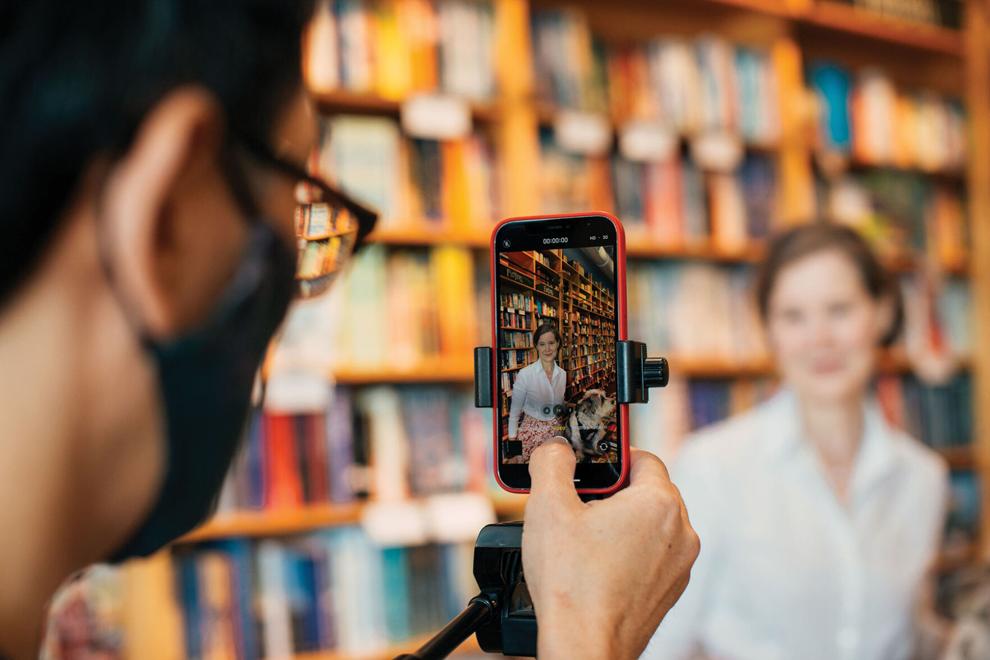 As this book makes its way into the world, the time comes to promote it. Book tours have certainly taken a turn in the past year-and-a-half, thanks to COVID. Have your own feelings about touring changed over the course of your career? 
I don't miss book tour. I don't miss flying places and sleeping in hotels. What I've learned during the pandemic is that I like it at home. I have a very true line of reasoning that's all about how lucky I am to get to go on book tour — lucky to see my friends in bookstores, lucky that people still want to come out and see me — but it wears me all the way down. 
I wonder if I've done it long enough. Maybe the energy I have should go into writing now instead of sales. Maybe I've traveled enough. At the beginning of the pandemic, Dr. Fauci said, "Only necessary travel," and I thought, I'm not sure I've ever taken a trip in my life that's been necessary. People complain about Zoom — and yes, it can be tiresome — but at the end of a Zoom event I get to see my husband and my dog and sleep in our own bed. 
You've called this town home since you were 5 years old, so you've seen plenty of Nashville's past. What are your wishes for Nashville's future? 
At this point what I wish for Nashville is good stewardship. We've had enormous growth. Now we have to think about how to best take care of the people who are here, meaning good schools, good social services. We have to take care of the land we have left. The city has to deal with so much more than it did when I was a kid, and that means leadership. The pandemic has taught us so many lessons. Here's hoping we're learning.
Mary Laura Philpott is the author of I Miss You When I Blink (2019) and Bomb Shelter (forthcoming in April 2022). 
---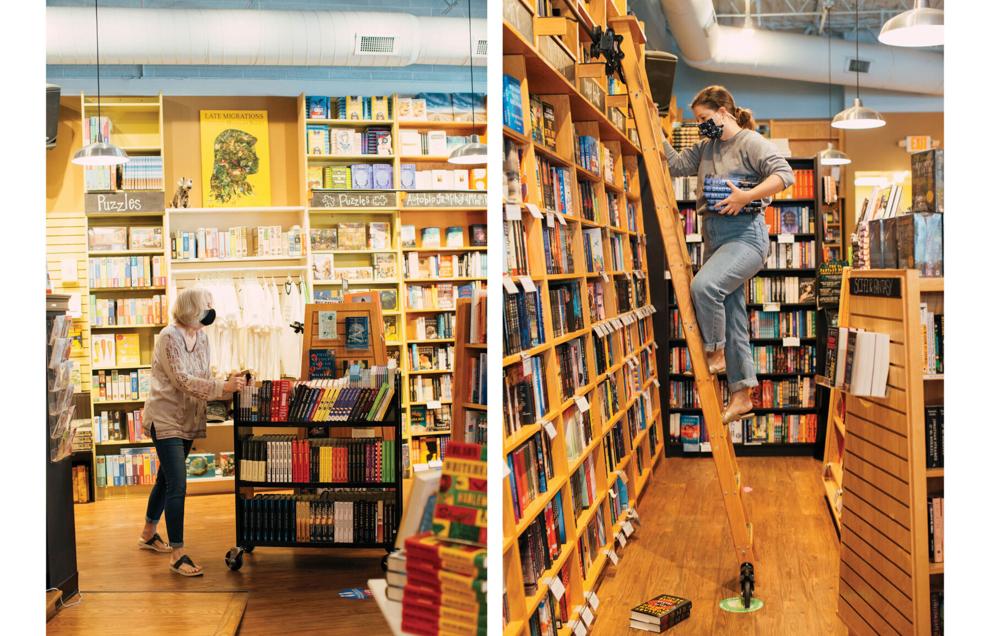 Teamwork, Making the Dream Work
Parnassus Books managing partner Karen Hayes on a decade of bookstore life
Making a career pivot
I never had the dream of opening a bookstore before 11 years ago. I started working in the book business as a publishing sales rep in 1978. In the 1990s independent bookstores began going out of business one after another. Who would be crazy enough to open a bookstore? On top of that, I lived in Nashville, and the beloved Davis-Kidd Booksellers had been here for decades. 
But when Davis-Kidd went out of business too, I did see an opening. I could observe that the majority of stores still left standing around the country were smaller independents. They knew their customers, and their inventories were tailored to their neighborhoods. For the first time, owning a bookstore seemed to be a natural progression for me.
Finding a co-conspirator
My business partner was the first and best surprise. I had made a list of folks to talk to, hoping to get some investors to help finance the opening of the store. Then I was introduced to Ann, and we meet over lunch at Fido. I told her my ideas for a store and showed her my business plan. Before the lunch was over, she offered to go into business with me. No one could ask for a better partner.
Ushering in a new era
The biggest difference in bookselling now versus a decade ago is that independents are back! More and more young people are opening stores, which was not the case back then. 
Springing for the upgrades
Parnassus has undergone some nice improvements and expansions since its opening. In 2016 we doubled our space from 2,500 square feet to 5,000. We love having the space to hold larger events in the store. We have had a few events with attendance of over 200 people. What makes me happiest every day is that the children's section was able to expand. It was and still is the heart of the store.
Forging lasting relationships
I do love the opportunity I've had to meet so many great authors, and our customers are amazing, but the booksellers past and present are the reason I love owning a bookstore. They are all smart, caring, quirky in their own ways, and they have become the family this introvert never thought she would have.
Looking forward
If I could tell people one thing, it would be this simple: Support local businesses. They are what make your city unique. This past year especially has been rough on them. If you want choice and personal service, spend your money with locals, even if that means masking up and getting in a car to go shop. I'm excited to get past this pandemic and start having more author events in person again. And I'll be glad when the supply chain goes back to normal. Soon, please.