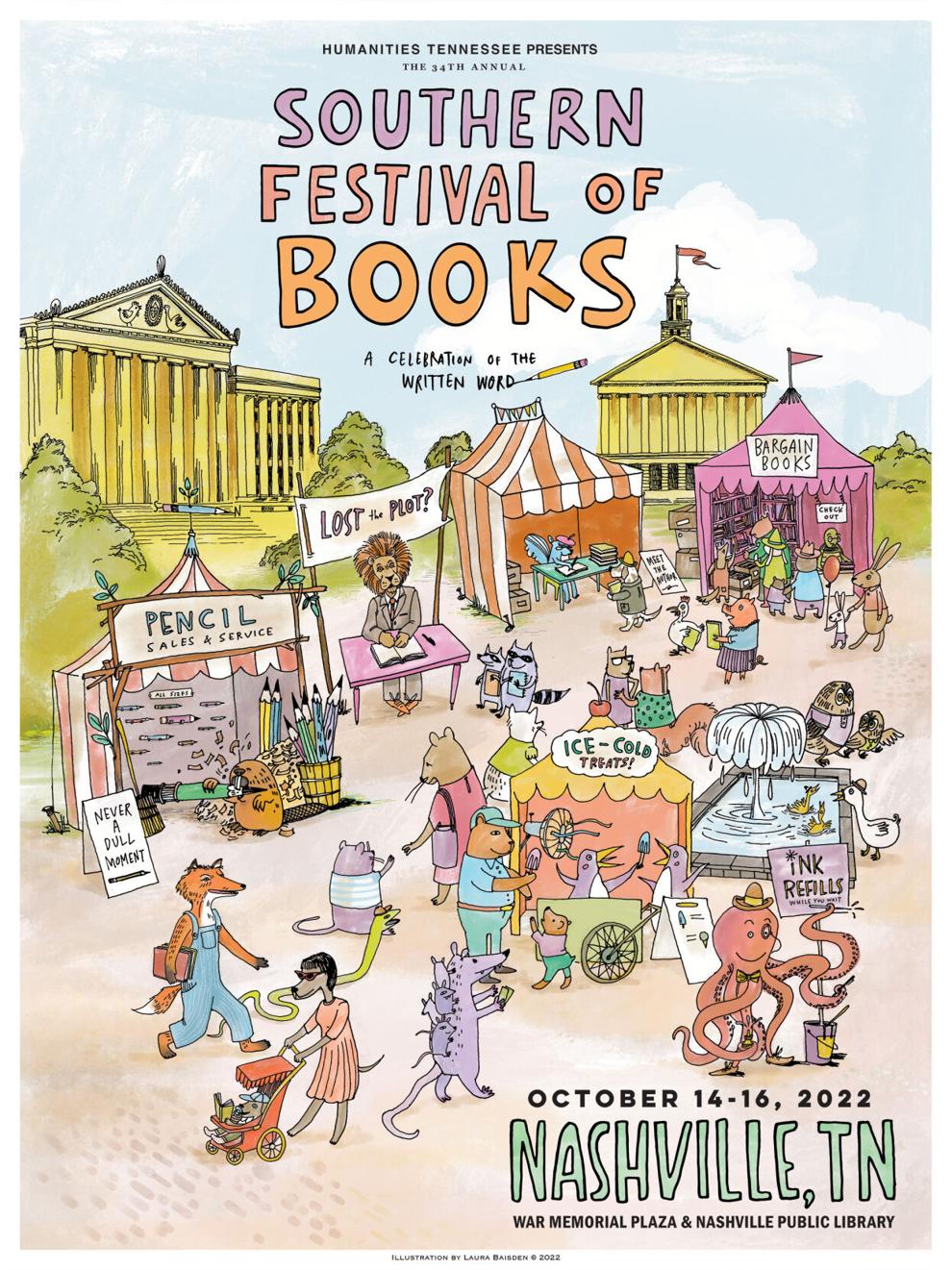 The month of July means abject suffering for Nashvillians every time we step outside. That's one reason why I'm always excited to get news of the Southern Festival of Books. The weather can vary in the first weeks of October, of course, but the festival heralds the promise of crispy leaves, sweater cardigans and Halloween season. Humanities Tennessee announced the preliminary roster of authors in the three-day fest, which will take place Oct. 14-16 at War Memorial Auditorium and the Nashville Public Library downtown. Dig this year's festival artwork by Laura Baisden of Camp Nevernice. We can't wait to snag the festival merch.
The big names are promising and include Joshua Cohen, winner of the 2022 Pulitzer in fiction for The Netanyahus: An Account of a Minor and Ultimately Even Negligible Episode in the History of a Very Famous Family. That's a mouthful, and I'm excited to learn more about his work and pick up that book on site.
Also on the docket is Patrick Radden Keefe. Guys, have you read Patrick Radden Keefe? The author of Say Nothing: A True Story of Murder and Memory in Northern Ireland and Empire of Pain: The Secret History of the Sackler Dynasty? If not, get on this, my nonfiction babes! The journalist distills complex histories and contemporary shenanigans with novelistic prose, but always sticking to the facts: copious research, dynamic interviews, daring investigations. He's a master who we all should read to understand where we are and where we're going. 
Also on list is Nashville's own country queen Margo Price, whose debut literary work Maybe We'll Make It: A Memoir, is out Oct. 4, just in time for her appearance at the festival. It's a story "of loss, motherhood, and the search for artistic freedom." Here for it.
Other local faves and familiar names: the Scene's Advice King Chris Crofton, Destiny O. Birdsong, Mary Laura Philpott, Marissa R. Moss, Justin Jones and former chair of the Metro Nashville Board of Health Alex Jahangir. Jahangir's book Hot Spot: A Doctor's Diary From the Pandemic will be released in September.
Still more have been announced in this first slate of authors: Rick Bragg (The Speckled Beauty: A Dog and His People), Julie Otsuka (The Swimmers), Dolen Perkins-Valdez (Take My Hand), Tayari Jones (Black Folk Could Fly: Selected Writings by Randall Kenan) and others, which you can find on the festival's website.