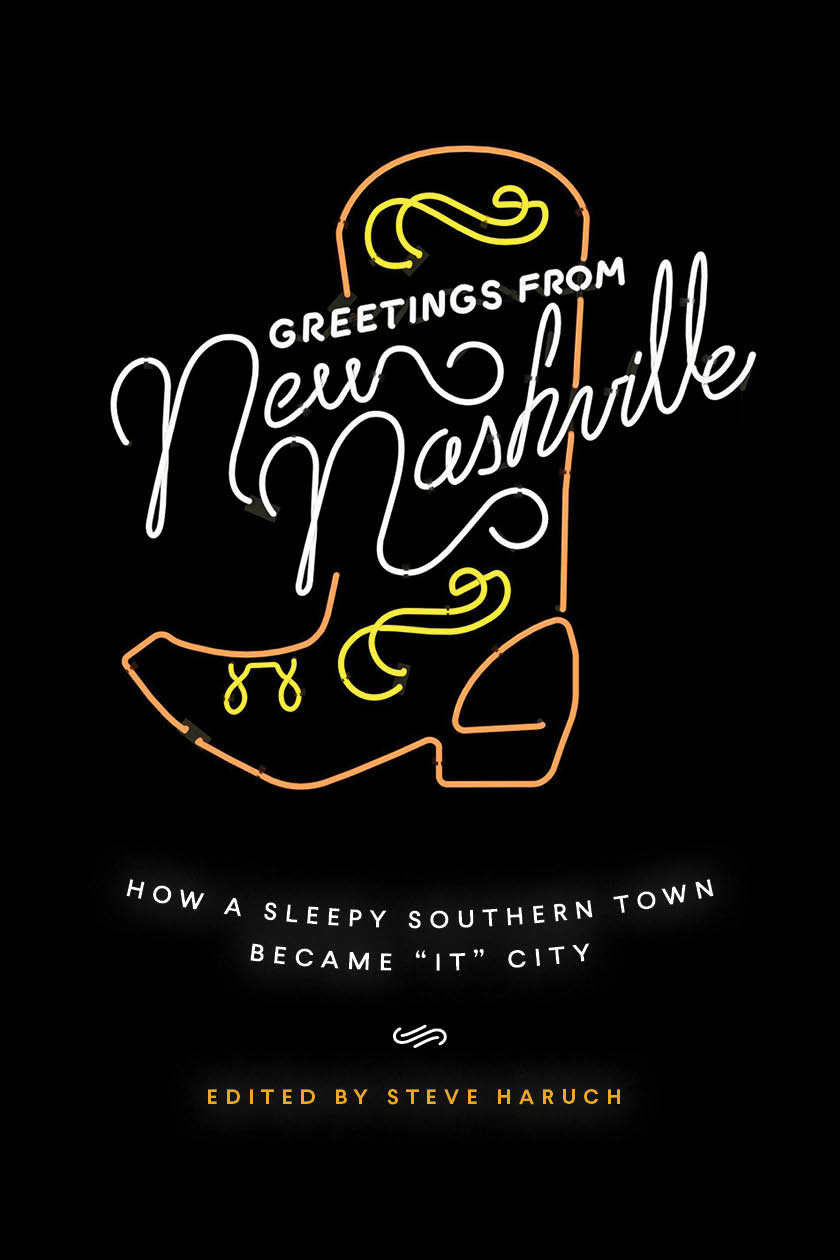 It's always interesting to consider how our current moment will be depicted later on, especially when our current moment is crowded with competing interests. I like to think that writers and artists will provide some of the narrative that historians later string together to tell the story of our time. A new collection of essays, Greetings From New Nashville: How a Sleepy Southern Town Became "It" City, may do just that. Edited by Steve Haruch, Greetings considers two decades in Nashville, from 1998-2018.
Haruch, who was on staff at the Scene from 2007-2014 and still contributes to our publication, has compiled a diverse array of essays that consider some of the economic, cultural, culinary and political shifts the town has seen over the past 20-some years. It's not a swan song that imposes an idyllic past on a city — like any city — that has seen its share of systemic problems, nor is it a full embrace of what we have now. Instead, the collection charts the town's shifting perception of itself as we have looked around and said what we want to be. 
Haruch contributes the volume's introduction and an essay about the city's technological aspirations. Author and Parnassus Books co-owner Ann Patchett surveys her favorite Nashville musicians — those whose music is off the radar, "unexpected and darkly fascinating." The collection also includes two pieces about Nashville's seminal cuisine, hot chicken — one is an essay by Zach Stafford that was originally published in Eater, and another is a poem by local treasure Tiana Clark. Musician Ben Folds describes the plight of Music Row and what the historic strip's future means to our future. The volume also includes Margaret Renkl's New York Times opinion piece that argued against a proposal for a new development in Fort Negley Park. 
You'll find names familiar to the Scene's pages as well. Staffer J.R. Lind reflects on the financial and emotional impact of pro sports in the city. Contributor Steve Cavendish reports on Nashville's thriving restaurant scene. An essay by longtime Scene contributor Ron Wynn considers the history and progress of black Nashville by looking at writer, actor, activist and mayoral candidate jeff obafemi carr. 
Staffer Steven Hale's 2017 cover story "The Bachelorettes" appears in all its glory. Our intrepid TV critic Ashley Spurgeon writes about how Nashville learned to lean into an image shift. And contributor Betsy Phillips closes the volume with an essay about the many times our leaders have opted to give away parts of our city to multinational corporations in the form of tax breaks and other perks. 
Still more essays document the rapid change of Nashville's housing market and its impact on residents, the activists who effectively put a community oversight board on the ballot, statistical desegregation in our schools and more — plus excerpts from WPLN's outstanding podcast The Promise by Meribah Knight. 
The book, which is published by Vanderbilt University Press, will be out on Oct. 15. You can pre-order it now from Parnassus and from Vanderbilt. (For the latter, use the code 15GREET to save 40 percent.)