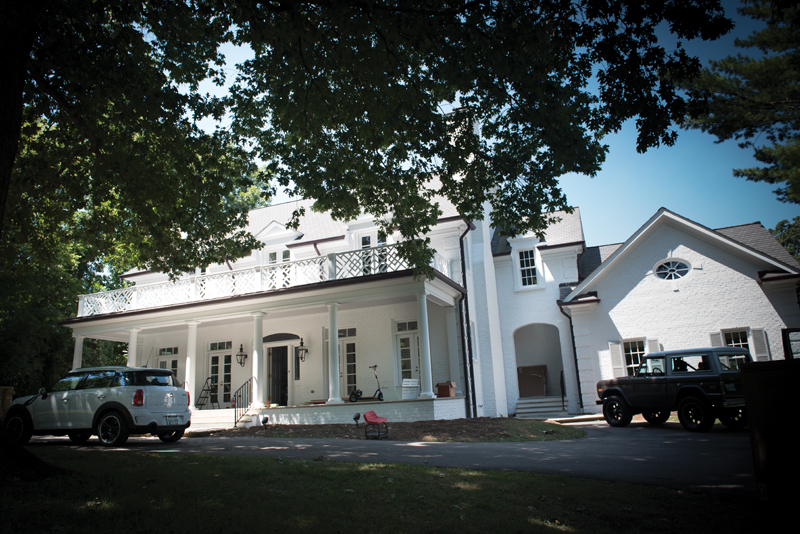 Headline Homes always has its fair share of Williamson County entries, though there's typically a healthy balance of big buys on both sides of Old Hickory Boulevard. But this month, Metro got dominated by its wealthy neighbor. One block in Brentwood had nearly as many entrants as the whole of Davidson County.
All in all, there were 56 homes sold for at least $1 million in Davidson and surrounding counties in July. These are the Top 10 by sale price:
1. 391 Jones Parkway, Brentwood, 37027 Buyers:
Michael and Jami Kaplan
Sale price: $3,001,953
Seller: Grove Park Construction
Seller's agents: Susan Gregory and Lisa Culp Taylor, Parks
Buyers' agent:
Darin Cunningham, Re/Max Elite
This custom-built home, more than a year in the making, is a 15-room 8,300-square-footer sitting on nearly an acre in Annandale, Brentwood's enclave full of regular Headline Homes appearances. The level lot overlooks parks and stocked fountain-featuring ponds.
Michael Kaplan is a renowned tax attorney at Sherrard and Roe. He's a member of numerous boards, the Alumni Board of Trust at Vanderbilt and the board of the Tennessee Golf Association among them. Dr. Jami Kaplan is a physical therapist.
2. 3670 Bear Creek Road, Leipers Fork, 37179 Buyers:
Michael and Billie Ann Katin
Sale price: $2,700,828
Sellers: Scott and Melissa Farrar
Sellers' agent: Jane Higgins, Benchmark Realty
Buyers' agent:
Jim Dowell, Synergy Realty Network
For their $2.7 million, the Katins actually got two homes. The main house is a four-bedroom, three-and-a-half bath, 5,700-square-foot house with a "dynamite" media room. The guesthouse has nearly identical specs, though it's short a half-bath (it does have an unfinished basement, however, so there's room). The property also includes an outdoor pavilion and a four-stall barn topped by a "party room," plus another barn devoid of the party space (must be a business barn). All this plus 35 acres. Michael Katin is a noted Florida oncologist.
Surely, the houses they bought will be immaculately cleaned. Scott and Melissa Farrar are the president and CEO, respectively, of Molly Maid.
3. 4330 North Chapel Road, Franklin, 37067 Buyers:
Stuart R. and Maria F. Crum
Sale price: $2.5 million
Sellers: Richard and Rhonda Albright
Sellers' agent: Chip Kerr, Crye-Leike
Buyers' agent:
Sherry Anderson, Parks
This private, gated six-acre estate was built in 2003 but recently underwent a $1 million renovation. The 10,000-square-foot house has a finished basement with mini bowling alley, plus a six-car garage. There's a gunite pool and a hot tub (and a pool/hot tub house).
Stu Crum is the president of Bridgestone Retail Operations, former president of Jiffy Lube and a former USFL placekicker. He retired from the USFL and then tried to join the Kansas City Chiefs, but was enjoined from doing so by the USFL's Chicago Blitz. He sued the Blitz for $1.2 million, but never appeared in an NFL game.
4. 811 Lynnbrook Road, Nashville, 37215 Buyers:
Jason and Elizabeth Sheer
Sale price: $2.4 million
Sellers: Paul G. and Barbara F. Hagood
Sellers' agent: Louis Belote, Fridrich and Clark
Buyers' agent:
Richard B. French, French King Fine Properties
Houses in tony Woodmont Estates rarely hit the market, which is why when they do they fetch a pretty penny. Well, that and the fact the homes are north of 6,000 square feet and have chef's kitchens and all hardwood floors.
The Sheers are the owners of popular Midtown watering hole The Tin Roof.
5. 5517 Iron Gate Drive, Franklin, 37069 Buyers:
Carlos A. Servin and Claudia A. Ortuno
Sale price: $2.399 million
Sellers: James T. and Mary D. Hunter
Sellers' agent: Sarah A. Kilgore, Pilkerton Realtors
Buyers' agent:
Cecilia Davis, RE/Max Elite
The Hunters built this three-story home in 2005. There's a wine cellar, hardwood and stone floors throughout and outdoor covered areas. The home doesn't have a hearth in the den or living room like a run-of-the-mill home; the hearth is in its own hearth room.
Carlos Servin is Nissan's vice president of finance.
6. 822 Windstone Blvd., Brentwood, 37027 Buyers:
Brent L. and Rachel Good
Sale price: $2,234,841
Seller: Mike Ford Custom Builders
Seller's agent: Sherry Erickson, Southern Land
Buyers' agent:
Darin Cunningham, Re/Max Elite
One of two contributions to this month's list from Windstone — becoming one of those subdivisions upon which Headline Homes relies — this 7,000-square-foot home has all the niche rooms one can imagine: his-and-hers master baths, an exercise room, game room, bonus room, four-car garage and the ever-popular porch with outdoor fireplace, an amenity becoming as popular as the throw-in country club membership for the seven-figure home.
7. 4420 Forsythe Place, Belle Meade, 37205 Buyers:
Douglas and Shea Ghertner
Sale price: $2.05 million
Sellers: Daniel and Leslie Karl
Sellers' agent: Steve G. Fridrich, Fridrich and Clark
Buyers' agent:
Whitney Musser, Worth Properties
Some homes best demonstrate their elegance through understatedness. This 1956 Belle Meade property has one of the more taciturn descriptions in Headline Homes history: "Exceptional home with finest amenities available. Awesome covered patio and professionally landscaped yard and pond." That's all you get — and all the Ghertners needed to fork over more than $2 million.
Doug Ghertner is the president of Change Healthcare.
8. 2017 Legends Ridge Drive, Franklin, 37069 Buyers:
Thomas and Michele Bertorello
Sale price: $1.96 million
Seller: The Walk Family Trust
Seller's agents: Tim and Tess Thompson, Tim Thompson Premier
Buyers' agent:
Jennifer Bua, Benchmark Realty
This is Lot 1 of the best main lots in the new addition to Legends Ridge, so sayeth the listing. This Parade of Homes winner has a theater room (with wet bar), a huge bonus room (with wet bar) and a formal office (no wet bar).
9. 106 Westhampton Place, Belle Meade, 37205 Buyers:
Ashish S. and Rebecca Shah
Sale price: $1,897,500
Sellers: Robert and Gayle Patterson
Sellers' agent: Starling Davis, Fridrich and Clark
Buyers' agent:
Richard G. Courtney, Christianson Patterson Courtney and Associates
This one has "fabulous old world charm [with] floorplan of today." Sure, if by "today" the listing means "1967," when the house was built. This Colonial, which sits on an acre, sold after 80 days; it might have sold faster except there was no sign in the yard. Sign or no, the Shahs found this Belle Meade speakeasy.
Ashish Shah is a cardiothoracic fellow at Vanderbilt; Rebecca Shah is a senior associate at education data company Data Quality Campaign.
10. 843 Windstone Blvd., Brentwood, 37027 Buyers:
Richard and Jeanne Briggs
Sale price: $1.88 million
Seller: Mike Ford Revocable Trust
Seller's agent: Kells Jackson Ford, Ford Homes Realty
Buyers' agent:
Judy Williams, Crye-Leike
Usually the phrase "lovely bones" is reserved for older homes in need of updates, but the second Windstone entry of the month loves to brag about its structure: "Stone turret and stucco over brick exterior. Foyer [with] natural stone flooring, curved staircase [with] iron railing and hand hewn beams in turret. Beams throughout main living areas with beautiful walnut floors."