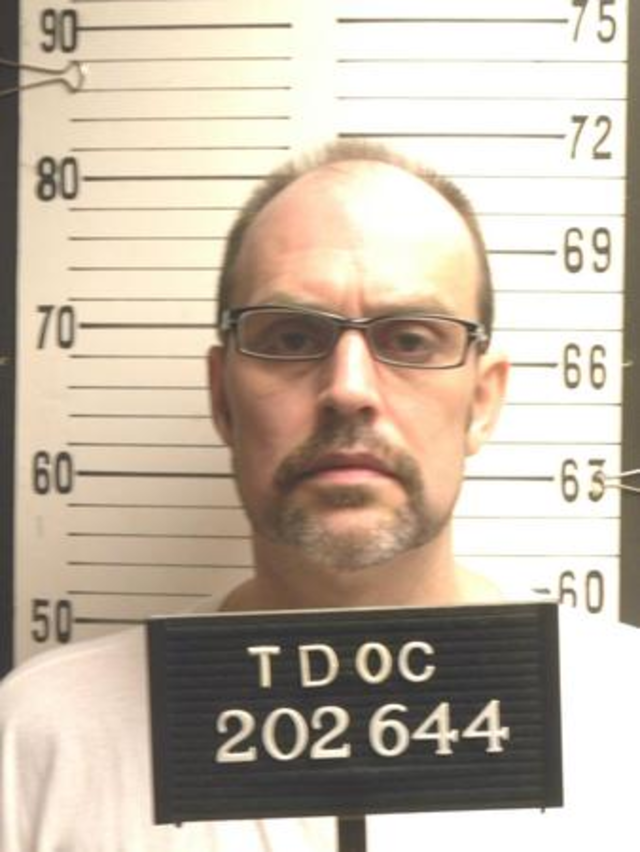 Lee Hall is set to be executed on Dec. 5Photo: Tennessee Department of Correction
Lee Hall won't see the inside of the execution chamber. He will not see the faces of witnesses looking at him through large windows. He will not see the face of the warden asking for his last words — not clearly, anyway.
The man whom the state of Tennessee plans to execute on Dec. 5 — more than 27 years after he was convicted and sentenced to death for the horrific murder of his estranged girlfriend in Chattanooga — is functionally blind. He's set to be the sixth prisoner executed at Riverbend Maximum Security Institution since August 2018. His attorneys have written in court filings that to their knowledge, he would be only the second blind prisoner executed in the United States since the death penalty was reinstated in 1976. 
Hall still had his sight in 1991, when he stuffed a paper towel in a container full of gas, lit the makeshift fuse and tossed it onto Traci Crozier as she sat in her car. With severe burns covering most of her body, Crozier lived until the next day. She had reportedly left Hall after he'd become physically abusive. 
In a court filing last year, Hall's attorneys argued that his blindness is one reason the state should not execute him. Nearly three decades after his conviction, they write, he is "blind and vulnerable."
"If confined to prison for the remainder of his natural life, Mr. Hall bears no practical risk of harm to anyone," they write.
Referencing a precedent-setting Supreme Court ruling that is supposed to prohibit the execution of "the insane," Hall's attorneys go on to write that "the spectacle of his execution — guiding him to the gurney — would 'offend humanity.' "
They lay the deterioration of Hall's vision at the feet of the Tennessee Department of Correction. In 2010, he was taken to the emergency room with an advanced case of previously undiagnosed and untreated glaucoma. His attorneys write that, in the years since, TDOC has "routinely failed to comply with the directions and recommendations" of his eye doctors and that his scheduled visits to the eye clinic have been regularly delayed or ignored. 
Prison officials, Hall's attorneys write, have even refused to give him things like "a large-numbered clock that would allow Mr. Hall to timely take the twenty-plus eye drops that prevent total vision loss." They also cite studies raising the notion that blind or visually impaired people experience pain more acutely.
In 2014, Crozier's sister Staci Crozier Wooten told the Chattanooga Times Free Press that if Hall does indeed feel more pain, that would be just fine with her. If he were completely blind by the time he's executed, she said, even better. 
"So that when that juice is going in his arm, he won't even know when it is going to hit," she told the paper. "And he has to suffer while he sits there and wonders. The longer, the better. Traci had to suffer, and now he needs to suffer."
Hall has appeared to show remorse for the murder since his trial in 1992. In the court filing from last year, his attorneys note that he "broke down sobbing uncontrollably during medical testimony" about Crozier's nightmarish injuries. He testified on his own behalf at the trial and said that he'd never intended to kill Crozier, only to burn her car in anger (which he'd done before). He also said that after Crozier left him, he'd been drinking heavily and smoking crack cocaine. 
When he was convicted, Hall was sentenced to death by electrocution. Now, if his execution goes ahead, he'll have to make the same choice five men have made before him since last year — whether to die lying on the gurney or in the chair.