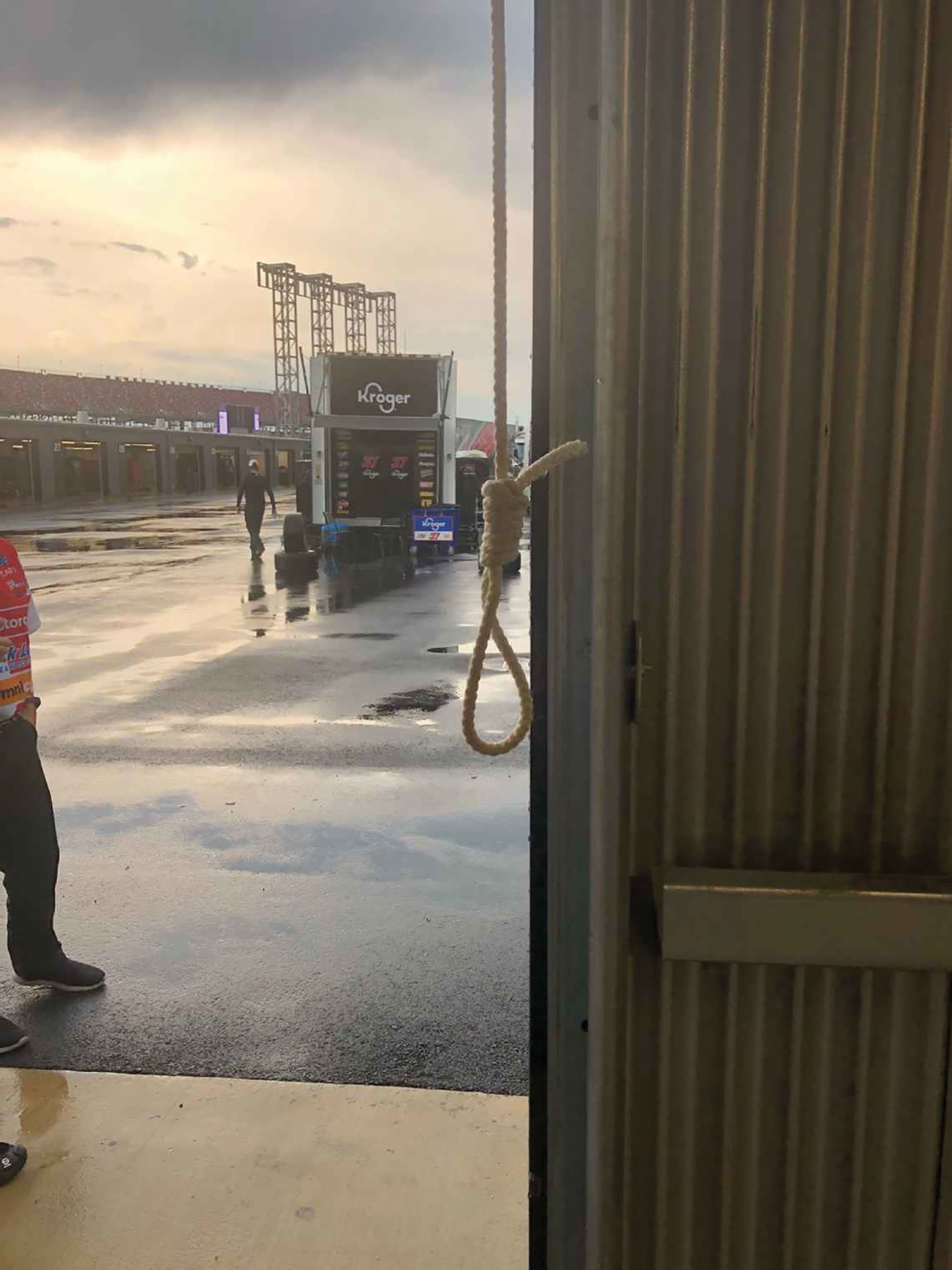 It was, in fact, a noose.
A remarkably thorough and well-staffed investigation by the FBI — which sent 15 agents — determined that it wasn't a hate crime directed at Bubba Wallace, the only Black driver in NASCAR's premier division. But that doesn't detract from the fact that it was indeed a noose.
It is true, everyone who isn't a conspiracy theorist or a professional huckster believes, that a crew member found a noose hanging from the door of the No. 4 garage at Alabama's Talladega Superspeedway on June 21. It was found after NASCAR, in a remarkable and unexpected move, banned with immediate effect the flying of the Confederate flag at its events. It was found after a plane flew above the track, NASCAR's largest, with a message to "Defund NASCAR," whatever that means. It was found after Wallace continued to be outspoken about racial injustice, indeed wearing an "I Can't Breathe" T-shirt at a race in Atlanta, his No. 43 car abandoning its traditional livery for a matte-black look, featuring the message "#blacklivesmatter."
And, of course, the noose — which is undisputed — was discovered as America goes through its latest and perhaps most profound reckoning with race in 50 years.
What the FBI did, in fact, determine was that the noose had been hanging in the garage since at least October 2019 and thus could not have been aimed at Wallace. Further, NASCAR clarified that its assignment of Wallace to the garage with the offending knot was an unfortunate but unforeseeable coincidence, as garage numbers are assigned by a driver's ranking and the convoluted process has become even more Byzantine due to social distancing.
We also know that of all the garages at Talladega, only one had its garage pull tied into a noose. We know it is not a common knot for a pull. And we know that a noose is a loaded piece of imagery in a way that, say, various bowlines or a figure-eight loop could not possibly be.
While not aimed at Wallace specifically, the choice of the noose, by whomever it was, was a remarkable piece of dumbassery or naivete or thoughtlessness, if not something more insidious than that.
Those aforementioned conspiracy theorists and hucksters were quick to mock NASCAR for assuming at the outset that Wallace was being targeted. And given that only the lone crew member and a handful of NASCAR brass knew about the noose at the time, they could have sat on the story until the investigation came to its conclusion. On the other hand, had they done so, they could have just as easily been dismissed for hushing it up.
NASCAR, like the rest of us, is working all this out in real time and, by all accounts, is doing the best it can, much as the rest of us hope we are.
From its origins on dirt tracks and beaches as a "Hey watch this!" competition between bootleggers and gearheads, NASCAR has been, without dispute, America's whitest major sport with an overwhelmingly white fan base. It's not that there's anything inherent in watching fast cars go zoom that kept away Black folks or Asian Americans or anyone else, though the once-overwhelming prevalence of Confederate imagery and the location of many tracks in middling cities of the Deep South probably didn't feel too welcoming. In any case, NASCAR's alabasterism just was.
Given the myriad possible reactions NASCAR could have had not only to this moment but also This Moment, the organization's reaction — even if it's easy, with the benefit of hindsight, to characterize it as an overreaction — is charming. It did not come off as crass or cynical or tone-deaf. It certainly felt more genuine than, say, the barrage of emails explaining how your oil-change place is addressing systemic racism.
Years from now, normal, properly functioning human beings — that is to say, not conspiracy theorists or hucksters — will not remember the Garage Pull Heard 'Round the World. The memory from the weekend at Talladega will be Wallace behind the wheel of the 43 — along with Dale Earnhardt's No. 3, the most iconic number in stock-car racing, made legendary by Wallace's boss Richard Petty — with his fellow drivers escorting him down pit row before the race, their crews lined up in a phalanx behind them. With attendance at Talladega severely limited, the usual cacophony of the pre-race was replaced by poignant silence.
When Wallace finally emerged from his car, his mask made of an American flag bandana couldn't hide his emotion. Overwhelmed, tears streamed down his cheeks as he embraced his competitors one by one. CDC guidelines be damned, at least for that moment, as no pandemic or government tut-tutting can stop our common humanity.
Finally, Wallace encountered Petty. Nearing his 83rd birthday, The King somehow manages to look the same as he ever did, his famous wide smile under his more famous black and befeathered cowboy hat. It was impossible to see Petty's mustache (even Kings, when they become octogenarians, wear masks in the time of COVID), but you know it was there. He bear-hugged Wallace, now obviously in the throes of a full-heave cry, and leaned in. He whispered something, and it's not important what it was — not to us at least, though it clearly meant something very deep to Wallace himself. The man who made famous the gorgeous 43 — painted in its stunning red and its blue that manages to be light and bright simultaneously — anointing his successor in the young Black kid from Mobile in the heart of the Deep South, as the nation and NASCAR roils and wrestles around them.
It is still 2020, of course, and that still means this tale has a predictable denouement: Wallace standing on the hood of his car, all those drivers and crew members stretching out to the vanishing point behind him, as he snapped a photo with his smartphone. The perfect ending would have been Wallace taking the checkered flag. Alas, he did not, finishing in the middle of the pack, though he briefly led the race, prompting "Bubba!" chants from the sparse crowd.
NASCAR as an organization, along with its drivers — who put together the pre-race escort without direction from the top, organizing it, of course, via group text — were completely without artifice. If consultants guided their response, it wasn't obvious. For Americans who hardly pay attention to stock-car racing, it showed what the sport's appeal is to those for whom it is an obsession. It exists without the careful stage management of the more prominent pro leagues. Its people seem genuine. Nothing about this weekend at Talladega was couched in jargon — not that of the board room, not that of the PR-industrial complex and not that of the Critical Theories department. NASCAR really came off as having done the right thing because it was the right thing to do.
Compare that to the NFL, as Commissioner Roger Goodell issued a mealy-mouthed statement May 31. He faced a barrage of criticism for its disingenuousness and its barely-a-half-measure show of support for its Black players and the movement against racism generally. That led to Goodell issuing a second statement a few days later that explicitly said, "Black lives matter," but it came as forced. It's as if the league is trying to do literally the least it can to keep from upsetting anybody, and effectively just upsetting everybody.
The NFL — and hell, the rest of us — might learn a lesson from NASCAR here. That instead of trying to sound right or speak right or appear right all the time, just be right to everyone.