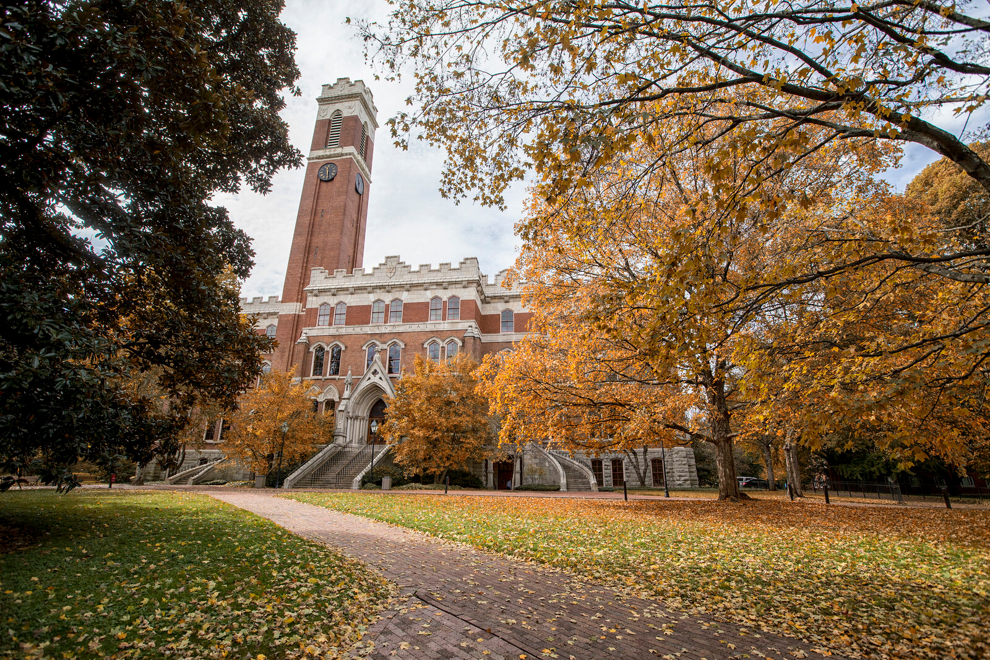 Strained by the ongoing pandemic, representatives for various employees at Vanderbilt University are calling for more transparency and financial support from school officials following the announcement of a multimillion-dollar staff recruitment initiative. While the school launches its $100 million Destination Vanderbilt program to hire up to 60 new professors, current employees say they likely won't be seeing a raise anytime soon, despite the financial strain caused by the pandemic and rising insurance premiums. 
"It's sort of galling to be asked to take no raise for the next year while this is happening," says David Rutledge of Laborers International Union of North America Local 386, which represents about 600 maintenance, groundskeeping, custodial and dining-room workers at the university.
Rutledge says that when the pandemic first hit, the university was helpful and cooperative in dealing with staff, making sure they would be compensated even if they couldn't work. But the university's announcement that annual merit salary increases would be "deferred until further notice" presented an issue for LIUNA members when it came time to negotiate a contract extension this fall. LIUNA workers and Vanderbilt University have had a contract together since 1972.
Rutledge says the lack of raises will hit residents of Davidson County — the majority of LIUNA members — particularly hard as costs of living increase. The median wage rate for these workers is $15.80 per hour, according to Rutledge, with a range of $12.50 for a recently hired retail clerk to a high of $32.10 for an experienced plumber.
According to MIT's living wage calculator, an hourly wage of $12.34 for a single childless adult is needed to make it in Davidson County as of January 2019. However, across the country, COVID-19 is stressing how much money people need to get by, and affecting the cost of living in ways that aren't always obvious.
Rutledge adds that the usual annual increase of 3.25 percent for LIUNA members would cost roughly $700,000 total this year — less than 1 percent of what the school will spend on Destination Vanderbilt. He notes that LIUNA is finding support with professors and graduate students who have their own safety and financial concerns with the campus administration. "This is the first chance we've had to really … join in solidarity with other other groups [of workers] advocating for their own membership on campus," says Rutledge.
Emphasizing his point, Rutledge spoke to the Scene via a Zoom call alongside a grad student and a professor.
Nick Goodell of Vanderbilt Graduate Workers United says grad students, facing poor prospects in the academic job markets due to COVID-19, asked the university to consider funding extensions. Goodell says there has been no response, and he and others were surprised by the Destination Vanderbilt announcement.
"So you secure the future of Vanderbilt, but what about right now where people — where workers, students — are being affected by this pandemic?" says Goodell, a Ph.D. student in the history department.
Goodell says a unionization campaign for Vanderbilt Graduate Workers United has been underway for a while, but this year heightened the group's sense of urgency: "We've recognized that we need official legal representation now more than ever."
VGWU sent a letter with almost 700 signatures to the provost's office outlining some of these concerns, as well as highlighting the complex challenges facing international students.
Goodell says that in addition to speaking with LIUNA workers, graduate students also reached out to the Vanderbilt chapter of the American Association of University Professors — a national collection of professors dedicated to organizing faculty and advocating equitable school policies. When Goodell learned they also sent the administration a letter that was "seemingly ignored," he realized: "There's some common ground here. Maybe we can work together."
One adjunct professor, who asked to remain anonymous in order to avoid retaliation, says the spending for this initiative is frustrating for faculty as well. With a freeze on raises and insurance premiums rising, professors face "a de facto pay cut." The professor says the $100 million Destination Vanderbilt initiative "contradicts that there's no funds."
The professor also says administrative assistants were hit hardest in faculty departments, and had to reduce their hours by 25 percent. "That's just the trend at Vanderbilt, to make the most vulnerable workers pay the price for … any suffering that's going to happen as a result of the pandemic."
The professor adds that many faculty, especially non-tenure-track instructors, faced uncertain working conditions going into the fall semester and were concerned about who would be teaching in person or online. Currently there is a mix of remote and in-person socially distanced classrooms.
The Vanderbilt chapter of AAPU sent a petition to university officials demanding they rethink their approach to reopening classes, signed by hundreds of instructors, alumni and students.
A spokesperson for Vanderbilt University directed the Scene to a few press releases and announcements concerning the university's reopening strategy, the economic impact of the pandemic, its plans to assist graduate students and Destination Vanderbilt.
"Based upon current known conditions, there is no plan at this time for across-the-board university layoffs or furloughs," reads an announcement from Susan R. Wente, the interim chancellor and provost of Vanderbilt, that also described a freeze in merit salary increases. "All of the steps described above will be implemented with an eye toward achieving overall reductions in total university expenses in the 5-10% range for upcoming fiscal year 2021."
Another release says graduate students received support from the university's hardship fund.
In announcing Destination Vanderbilt, Wente says: "Our faculty are the lifeblood of the One Vanderbilt community. When these new faculty join our current outstanding faculty, it will be a critical step toward expanding and strengthening the faculties' collective force, at the same time sparking innovation to accelerate Vanderbilt's teaching, discovery and service missions."
Frustrations with the university have spurred what Goodell describes as a "campus labor coalition" of different groups of workers coming together. "We've only recently formed ourselves in this way, but we're very excited to get to work with each other more directly," he says, adding that the pandemic "does necessitate" various groups joining together.
Rutledge agrees. "The issues confronting a graduate student or a professor seeking tenure are very different from those of the dining worker, but what we all do recognize is that we're all workers serving at the whim of an administration that hasn't really demonstrated a lot of consideration towards the folks that we represent."
Rutledge tells the Scene that Vanderbilt has agreed to a "me too" clause in the contract with LIUNA, wherein if anybody on campus gets a raise in the next year, the union's members would get a comparable one. The results of the vote have not yet been shared.
Update, Oct. 27: Rutledge tells the Scene that LIUNA members have voted to extend their contract with Vanderbilt, with the inclusion of the "me too" clause.