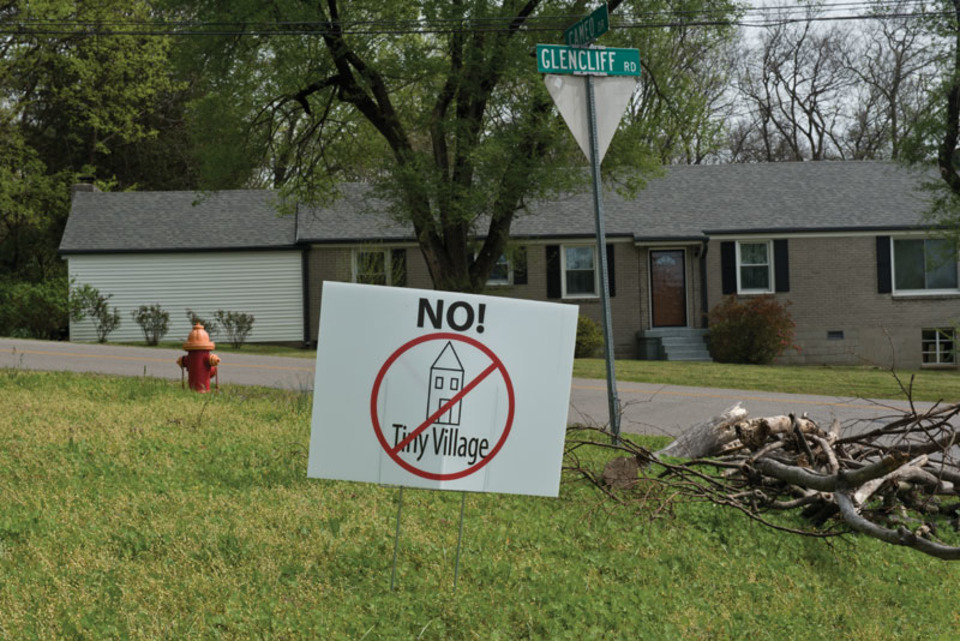 The Tennessee Court of Appeals ruled Wednesday that helping the homeless is religious expression, agreeing with a Davidson County Chancellor, two millennia of Christian theologians and the Talmud.
The Glencliff Urban Village is a collaboration between the Glencliff United Methodist Church and housing/poverty nonprofit Open Table Nashville to build 22 tiny houses on a portion of the church's nearly six acres. Neighbors of GUMC opposed to the Village filed a legal challenge to the project in the summer of 2017, after a Metro zoning administrator and the Board of Zoning Appeals determined the project could go forward despite it being contrary to the church property's underlying zoning.
Land-use observers will note that zoning administrators are typically deferrent to religious communities, in part because it's the right thing to do, but also because of the thorny matter of the First Amendment. Also, zoning wonks aren't the kind of people who find testifying in federal court all that exciting (they are more interested in scintillating topics like accessory uses and fighting the scourge of down-zoning).
Further into the statutory weeds, religious groups are given broad exemptions from typical zoning regulation by the federal Religious Land Use and Institutionalized Persons Act and Tennessee's own Religious Freedom Restoration Act, which does more than just keep bakers from having to make a wedding cake for gay couples or keep Hobby Lobby from paying for birth control while illegally importing antiquities.
Anyway, lawyers for neighbors conceded that serving the homeless is essential to the church's mission, but said the involvement of Open Table trumped the various constitutional and legal protections, since it was the organization actually providing the service and that it self-identifies as an "interfaith organization" for which serving the homeless is not an essential part of its ministry. That's despite the whole point of Open Table being that it ministers to people who are homeless.
Open Table, though, is led primarily by Methodist clergy and is funded, in part, by the denomination's General Conference; indeed, it is headquartered at GUMC itself.
There are, of course, voluminous exhortations in Testaments Old and New that believers help those who are poor. Methodism, in particular, grew out of the Wesleyan movement, a tradition that began when the Wesley brothers took preaching into the streets when they weren't churning out hymns at a Merrill Moore-esque pace and making ill-informed jokes about predestination at Calvinists' expense.
The Court of Appeals, as Davidson County Chancellor Claudia Bonneyman did at the trial court level, found that the tiny-home project is "religiously motivated and constitutes the exercise of religion" and therefore cannot be subject to the "substantial burden" of zoning compliance, particularly since neither the proponents nor opponents of the plan offered an alternative means of furthering the religious mission. Read the decision here.