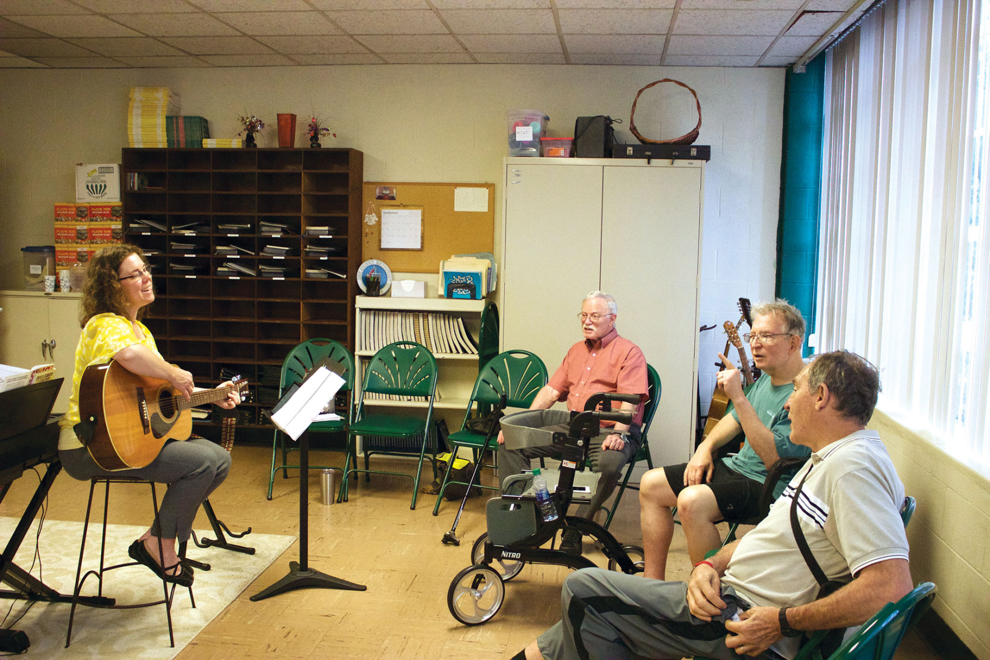 On a Thursday morning at the In Harmony Music Therapy headquarters inside Blakemore United Methodist Church on West End, music therapist Carrie Friddell leads a group of men in a rousing rendition of "When the Saints Go Marching In." The group is enthusiastic, marching, clapping and slapping their knees as they sing in unison. It may seem carefree, but each of these moves is prescribed specifically to alleviate symptoms of the disease that all these men have in common.
Parkinson's disease is a movement disorder that affects the part of the brain that creates dopamine. Dopamine is often talked about in reference to pleasure and emotional responses, but it's also responsible for allowing the brain's neurons to communicate overall. When there's a dopamine deficiency in the brain, a person's motor functions are affected. With Parkinson's, the brain doesn't communicate well with the muscles of the mouth, and the throat can become stiff, resulting in mumbling, stuttering or the loss of vocal inflection. Singing helps retrain that. When the singers cross their right arm over to slap their left knee — and vice versa — the coordinated movement stimulates both sides of the brain. Those signals can get sluggish with Parkinson's, too. Marching in rhythm helps with the freezing of movement that can also be a symptom. And bringing a group together to share in community can help with depression, another symptom of dopamine deficiency.
Friddell created this small singing group, VoiceLift, for people with Parkinson's diagnoses. Seeing the need for a group that meets in Nashville, she also created VoiceLift as an offshoot of her larger choir with the The Peterson Foundation for Parkinson's in Franklin. That group was founded by former Nashville Predators assistant coach Brent Peterson, who retired due to a Parkinson's diagnosis. 
A study published in May by the medical journal Neurorehabilitation and Neural Repair found that Parkinson's patients who received vocal training improved vocal intensity and quality of life as compared to the control group. Friddell uses a mix of science and art in her work as a music therapist. She says playing or listening to music can be inherently therapeutic, but what sets board-certified music therapists like herself apart is the clinical element. Her education is in psychology, anatomy, and human growth and development, along with the principles of music therapy. 
"I'm trained in how to lead a choir and use vocal technique, but that vocal technique is prescriptive to their health," Friddell says of her patients. "I can take that and see what their needs are and provide musical technique to help them physically."
When Friddell decided to become a music therapist in the late '90s, the only school in the state that offered a bachelor's degree in music therapy was Tennessee Tech University in Cookeville (the program has since folded). Now she partners with Belmont University — currently the only school in the state to offer a bachelor's degree in the field — on The Rising Stars Choir, a group for children with special needs.
"I think that music, in itself, makes people feel better," Friddell says. "It's a holistic view of health. It promotes their self-esteem, promotes their physical well-being, helps them to work toward goals and obtain them. It promotes the person as the best person they can be."
Friddell says one thing that motivates her students is giving them input on the songs they sing in the class. For the Thursday meetings, she likes to focus on folk songs that people usually already know by heart. 
" 'Kumbaya' was nice," says regular participant Gus Kuhn. "We often sing 'Michael Row the Boat Ashore.' It's hard to beat that."
Former pediatrician Bill Long participates in both of Friddell's choirs for Parkinson's. He's very new to singing, and values the routine and community that the groups give him.  
"I'm enjoying this," Long says. "Music is a part of our lives. It's a part of our days. This is making music. You meet people that are interested in doing the things that you're doing. Makes sense for the Music City." 
Participant Willis Ayres used to be a magician, and says he needs to work to get his clarity of voice back — so he can command a room once again.
"We can sing by ourselves, but it is so much better when someone helps us," Ayres says. 
He gestures to Friddell. "Voilà!"