Four-hundred or so crumbling concrete rectangles jut out of the vinca at the top of a ravaged hill, silver circles embedded on top of the concrete. They're numbered so that, if anyone comes looking and remembers where the dead person they're looking for was first buried, the number can be linked to a location that no longer exists. Since no one knows the dead are here, no one comes looking.
Benevolent Society #2 Cemetery is not supposed to exist. At least, not anymore. And yet, twice I've stumbled my way up through the dense brush and the briars, trying to keep the cliff to my right so that I wouldn't get too lost, and stood in the remains of this cemetery that was destroyed.
The deed to the property on Brick Church Pike says the general public has a right to access the cemetery, but in practical terms, that right belongs only to the foolish and the surefooted. It is virtually impossible for family members of the people in the cemetery to visit the cemetery. It is also virtually impossible for family members to discover that they are related to the people in the cemetery, as no official list exists of who is buried there.
I'd been looking for the cemetery in the wrong spot, up at the corner of Ewing and Brick Church, where the website Find a Grave said it had been located. I mentioned to my friend, Sunny Fleming — who happens to be vice president of the Tennessee Geographic Information Council — that I couldn't even see where a cemetery as big as the one described in historical documents could have been at that intersection, considering the ages of the buildings there and the fact that I knew the cemetery had existed up until 1995.
Fleming went to work, using old maps, archaeological records and publicly available light detection and ranging (or LiDAR) data. 
"The archaeological record gave me a better location to target, but modern imagery revealed warehouses and a hillside obscured by trees," Fleming told me. "The LiDAR data allowed me to 'put on X-ray goggles', but for the Earth's surface. This allowed me to detect two unnaturally shaped rectangular anomalies at the top of the hill of our area of interest — which later I was able to cross-reference to deed information accessed on Metro's parcel viewer that confirmed these as the extant location of the reinterments.
"The obvious action was then to go see it for ourselves," she continued. "Having talked to the archaeologist who conducted the work, he did his best to mentally prepare me for what I would see." 
Still, when Fleming, her husband and I made our way up there, to this place that was supposed to be a fitting alternative to the cemetery these people's loved ones put them in, what we found was very distressing.
Fleming gave me her impressions of what we found. "The existing cemetery is densely packed, and the reinterment was conducted on a slab of limestone, so soil had to be brought in to cover the new graves. The graves are barely covered, and erosion has occurred over time, with invasive ivy now covering the entirety of the site. It's barely delineated with deteriorating orange erosion fencing, like a construction site. It made me sick to my stomach. I didn't walk around much because I was afraid of damaging it further. The fragility of the site was the thing that shocked me first. Then we came across a pile of headstones. Just an anonymous compilation of names engraved on rocks, covered in soil and moss and eroding away. The metaphor was obvious — despite having been carefully and lovingly carved at one time, they were still cast away and discarded carelessly by others who had no intention of giving a shit." 
How did it come to this?
---
The First Cemetery — 1840s
In 1872, Thomas W. Ballou — who lived out along Brick Church Pike, northwest of East Nashville — sold this land to the Edgefield Benevolent Society #2. Benevolent Societies in the African American community were part social club and part insurance for people who couldn't buy insurance. The motto of the Benevolent Societies was always some form of "To Care for the Sick and to Bury the Dead." The acquisition of Ballou's land meant that the members of Benevolent Society #2 now had their own dedicated space for burying their dead. The deed states that the society was getting all the land — 17 acres and 38 poles (a pole is about the  length of a canoe) — except for the 9 square poles that were enclosed on the property, which the heirs of Jesse Parker were using as a family burial ground.
As best I can tell, this was everything on the west side of Brick Church Pike, from Haynie Avenue to the south up to the old dirt path that was known as Vista Lane (not the current Vista Lane). The back edge of the property was where the remnant cemetery is now.
Jesse Parker, whose heirs already had a cemetery on the land, was white. He had no children, or at least none who were named in his will when he died in 1845. His heirs were his brother-in-law, John Lanier, and his brother-in-law's kids, and the families of his six other brothers and sisters. His nephew, George, got Jesse's horse and saddle.
In the 1850 census, five years after Jesse's death, 28-year-old George Parker was living with his widowed mom and his unmarried sister across from the family cemetery next to some Laniers (judging by ages, probably cousins). Right down the road from them, past the Kirkwoods, the Byrnes and the Kirkpatricks were more Parkers — Thomas, who was 80, Harry, who was 75, and Margaret, who was 70. They owned $300 worth of property. They were Black. They were free. Thomas, like Jesse, came from North Carolina, and the two men were neighbors as far back as I could find.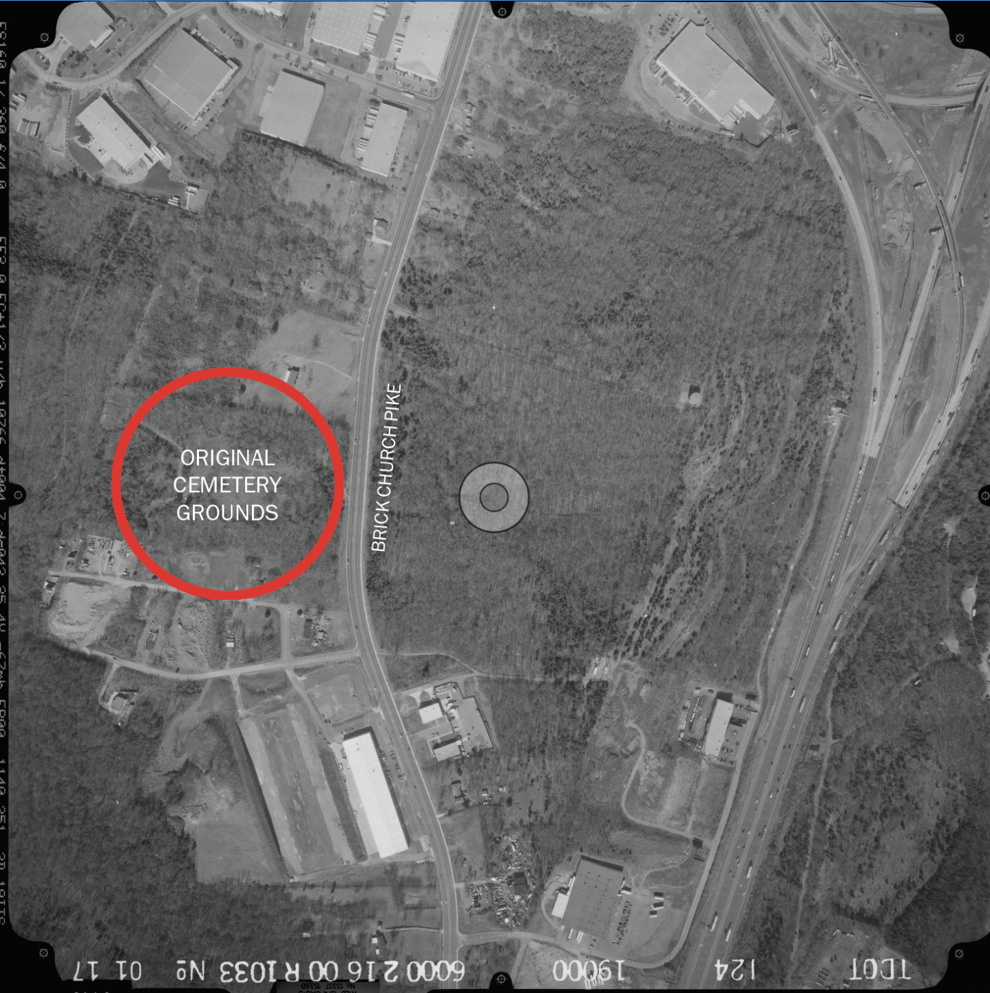 We don't know that they're brothers, Jesse and Thomas, but their ages and patterns of residency suggest it. And Thomas, Harry and Margaret were all old enough in 1850 to make it likely that they were in the Parker family cemetery in 1872, along with Jesse.
Which brings us to Jesse's nephew George Parker, who was white, and the woman who could not legally be his wife, Caroline Whitworth. In both the 1870 census and the 1880 census, George Parker was living with Caroline Whitworth and a bunch of Whitworth children. When the Whitworth children grew up, most of them took the last name Parker. George is listed on their death certificates as their father, Caroline as their mother. 
Caroline was born around 1840. Her three oldest children — Willis, Lucy and Joseph — were all born into slavery with Caroline. Willis, the oldest, was born when Caroline was 15. In the 1860 slave schedule, nearby slaver James Whitworth is listed as owning three women the right age to be Caroline. In the 1870 census, Caroline is listed as "mulatto." In 1860, two of James Whitworth's 20-year-old enslaved women were listed as the same. In 1860, Willis would have been 5 and Lucy 3. James Whitworth owned a 5-year-old mixed-race boy and a 2-year-old mixed-race girl.
Caroline's family was large, but it was tight-knit. Caroline had a younger brother, Daniel Toney, who she stayed close with. Their mother Effie later married William Harris and had five children with him. These Harris children, many of them close in age to Caroline's children, were indeed very close to her children; one of the Harris sisters lived with Caroline's daughter when they were both adults.
This all explains why a white man would sell land that had a white family cemetery on it to a group of Black people: The Parker family cemetery likely was already racially mixed.
---
The Second Cemetery — 1872
The Benevolent cemetery was dedicated on a Sunday, June 9, 1872. The Republican Banner reported that four bands, six mutual aid societies, 10 wagons full of singing Sunday-school children and people who just came out to walk along proceeded from Main and Foster streets (the latter is now Seventh Street) in Edgefield four miles away from the cemetery location. The parade grew to be a mile-and-a-half long. The Banner estimated that 6,000 people came to the dedication ceremony, and the story ends: "It is a noteworthy fact that the vendors of refreshments were not allowed upon the grounds, the societies deeming them too sacred for such traffic."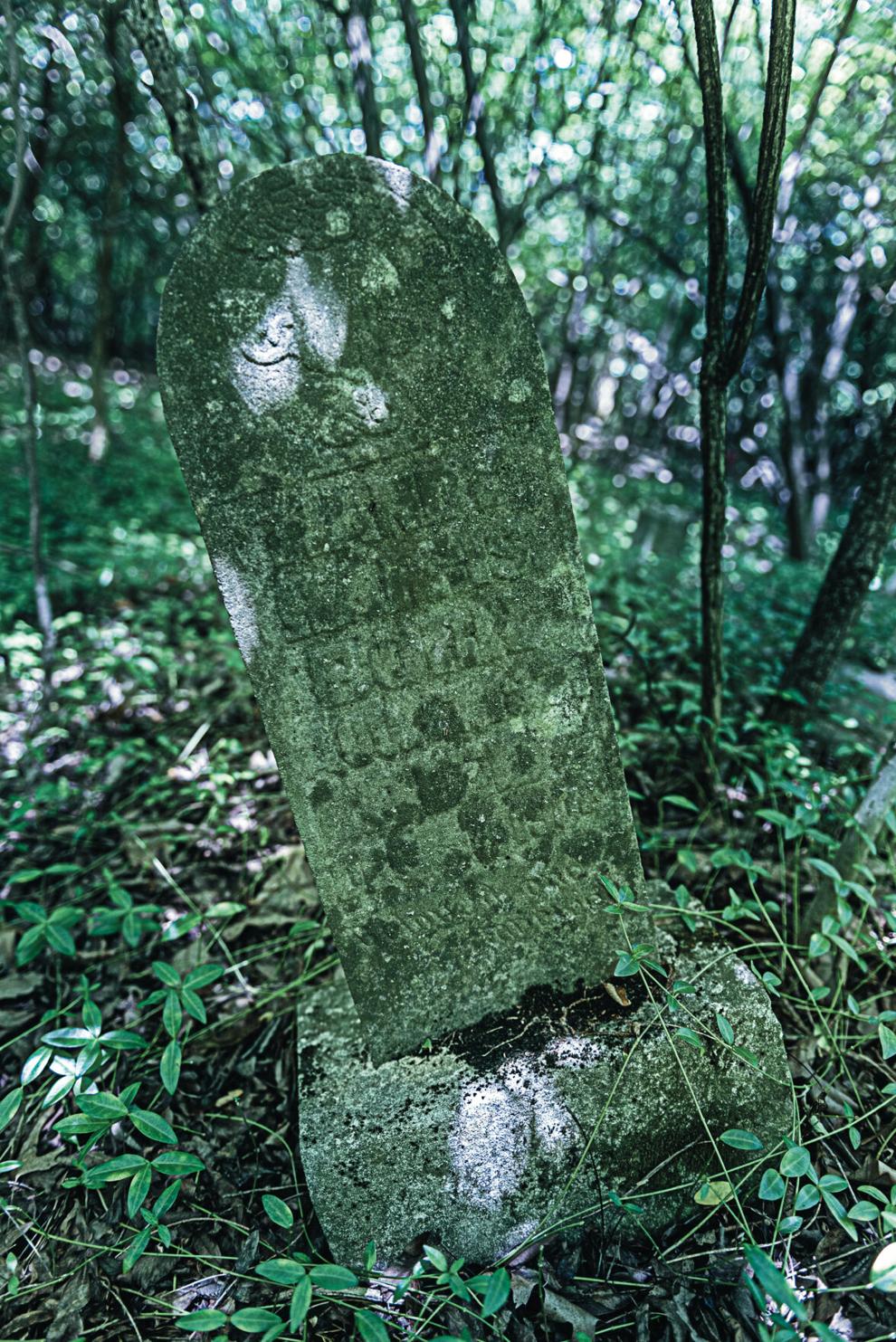 I wanted to follow this route from the heart of East Nashville out to the Benevolent Cemetery, just to see what I could see, what I might learn. But this route literally doesn't exist anymore. Foster got cut in two by Ellington Parkway on one end, and the intersection where Foster met Dickerson was obliterated by the Gordian knot of I-24, Dickerson and Spring Street. Even the way the community moved through East Nashville was destroyed and carved up. Not just the cemetery has been lost, but the literal route through the neighborhoods to the cemetery has been destroyed.
The last burial I could find in the cemetery happened in 1955. The Interstate Highway System plan was enacted in 1956. Construction on I-24 started in 1958. This, along with the urban renewal projects that started in the 1950s, probably spelled the doom of the cemetery. The people who used it couldn't get to it. 
---
The Third Cemetery — 1995
For all practical purposes, the Benevolent cemetery ceased to exist on March 6, 1961. Eighty-three-year-old widow Cora Stratton, the last remaining member of Benevolent Society #2, had sold the cemetery land to a group called the Paradise Educational Club in January of that year. In March, this organization modified the deed.
WHEREAS, the said deed is irregular because said property was purportedly conveyed for the purpose of a cemetery; and whereas, the said Trustees of the Paradise Educational Club did not purchase said property from Cora Stratton for the purpose of a cemetery; and whereas, no cemetery has been erected thereon, except the nine (9) square poles which is now enclosed and used as a burying ground by the heirs of Jerry Parker …
I don't know what to make of this. "No cemetery has been erected thereon"? That's just not true. And certainly, if Mrs. Stratton was in mentally competent condition when she signed this, she would have known it was not true. The trustees of this club are listed on the deed as Eldrige Patton, Olivia Cheatham, Henry Clark, George Allen, Dora Scruggs and Calvin Magee. Most of those last names are also last names of people buried in the cemetery, but I couldn't find any definitive connections. I could find no other information about this club — no listing in the phone book, no incorporation records, no mention in the newspapers.
Cora Stratton died in 1964. She was not buried in the cemetery her friends and neighbors a generation older than her founded and that she spent the last part of her life shepherding. Though it was still a place in the physical world, by the time she died, it had already legally disappeared.
Without ongoing burials, anyone to tend to it, an easy way for people to get from their neighborhoods to it or even a deed upon which it still existed, the cemetery was considered abandoned. Still, had you been able to see it in those abandoned years, you could have at least expected to see the kinds of features you can still see in other Black cemeteries in Davidson County. Many African American cemeteries here were, first, old slave cemeteries. Black people after the Civil War found ways to pool resources and buy these cemeteries because they wanted to be buried with the members of their families who had died before the war. But very few enslaved people were going to have headstones with names, because they weren't allowed to read and write. Those graves were marked with fieldstones or plants. 
When Tennessee State University history professor Dr. Learotha Williams Jr. visited the remnant graveyard, he found piles of those old fieldstones. He told me, "It was only after I saw piles of broken/misshapen flat rocks stacked up against trees and other odd places and realizing that that sort of thing didn't naturally occur in nature that it dawned on me that I was looking at broken and discarded headstones."
It's not unusual to see old trees in rows or clusters in old Black cemeteries, because they were planted to mark the graves of loved ones. It's also very common to see clumps of lilies or old daffodils. Sometimes graves were marked with wooden markers, which didn't hold up well over time. It's also common for old African American graveyards to be covered in vinca, which is lower-maintenance than grass, but does make a cemetery look overgrown if you don't recognize why it's there.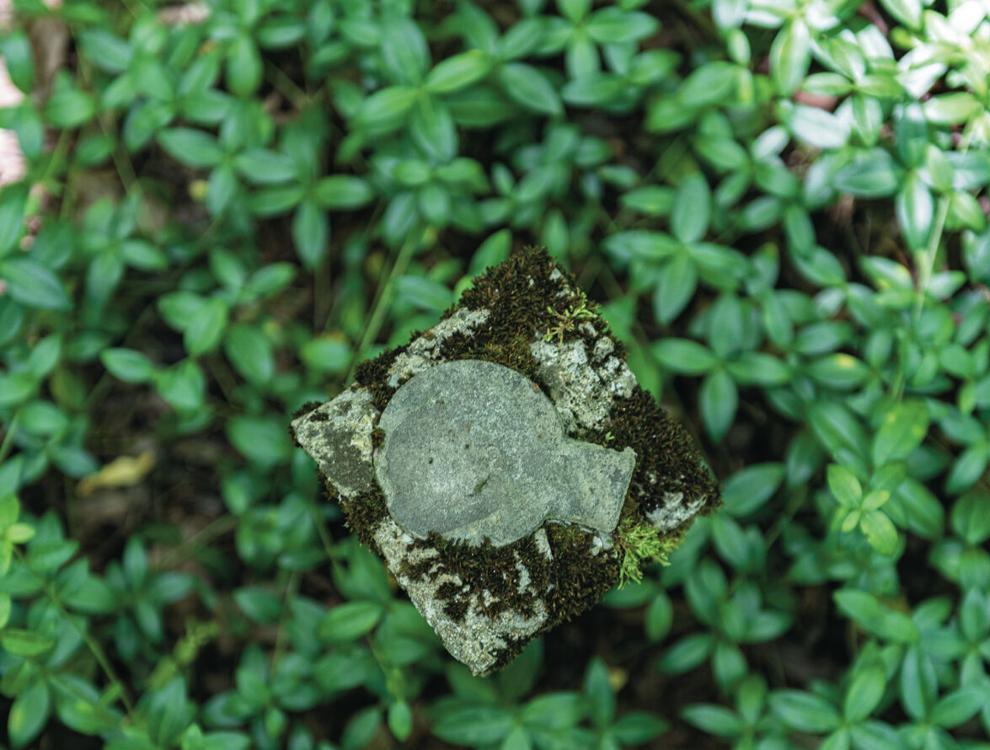 Was the Benevolent cemetery in any worse shape in 1995 than the Nashville City Cemetery was at that same time? No. But one got saved and one didn't.
The owners of the property at that time, members of the Gilbert family, got permission from the Metro Council to remove the remains of the people buried there. Considering that the Paradise Educational Club got the cemetery removed from the deed long before this, we're probably lucky they actually acknowledged it was a cemetery. The owners hired an archaeologist, and that archaeologist and his team dug up all the graves they could identify and relocated them to the back of the property, at the top of the hill. The property owners then cut away the side of the hill to make a flat area for the warehouses that are there now. This means that anyone the archaeologist missed was hauled away with the hillside and dumped wherever the pieces of that hillside were dumped. This was all done legally.
One of the landowners at the time, Harris Gilbert, told The Tennessean: "We're going to enclose the cemetery with a hedge or a nice rock wall. We just want to put them in an organized place in a respectable fashion."
There is no hedge, no wall. Just orange plastic temporary fencing that has mostly fallen over. 
The main reason the destruction of the Benevolent cemetery was allowed to happen is that no one knew who was buried in it. No families came forward to say, "Hey, those are my people in there." Both Glenn Moss, who lived on Brick Church Pike in the 1990s, and Lawrence Jackson, president of the Haynes Area Residents Association at the time, told The Tennessean that they had tried to find out who was buried in the cemetery, but had been unsuccessful. 
Things are different now. The Tennessee Historical Commission has recently brought on Graham Perry to be the historic preservation specialist on cemeteries. He's putting together a statewide database of all of Tennessee's cemeteries that landowners, developers, real estate agents, historians, genealogists, planning departments and so on will be able to use to locate cemeteries and navigate the state laws around them.
When I talked to Perry for this story, he told me, "I will gladly take any location and historical information about a cemetery." He had me pinpoint the exact location of the remnant Benevolent cemetery so that he could be sure it's correctly located and identified in the state database. This makes the cemetery once again real in such a way that it will be harder to disappear it from future deeds. It also means he can act as a clearinghouse of information and advice about how best to tend to the cemetery, if that's what descendants want.
But without headstones or cemetery records, how can people know if their ancestors are in the Benevolent cemetery?
In June, I got to hear Kathy Lauder, retired Tennessee State Library and Archives employee and graveyard guru, talking about how she was piecing together a record of everyone buried in historically Black grounds Mt. Ararat and the original Greenwood cemeteries, since many of the early cemetery records had been lost in a fire. One of the tools she's using? The city's death records.
First in the death register and then on a person's death certificate, some city employee wrote down where a person who died in Nashville was going to be put in the ground. Just by going through the death registers from 1881-1899, as well as searching through death certificates, I've come up with the names of about 240 of the people buried in the Benevolent cemetery.
What can I tell you about them? The cemetery is filled with familiar old Nashville names — McFerrin, Ridley, Robertson and Douglas among them. They were all from East Nashville, which makes sense. If they were from other parts of town, they would have belonged to other Benevolent Societies and been buried in other Benevolent cemeteries. 
And there were so, so many children. Some were so young they didn't have names yet. Some had names that made me think their parents were trying to bless them with strength to make their way in this hard world — John Henry Ezell, little Fred Douglas and Queen Jane McGavock among them. Infants and toddlers dead of the croup and teething and fevers and general weakness. The vast majority of burials I found records for were for very young children.
Dr. Williams tells me, "These spaces — no matter how unsuitable the ground was for burying their loved ones — became sacred ground when they purchased, consecrated it, and laid the first person to rest in it."
It is still sacred now, and though so much of the cemetery has been lost, not all of it is destroyed. There are still some headstones. The vinca in the removed cemetery is likely a remnant from the old cemetery. And now we have some names. If their families are looking for them, they are up at the top of an old hill at the end of a hard hike, waiting to be found.
---
A Partial List of Interments at Benevolent Society #2 Cemetery
| Last Name | First Name | Date of Death |
| --- | --- | --- |
| Allen | James | June 4, 1887 |
| Allison | Thomas | October 23, 1886 |
| Anderson | John | March 12, 1881 |
| Anthony | Washington | May 11, 1882 |
| Armstrong | Mary | |
| Baber | Alice | August 22, 1897 |
| Baber | Samella | September 3, 1897 |
| Banks | Mary | January 15, 1927 |
| Banks | Richard | July 14, 1883 |
| Berry | Infant | June 2, 1899 |
| Bivans | Charlotte | October 3, 1896 |
| Bowman | Ben | October 23, 1898 |
| Bowman | George | April 18, 1895 |
| Bradley | Mary | December 22, 1884 |
| Branch | William | February 7, 1885 |
| Bransford | Minnie | January 24, 1885 |
| Bransford | Walter | January 9, 1882 |
| Brown | Richard A. | March 3, 1894 |
| Brown | Tilman | March 14, 1899 |
| Bugg | James | November 29, 1890 |
| Cage | Walter | July 23, 1882 |
| Campbell | Susan | January 13, 1887 |
| Cantrell | Ed M. | November 15, 1894 |
| Cantrell | Lucinda | August 6, 1891 |
| Carpenter | Jordan | December 17, 1938 |
| Carpenter | Robert | January 2, 1938 |
| Cheatham | Infant | August 30, 1889 |
| Childress | S. D. | May 17, 1892 |
| Childs | Eugene | January 30, 1886 |
| Clark | Myra | December 3, 1894 |
| Clark | Plummer | January 25, 1884 |
| Cohn | Lydia | October 3, 1893 |
| Cole | Mollie | October 2, 1889 |
| Coleman | Willis | December 24, 1885 |
| Conley | Reuben | February 23, 1884 |
| Conn | Mary Ella | January 17, 1884 |
| Conner | Lydia | May 15, 1887 |
| Cowan (?) | Mad[???]ire | September 28, 1897 |
| Craur | Valley | November 13, 1890 |
| Crawford | Infant | March 4, 1885 |
| Crosseray | [illegible] | March 6, 1897 |
| Crosseray | | March 6, 1897 |
| Crossway | Chainey | August 3, 1882 |
| Crump | Ada | August 5, 1885 |
| Darden | Lena Wise | May 12, 1904 |
| Davidson | Infant | February 1, 1884 |
| Davidson | John | March 25, 1893 |
| Dickenson | Mamie | August 29, 1886 |
| Dortch | George R. | February 27, 1895 |
| Doss | Minie | July 31, 1883 |
| Douglas | Fred | March 6, 1898 |
| Douglas | Harry | August 24, 1887 |
| Douglas | Leeanna | September 6, 1891 |
| Douglas | Mary B. | December 16, 1883 |
| Douglas | Minnie | October 18, 1887 |
| Driver | Clara | February 17, 1885 |
| Dyser | Infant | November 28, 1886 |
| Evans | Mamie | April 5, 1887 |
| Evans | Wilburn | September 25, 1886 |
| Ewin | Infant | January 14, 1886 |
| Ezell | John Henry | October 1, 1886 |
| Farrow | Robert | January 24, 1895 |
| Ferrell | Dalton | July 22, 1887 |
| Fikes | Ben | March 3, 1928 |
| Fisher | Charlie | February 25, 1901 |
| Fisher | Joseph | December 26, 1901 |
| Forrest | Landis | September 16, 1886 |
| Gannaway | Syrus (maybe?) | September 15, 1886 |
| Garret (?) | Evan (?) | April 15, 1891 |
| Gilliam | Alfred | March 28, 1886 |
| Gilliam | Emma | October 14, 1888 |
| Gilliam | Infant | August 31, 1883 |
| Givans or Giraus? | Mad | December 9, 1885 |
| Gordon | Charles | September 4, 1883 |
| Grant | Mamie | January 8, 1891 |
| Hall | Dora | December 21, 1896 |
| Hampton | George | June 10, 1887 |
| Hampton | Mary | July 25, 1885 |
| Harper | Bettie | March 18, 1887 |
| Harper | Gertrude | March 13, 1887 |
| Harper | Melville | February 26, 1887 |
| Harris | Alfred | November 19, 1936 |
| Harris | Mandy | December 1, 1904 |
| Harris | Plum | May 3, 1955 |
| Harris | William | August 10, 1893 |
| Hartsfield | Fayette | October 20, 1885 |
| Hilliard | Nellie | April 24, 1884 |
| Hite | Mary | July 17, 1888 |
| Holland | Pennie | March 16, 1886 |
| Hooper | Marincy (?) | April 13, 1899 |
| Hopkins | Delphia A. | May 17, 1897 |
| Horn | Lina | October 16, 1898 |
| Howlett | Joe Alfred | June 19, 1921 |
| Hunter | David | January 28, 1896 |
| Hurt | Eliza | December 2, 1895 |
| Huston | David | October 5, 1884 |
| Inman | Caroline | December 11, 1887 |
| Jackson | Andrew | September 1, 1888 |
| Jackson | Eliza | April 24, 1888 |
| Jackson | Lucy | November 18, 1884 |
| Jackson | Mary | November 23, 1897 |
| Jenkins | Robb | February 6, 1899 |
| Joiner | Mary Lou | September 29, 1888 |
| Jones | Frank | October 17, 1895 |
| Jones | Infant | February 11, 1882 |
| Kennedy | Minnie | March 6, 1884 |
| Kennedy | Peter | October 22, 1895 |
| Kennedy | Rebecca | December 31, 1888 |
| Kirby | Martin | January 3, 1888 |
| Kizer | Robert | September 21, 1890 |
| Lawrence | James | January 25, 1886 |
| Lawrence | Sallie J. | December 11, 1883 |
| Lee | Jennie | April 22, 1895 |
| Lester | Mary | September 1, 1894 |
| Lester | William | March 18, 1911 |
| Lewis | Millie | October 18, 1887 |
| Lloyd | Betty | July 14, 1887 |
| Lytle | M[???] | May 30, 1884 |
| Mallet | Kizzie | December 28, 1885 |
| Marble | Infant | February 14, 1897 |
| Martaiu (?) | Morning (?) | February 1, 1889 |
| Mathias | John | February 8, 1886 |
| Matlock | Abraham | April 28, 1899 |
| Maxey | Charlie | October 26, 1887 |
| McCall | Infant | September 26, 1894 |
| McClain | Rachel | July 10, 1893 |
| McCollough | Hattie | April 24, 1884 |
| McConley | Hattie | February 11, 1884 |
| McCoy | Thomas | February 16, 1886 |
| McFerrin | George | February 1, 1895 |
| McFerrin | Lula | August 4, 1882 |
| McFerrin | Laura B. | February 18, 1896 |
| McGavock | Anna | October 30, 1883 |
| McGavock | Priscilla | October 26, 1893 |
| McGavock | Queen Jane | November 3, 1886 |
| McGinnis | Infant | March 28, 1885 |
| McKay | H[???] A. | October 17, 1883 |
| Miller | William D. | September 2, 1888 |
| Mills | James | July 22, 1955 |
| Moore | Casias | August 6, 1887 |
| Moore | Frankie | June 28, 1886 |
| Moore | Lindsley | April 27, 1888 |
| Morgan | Mary | October 7, 1894 |
| Motlow | Joseph | June 3, 1894 |
| Neal | Celia | February 22, 1886 |
| Neely | Lucy | February 8, 1884 |
| Nichols | V.N. | April 21, 1882 |
| Noll | Lena | April 16, 1886 |
| Oakley | Dolly (nee Williams) | December 4, 1931 |
| Oliver | Eddie | February 20, 1884 |
| Owendorff | Cato | November 6, 1881 |
| Parker | Henry | May 28, 1911 |
| Payne | Louisa | November 28, 1890 |
| Payton | Infant | March 4, 1885 |
| Peppers (?) | Pigeon | July 31, 1892 |
| Peyton | Clara | February 1, 1887 |
| Phillips | [illegible] | July 15, 1891 |
| Phillips | Carrie | October 30, 1887 |
| Phillips | Joel | April 13, 1888 |
| Phillips | Robert | August 3, 1892 |
| Rawles | Infant | September 23, 1893 |
| Reynolds | David | May 1, 1890 |
| Reynolds | James | July 27, 1889 |
| Reynolds | Lizzie | March 13, 1887 |
| Reynolds | Minnie | December 8, 1891 |
| Rhodes | Infant | January 19, 1891 |
| Ridley | Annie | April 27, 1881 |
| Ridley | Hardin | April 18, 1887 |
| Riley | William Bonney | March 26, 1905 |
| Robb | James | April 1, 1881 |
| Roberson | Johnnie E. | March 7, 1887 |
| Robertson | Tom | October 28, 1948 |
| Roberts | George Jr. | May 3, 1928 |
| Robertson | Virgil | May 21, 1886 |
| Samuels | Robert H. | July 12, 1887 |
| Sanders | Hayes | August 20, 1883 |
| Scruggs | Dan | August 30, 1882 |
| Shaw | Jefferson | November 11, 1885 |
| Shelby | Isaiah | July 10, 1884 |
| Shelby | Sarah | May 26, 1892 |
| Simmons | Carroll | February 26, 1898 |
| Simmons | Polly | December 11, 1900 |
| Simms | Travis | March 27, 1930 |
| Simpson | Polly | December 24, 1886 |
| Sims | Charles | May 26, 1887 |
| Sleet | Albert | October 27, 1896 |
| Small | Julia | October 1, 1901 |
| Smith | Isaac | April 28, 1881 |
| Smith | Jane | February 19, 1886 |
| Smith | Jesse | January 7, 1887 |
| Smithers (?) | Milly | December 12, 1885 |
| Spurr | James | February 18, 1892 |
| Spurs | Levy | November 14, 1884 |
| Standard | Sarah | June 14, 1886 |
| Starks | Martha | August 9, 1897 |
| Stephenson | W. D. | November 3, 1898 |
| Still | Isaac | May 31, 1890 |
| Stull | Tim | August 9, 1892 |
| Stull (?) | Emma | December 15, 1891 |
| Sweeney | Daisy | January 7, 1886 |
| Taylor | Josephine | February 3, 1894 |
| Tell | Aggie | July 15, 1884 |
| Terril (?) | Millie | January 17, 1887 |
| Tilly | J.F. | |
| Turner | Alice | December 10, 1897 |
| Turner | Panel (?) | October 14, 1918 |
| Turningtine | Anna | July 18, 1897 |
| Vinson | Barbara (nee Turner) | November 10, 1935 |
| Wallace | [???]lisha | May 15, 1881 |
| Wallace | Bessie | June 13, 1896 |
| Wallace | Matt Dena (?) | June 14, 1896 |
| Washington | William | November 15, 1941 |
| Watkins | Lacreacy | April 1, 1898 |
| Weakley | Charlotte | April 9, 1886 |
| Webb | Ada | April 19, 1887 |
| Webb | Infant | January 19, 1886 |
| Wharton | Jerry | June 8, 1890 |
| Wharton | Lafayette | August 4, 1887 |
| Wharton | William | June 19, 1885 |
| While (or White?) | Harry | March 28, 1899 |
| White | Mary | January 27, 1904 |
| White | Olivia | April 16, 1896 |
| White | Robert | April 1, 1890 |
| Wigfall | Lydia | July 25, 1899 |
| Wilkerson | Carrie | June 1, 1891 |
| Wilkerson | James | May 5, 1891 |
| Wilkerson | Mollie | July 10, 1891 |
| Wilkerson | Thomas | January 6, 1904 |
| Williams | James | January 20, 1887 |
| Williams | John | March 28, 1882 |
| Williams | John | June 30, 1890 |
| Williams | Lizzie | August 6, 1885 |
| Williams | Mary | March 16, 1885 |
| Williams | Priscilla | October 1, 1886 |
| Williams | Rose | April 12, 1881 |
| Willis | Morgan | June 20, 1890 |
| Wilson | Frank (maybe?) | September 2, 1886 |
| Woodson | Samuel | March 20, 1886 |
| Woodward | James W. | May 13, 1898 |
| Wright | Luther | February 25, 1894 |
| Young | Aron | March 27, 1889 |
| Young | Henry | April 30, 1886 |