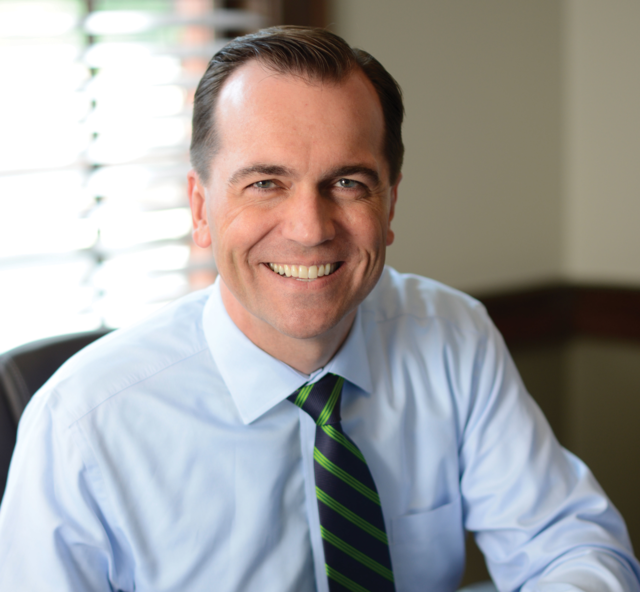 John Ray Clemmons
Just one day into his mayoral campaign, John Ray Clemmons is already on message.
"Strong, decisive leadership." The Democratic state representative uses that phrase four times during an interview with the Scene at his Nashville law office. In order: That's what he would have provided had he been mayor over the past year, that's what we need in the mayor's office, that's what the mayor of Nashville should be prepared to provide, and that's what he is prepared to provide.
Mayor David Briley enjoyed a brief period as the only candidate running for the job in the coming Metro elections, slated for August. But it wasn't to last. Briley is seeking his first full term as mayor after inheriting the role from Megan Barry in March, then beating a dozen challengers with no need for a runoff in a special election in May.
Clemmons got his start in politics as political director for the Tennessee Democratic Party and as an aide to mayoral candidate and Congressman Bob Clement. He placed fourth out of four in a 2009 special Metro Council election before going on to defeat incumbent Rep. Gary Odom in the 2014 Democratic primary in state House District 55, which includes parts of West Nashville and Vanderbilt-Hillsboro-Belmont.
Since then, Clemmons has been a vocal member of the superminority on Capitol Hill, railing against Republicans on issues including white nationalism and the administration of the state's universities. He says a loud voice is what Nashville needs and is what sets him apart from Briley, a mild-mannered man who ended up in the mayoral job unexpectedly.
"It's not enough just to have a vision, you have to be able to communicate that vision and bring people along with you," Clemmons says. "You've got to have the level of charisma and energy necessary to instill confidence in people to believe in your vision and execute that vision. People need to be excited about who is serving them and who is leading their city, and have confidence in that vision."
Others might argue that Briley could be just what Nashville — a city where Megan Barry's celebrity mayoralty remains fresh — needs.
The fledgling Briley operation appears mostly unperturbed by Clemmons' announcement, at least outwardly.
"When the voters go to the polls, we are confident they will agree that Nashville's best path forward is with Mayor Briley leading the city," says Sarah Lingo, who came on as Briley's campaign manager at the start of the year. She worked on Phil Bredesen's unsuccessful U.S. Senate campaign last year and on Megan Barry's successful 2015 run for mayor. Briley also tapped Morey Hill, who worked on Karl Dean's gubernatorial campaign, as communications director. 
Clemmons, too, has begun staffing up. Kathleen Coffen, who led Hillary Clinton's 2016 campaign in Tennessee, will manage the campaign. He also hired David Myles, a veteran of congressional and gubernatorial campaigns in Indiana, as communications director, with plans to build out his team in the coming weeks. Briley has a head start on campaign cash, having held his first fundraising event in December. But Clemmons can transfer funds from his state account, which has nearly $60,000, to a local campaign account. He also loaned $100,000 to his 2014 campaign. 
Clemmons' announcement came just one week after he was sworn into his third term in the state House, but he insists his mayoral run will not affect his work at the Capitol "in any way." 
He says he'll spend much of his time on the Hill cleaning up the mess left by what he defines as a lack of leadership by Briley on the community oversight board. Nashville voters approved the police oversight board in November, despite Briley's tepid opposition, and Republicans in the legislature have already said they will consider legislation related to Nashville's move. Given the potential for state interference, Clemmons says he would have gotten involved with the oversight board on the front end rather than "ignore it, provide no leadership and allow it to get to the point where its as controversial as it became."
"The oversight board required some leadership early on before it became such a controversial topic," says Clemmons, "to the point where I'm going to spend the next few months in the state legislature having to probably fight those looking to step over and infringe on the rights of local government rather than being able to fight for health care for the next four months."
Clemmons lists transit, affordable housing and education as three key issues for his campaign — areas where most Nashvillians agree work remains to be done. But in order to make progress on Clemmons' trio, he says a property tax rate increase must remain on the table. Briley opposed a rate hike last year.
"Vowing not to raise the property tax rate for another year or a couple years down the road, while it's politically convenient and safe, I think it's fiscally irresponsible, and I think it's impractical," Clemmons says.
Clemmons will spend the next month fundraising and hosting town hall events around the county, the latter in an attempt to formalize what he says he heard from the community as he considered running for mayor over the past few months. He might not be the only challenger. Others — including this publication's owner, Bill Freeman — are publicly weighing bids. Still, Clemmons says last year's special election, when Briley held off another Democratic state representative, an at-large Metro Council member and 10 others, was not predictive of 2019.
"The majority of voters obviously decided that stability was the most important thing and continuity at that time," says Clemmons. "But since then, people across Nashville have communicated to me their sincere concerns about the lack of vision for the city and where we're heading as a city. And I am prepared to provide that strong, decisive leadership necessary to execute a vision grounded in our values and really restore that much-needed stability to Metro government."