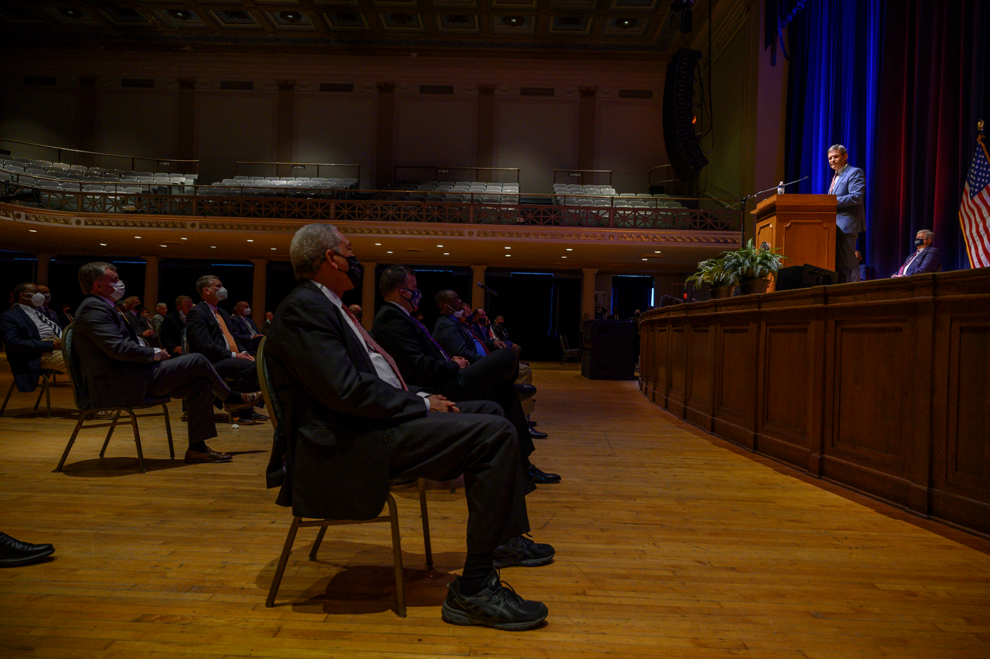 We weren't far into the new year before the Tennessee General Assembly and Republican Gov. Bill Lee returned to a favorite pastime: singling out Nashville and Memphis for special treatment.
Lee kicked off a four-day special legislative session last week with a pointed critique of school leaders in the state's two largest districts, where officials have mostly kept students at home due to COVID-19.
"You can't say 'follow the science' and keep schools closed," Lee said. "You can't say, 'I believe in public education,' and keep schools closed. And you can't say you're putting the needs of students first and keep schools closed."
Republican leaders in the legislature followed through on Lee's rhetoric, introducing a bill that designed to allow state officials to strip funding from Nashville and Shelby County schools if they did not bring students back to classrooms this semester. Lawmakers did not ultimately take up the proposal during the short session, but House Majority Leader William Lamberth promised to bring it back when members return to regular session in the coming weeks.
The dispute over in-person learning loomed over each discussion during the special session, despite not producing completed legislation. Instead, lawmakers passed a series of bills at Lee's behest that will pump more than $100 million into literacy camps for struggling students and teacher raises, both promised before the pandemic. Legislation approved during the session would also pause teacher and school accountability measures tied to standardized testing, which is expected to show learning loss in conjunction with pandemic-related school disruptions. The legislature also erected taller barriers to advancement for third-graders who don't meet reading standards.
Though some Democrats supported the bills — or at least their intention — they detailed issues with each of them. The testing portion of the legislation, for example, would require Nashville and Shelby County schools to bring at least 80 percent of their students to schools for standardized tests, despite the decision to do away with penalties for poor scores this year.
Though the business of the special session was described by Republican leaders as urgent, it came after another special session held in August, around the time many districts were bringing students back for in-person or virtual learning. But that session was focused on increasing penalties for protestors on state grounds and making it harder to sue businesses over COVID-19. This special session, held in the middle of the school year, did little to address the practical challenges of holding school as a deadly airborne disease continues spreading around the state — another Democratic gripe.
House Democratic Caucus chair Vincent Dixie said he was hoping for legislation that would have offered assistance for schools wrestling with logistical and health challenges, including how to bus students to school without spreading the disease and how to ensure schools have masks and other gear necessary to suppress COVID-19.
"We all agree that in-person teaching is what we want for our students, but how do we get there?" asked Dixie, who represents part of Nashville. "All we did was say, 'Get the kids back in school.' "
James Brown, an IT specialist for Metro Schools, echoed Democrats' concerns. A health condition would keep him out of schools until vaccinations are more widespread, he said, but he worries about students, teachers and support staff like him should Nashville schools be forced to bring students back too soon.
"If I had my way, I'd have every kid that we serve in our classrooms, because that's the best way we can serve them," Brown said. "But the simple fact of the matter is it's not that easy. It's not that straightforward. This is a complex situation, and a public school in Nashville is very different than a public school in Cookeville, and Lord knows it's different than a public school in the middle of nowhere."
The challenge of bringing a bunch of people into one room for full days of work was made obvious by the legislature itself this week, when Republican Sen. Ed Jackson tested positive for coronavirus after participating in special session meetings. But neither that nor the hospitalization of multiple House members could slow down the Tennessee General Assembly, which has further committee meetings this week as it prepares for the resumption of its regular session.