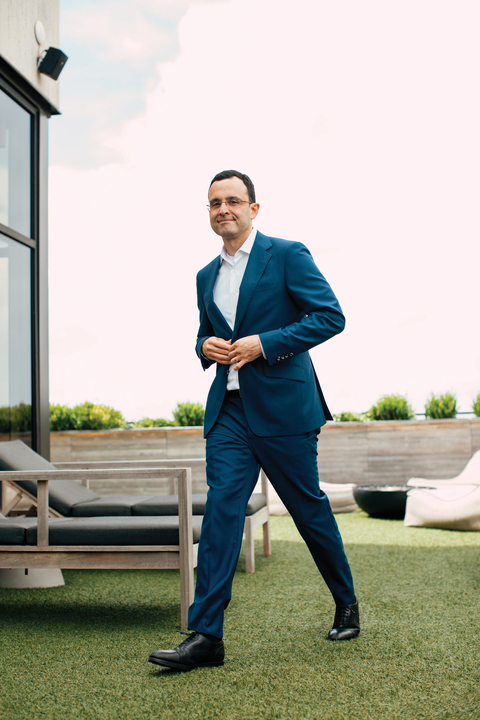 When COVID-19 first struck in the spring, Vanderbilt University Medical Center's Dr. Alex Jahangir — chair of the Metro Board of Health — was also named chair of Nashville's Coronavirus Task Force. Almost immediately, he found himself thrust into the spotlight, participating in press conferences and being looked to as an expert on COVID-19 health protocols.
Under his leadership, the task force has implemented policies that have mitigated the spread of the virus in Nashville and increased access to testing and assessment for those in our community. Nashville has gone from being one of the worst places in Tennessee for coronavirus infections to now being in the bottom third for all Tennessee counties. We are blessed to have such great leaders in health care.
Another strong leader and also a member of Metro's Coronavirus Task Force is Dr. James Hildreth, president of Meharry Medical College. According to a Nov. 16 Tennessean article, Dr. Hildreth was asked to submit his résumé to President-elect Joe Biden's transition team to potentially become part of the nation's coronavirus team. Dr. Hildreth's résumé is extensive — he was the first African American Rhodes Scholar from Arkansas, earning his Ph.D. in immunology from Oxford.
Like Dr. Hildreth, Dr. Jahangir has exceptional credentials and leadership skills that could make him a viable candidate for Biden's team. Aside from being a renowned orthopaedic surgeon, Dr. Jahangir serves as associate chief of staff at VUMC and director for the Division of Orthopaedic Trauma. His trauma division role reflects his deep interest in preparedness and response, which likely influenced the mayor's decision to choose Dr. Jahangir to chair the task force. 
Prior to the pandemic, Dr. Jahangir served on the VUMC Emergency Management Committee, establishing protocols for the hospital's emergency operation center in times of local crisis. He's worked on committees specializing in trauma, disaster and mass casualty management to create national training curricula.
And that's just the tip of the iceberg. 
Dr. Jahangir also led the efforts between VUMC and the United States Army to establish one of the nation's first models for an active-duty Army orthopaedic trauma surgeon to work at a civilian trauma center, thus developing critical wartime skills and medical readiness during deployment. Dr. Jahangir established and co-chaired the VUMC Military Affairs Committee, which represents all the military-civilian collaborative programs at VUMC and provides oversight of the integration of the military-civilian collaborative programs at the medical center.
As President-elect Biden's transition team is seeking people who will make a difference, I would hope they might consider Dr. Jahangir. The doctor could fit well into any one of several positions — assistant secretary in Health and Human Services for preparedness and response; assistant secretary of health; perhaps even surgeon general. Based on Dr. Jahangir's experience with military-civilian collaborative programs, he could easily be considered for assistant secretary of defense for health affairs. 
Dr. Jahangir also has a heart for this work. In a Nov. 9 Tennessean op-ed titled "President-elect Joe Biden's COVID strategy should unite federal and local efforts," he mentioned the "disconnect" that exists between state and federal government — a disconnect that cannot continue if we are to return to any form of normalcy. He reminded us that, especially during a crisis such as COVID-19, a "centralized supply chain" is a must in preventing fighting one another over scarce supplies. It's never been a good situation.
Thankfully, though COVID-19 rages on, effective vaccines appear to be in our near future. Pfizer's preliminary results seem positive, and have thus far proven 90 percent effective. The Tennnessan reports the Pfizer vaccine to be "one of at least five undergoing trials in Nashville." Vanderbilt Medical University Center, Meharry Medical College and Clinical Research Associates have all been testing potential vaccines. Meharry is working with Novavac and Sanofi, and Vanderbilt is working with Pfizer's competitor Moderna. Even our own Dolly Parton has donated $1 million to the Vanderbilt University Medical Center's COVID-19 research fund.
Still, as Dr. Jahangir has brought to our attention, until we have a vaccine, "our nation requires a transparent response fueled by science, data and much-needed compassion." The doctor recognizes the need for our federal government to "make good on promises," to "improve data-gathering and sharing with local officials" and to "develop a centralized and transparent supply distribution system." "All we need is federal leadership, federal resources, and federal goodwill," Dr. Jahangir wrote in his op-ed. "We're asking our new president to build this lifesaving bridge." I couldn't agree more.  
We don't know what the Biden administration's transition team will do or who their selections will be. But given Dr. Jahangir's history, experience and capacity to care about his fellow man, Biden's transition team could not go wrong in considering him for an appointment.
Bill Freeman
Bill Freeman is the owner of FW Publishing, the publishing company that produces the Nashville Scene, Nfocus, the Nashville Post and Home Page Media Group in Williamson County.