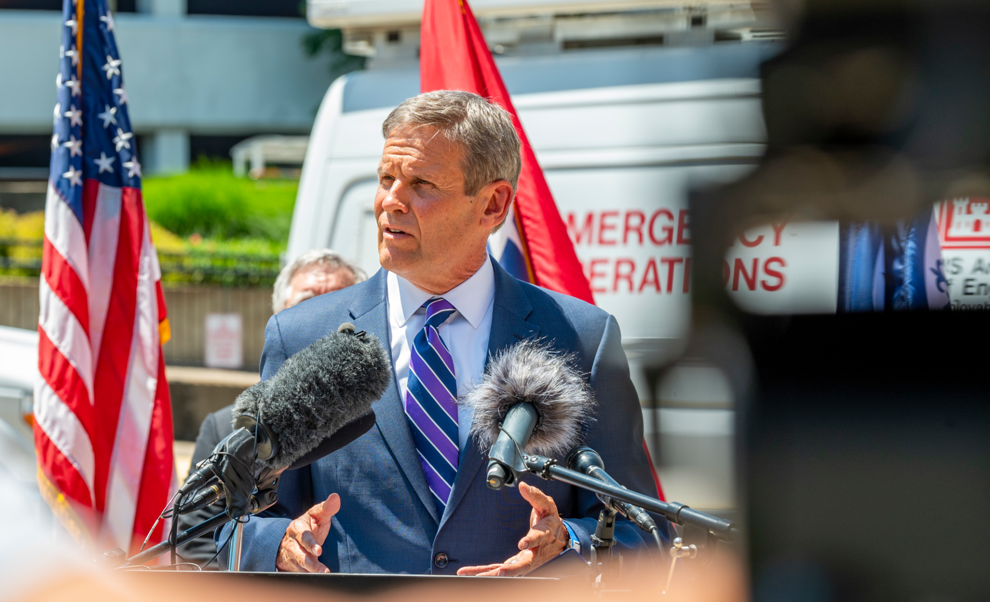 The past two months have been unusually turbulent for Gov. Bill Lee and his original cabinet members. 
In October, two of the governor's commissioners — Hodgen Mainda, commissioner of the Department of Commerce and Insurance, and Danielle Barnes, commissioner of the Department of Human Services — resigned. Mainda resigned amid sexual misconduct allegations, and Barnes left upon finding a new job in the private sector. Commissioner Courtney Rogers of the Department of Veterans Services resigned the week of Thanksgiving along with Tilman Goins, a deputy commissioner in the department. Both were accused of separate forms of misconduct, with most of the allegations proven true upon investigation. Rogers and Goins served as state legislators from 2012 to 2018. 
According to a Dec. 7 story from The Tennessean, Rogers is a 28-year veteran in the U.S. Air Force and Tennessee National Guard — solid qualifications for the position, though her leadership skills were clearly lacking. WPLN reported that Rogers was investigated for abusive conduct, harassment and discrimination prior to her Nov. 25 resignation. Former and current employees alleged that her behavior included "frequent yelling and belittling employees, inappropriate comments made in public, and use of racial and homophobic stereotypes and slurs." 
The accusations recall past instances of Rogers making appalling and inappropriate remarks. According to a June 2020 Tennessean story, in 2016 Rogers made inappropriate comments while in the Tennessee House discussing a bill she had co-sponsored. In doing so she talked about her ideal version of "diversity offices that are recruiting the best, from light meat to dark meat across the entire spectrum," referring to the students' racial demographics. Perhaps this is why it's not surprising that Rogers voted against ousting Jeremy Durham from the state House despite his being accused of inappropriate conduct with at least 22 women during his time in office.
Rogers' deputy commissioner, Tilman Goins, also resigned in November. He was accused of having inappropriate romantic relationships with two subordinate employees in the department. Goins has admitted to one of these, but says he didn't believe the employee was a subordinate at the time. Goins and the second employee in question have both denied an inappropriate relationship. Even if consensual, as in the case of the first employee, the behavior violates the state's code of conduct. Further, I'm sure these matters are of concern to Goins' family. 
Mainda resigned his post in October after being accused of inappropriate touching and unwelcome sexual advances toward another employee in the same department. Investigators could not substantiate those allegations. 
Only one of the former commissioners, Danielle Barnes of DHS, has reportedly resigned simply to pursue a job in the private sector. She left without scrutiny, though some may wonder if the workplace environment was too much for her to tolerate. 
In a statement, the governor announced that Maj. Gen. Tommy H. Baker will take Rogers' place on an interim basis. But the statement did not address the allegations against Rogers or Goins. There seem to be no statements from the governor on his thoughts about this horrific behavior. An Associated Press report quotes Lee spokesperson Gillum Ferguson as saying, "The governor is aware of the investigations and he's accepted their resignations." Human resource departments are of course charged with handling these matters, but given the prominence of these commissioners, Tennesseans should hear from the governor about his commitment to strong and fair leadership from his appointees.
Yes, the governor's calendar is — or should be — full of COVID-19 issues. But when three commissioners resign inside of two months, we should hear from him that this kind of behavior is not and will not be tolerated. 
I tend to believe Tennessee's newly elected Democratic caucus chair Vincent Dixie has the right idea when it comes to this situation. In a Fox 17 interview, Dixie said, "You have to take a step back and look at the culture, and at least do some kind of self-examination, which I don't think the governor is doing." 
In 2016, the Harvard Business Review published a study showing "leadership behavior" is contagious — that managers follow the leader, so to speak. Of course, the governor has not been accused of the same types of behavior hanging over his former staff members, but if a "leadership example" is what is needed, then at the very least he needs to work much more closely with his high-level and mid-level managers. He needs to personally ensure that they know what types of behavior are definitively unacceptable. He needs to consider that "self-examination" Rep. Dixie mentioned. 
Without good leadership to look to, those who do a poor job reflect badly on Tennessee and on all of us as a community.
Bill Freeman 
Bill Freeman is the owner of FW Publishing, the publishing company that produces the Nashville Scene, Nfocus, the Nashville Post and Home Page Media Group in Williamson County.