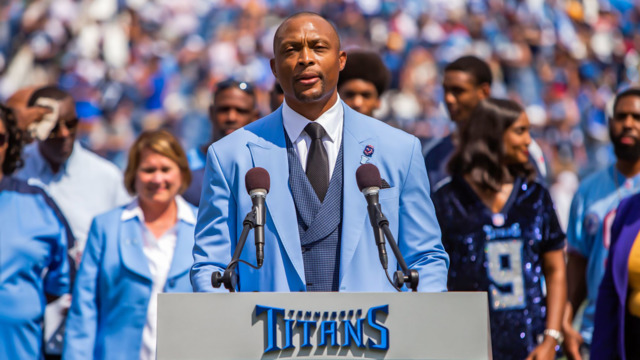 Eddie George can add the title of head coach to his stunning list of accomplishments. Tennessee State University will name the former Titans player and Heisman Trophy winner as the new coach of the Tigers' football team. George will replace Rod Reed, who was in his 11th season with the Tigers and coached his last game on Sunday. Reed had a 60-69 record with the team since 2010.
The news has fans, alumni and even members of the media excited. USA Today reporter Gentry Estes said the "beauty in this highly unorthodox hire" was that in many cases, hiring a head coach without experience would be "ludicrous" — but that is not the case here because, well, it's Eddie George, and this is Nashville. Though George is nationally famous, which is certainly a bonus, in Nashville he is a truly celebrated member of our community. He has a business here, his son goes to school here, and now he'll be TSU's head football coach. 
He may be an unorthodox pick, but George seems to have anticipated criticism about his lack of coaching experience. According to Football Scoop, George will be advised by former Tennessee Titans and L.A. Rams coach Jeff Fisher. Fisher's son — who spent the past season as a defensive analyst on the Auburn staff under former head coach Gus Malzahn and defensive coordinator Kevin Steele — will act as defense coordinator. George and TSU are also reportedly working to secure Hue Jackson, former head coach of the Oakland Raiders and Cleveland Browns, to work as the offensive coordinator.
George had a great track record in his personal football career. He played for the Titans from 1996 to 2003 and helped the Titans make it to Super Bowl XXXIV back in 2000. By the time he retired, he owned 28 Titans franchise records. As George put it in 2019, "I understand what a winning product looks like, a championship team looks like."
George has been a mentor to Titans running back Derrick Henry, who has dominated in the past two seasons. As Henry put it: "People say 'mentor.' I see Eddie as a friend." Others have said George is a "walking motivational speaker" — and though I'm fond of TSU, I'd say the Tigers could use some motivation right about now. 
TSU isn't taking as big a risk on an untested coach as it may seem — several former pro players have gone on to success after taking head-coaching positions. With minimal coaching experience under his belt, Deion Sanders took the top coaching position at Jackson State University and recently became, as noted by The Tennessean, "the first FCS head coach to bring in a top-100 recruiting class." Former Bronco and Cowboy Steve Wilson "was hired as the head coach at Howard, where he went 78-67 in 13 seasons." And former NBA star Penny Hardaway — who had no coaching background — took his first college head-coaching job at Memphis. In three seasons, Hardaway has gone 63-32, with Memphis winning the NIT in the 2020-21 season. I believe George will be able to bring success to TSU's football program as well. 
I think hiring George was a superlative move on TSU's part, and one that could really change things for the Tigers — as Estes notes, having George at the helm should prove "fascinating and undeniably appealing to a massive audience." I can actually already see better recruitment, increased fundraising and higher ticket sales to the games adding up to increased success for TSU — and I'm excited for them. 
Bill Freeman
Bill Freeman is the owner of FW Publishing, the publishing company that produces the Nashville Scene, Nfocus, the Nashville Post and Home Page Media Group in Williamson County.