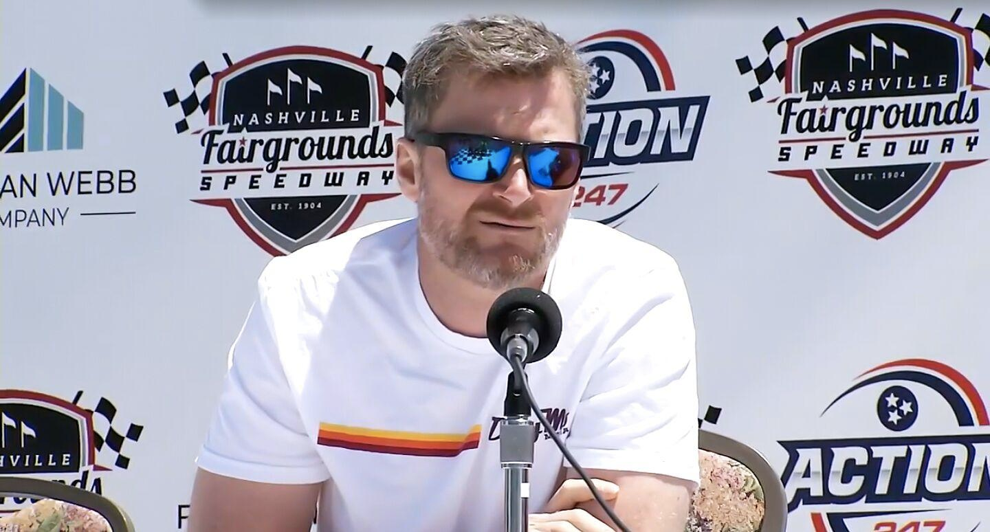 On May 11, Metro Nashville's Board of Fair Commissioners held a public hearing on Speedway Motorsports Inc.'s plan to bring NASCAR back to Nashville. The meeting attracted a large crowd, and though contentious, it was apparently not as contentious as some might have expected. 
Of the large group of racing enthusiasts who showed up to speak, NASCAR legend Darrell Waltrip was the first. He urged Nashville residents and the fair board commissioners to take the "golden opportunity" being offered. He stated plainly, "I don't think it would be wise to ignore what SMI is bringing to the table." Dale Earnhardt Jr. has said he will race here once a year if NASCAR returns to the Fairgrounds Speedway. Having raced at the Fairgrounds Speedway himself back in the mid- to late '90s, Earnhardt is an advocate for returning NASCAR to Nashville, saying he never understood why it left. 
Many others spoke during the Tuesday meeting. Many of the concerns were driven by neighbors' proximity to the speedway — not necessarily because they were opposed to bringing racing back to Nashville. Residents have questions about noise levels, traffic and parking, which is understandable. But seeing as how the track has been in operation since its opening in 1904, no one could have bought a home in the area without knowing the speedway was clearly right around the corner. 
When asked about the noise, Bristol Motor Speedway general manager Jerry Caldwell said that there is nothing to mitigate sound at the track currently, but showed conceptual renderings that include a 20-foot wall from the middle of turn one continuously through the middle of turn three of the half-mile short track. Other residents voiced concern over the prospect of adding additional races to accommodate NASCAR's return. Caldwell said, however, that the company expects to maintain the current number of races allowed — 10 race weekends annually — while using one of those weekends to slot in a NASCAR race.
Traffic, noise and scheduling are all understandable concerns for nearby residents, but the benefits that this proposal would bring to Nashville are undeniable. Not only would the speedway and the city's bottom line benefit from this partnership, but all of Nashville would see a windfall in the form of economic, social and tourism improvements. 
If we look at other cities hosting NASCAR races, there is verifiable evidence of positive economic impact. According to RacingNews.co, Southern California's Auto Club Speedway contributes more than $105 million in economic impact to San Bernardino County each year. In 2016, the Las Vegas Cup Race, known as the Kobalt 400, resulted in an economic impact of $139 million for the city — and because the race also had 7.2 million television viewers, the city gained $5 million in media value. 
When NASCAR fans travel to Nashville for a race weekend, they will spend money in our city's shops, restaurants and hotels. They will quite likely attend shows or concerts while in town, and if they enjoy themselves, they'll undoubtedly make plans to return. 
Racing enthusiasts and racing professionals are sometimes generous in giving back to area residents. Auto Club Speedway, for example, supports the reading enrichment program Lefty's Reading Challenge, which provides thousands of dollars and books for area schools each year. Just last year, Bristol Motor Speedway helped out much closer to home with a food and donation drive that brought truckloads of food and supplies to needy Nashvillians following the devastating 2020 tornado. 
The combination of camaraderie, hard-earned skill and tough competition is unique to racing, and racing fans have enjoyed it for generations. I remember Dale Earnhardt Sr. running on our track in the '70s and early '80s — he won the Busch Nashville 420 in both 1980 and 1983. 
I have great memories of taking my sons to watch the races at our beloved speedway, and I remember fondly how they talked about it for days afterward. It's a family tradition in the Freeman household, and NASCAR's return will ensure that racing will continue to be a family tradition for many generations of Nashvillians to come. I hope that Nashville residents and our city leaders will do everything within their power to take advantage of this rare opportunity to bring world-class racing back to Nashville. 
Bill Freeman
Bill Freeman is the owner of FW Publishing, the publishing company that produces the Nashville Scene, Nfocus, the Nashville Post and Home Page Media Group in Williamson County.