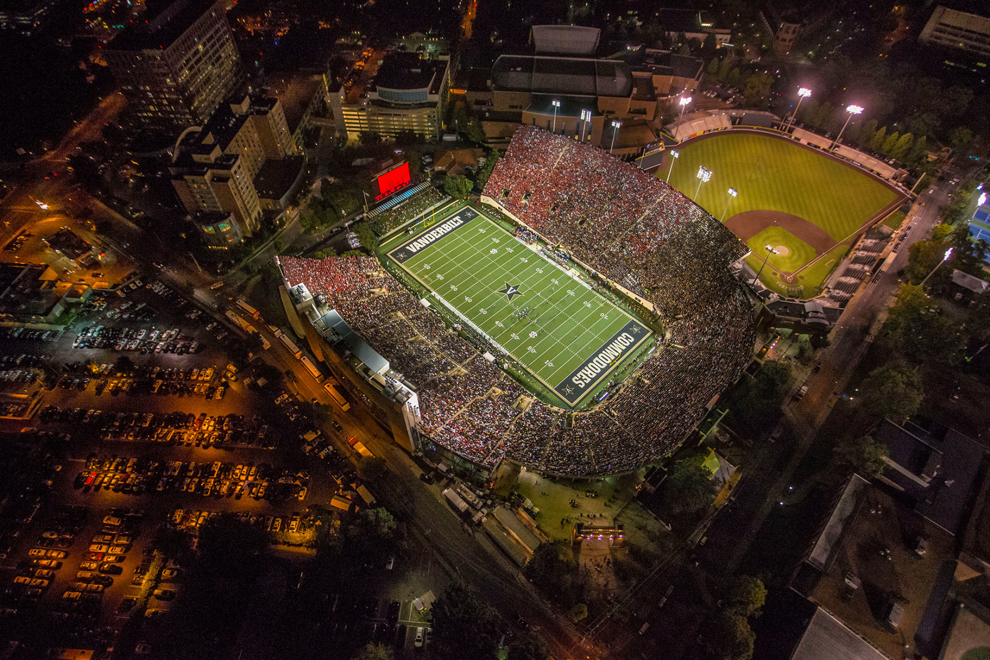 Vanderbilt University has launched a $300 million campaign to fund all things athletic, which will include a new football operations center, a basketball operations center, an indoor football practice facility, expanding the McGugin Center and upgrading the stadium fan experience. This is the most ambitious campaign in Vanderbilt athletics history. The "quiet phase" of the campaign launched in the fall, and Vanderbilt already has $200 million toward its goal. The university committed $100 million, and donors — led by a $10 million gift from John Ingram — have committed another $100 million. 
There is no doubt in my mind that every Vandy fan out there is excited about this news. Previous chancellors prioritized the need for more classroom and research facilities or student dormitories ahead of athletic facilities or upgrades. Understandable — but I've always felt both could be accomplished. Vanderbilt's new chancellor and vice chancellor seem to agree. 
Chancellor Daniel Diermeier was hired early in 2020, and in July — before he even arrived on campus — he promoted Candice Storey Lee to athletics director. Both have committed solidly to this campaign, and the results of their determination are already showing up. It appears that construction on the football and basketball operation centers will begin at the conclusion of the 2021 football season.
As part of the effort to meet campaign goals, Lee has moved the National Commodore Club — the school's primary fundraiser for athletics — back to the McGugin Center, placed NCC executive director Mark Carter's office directly across from her own as a symbol of her personal dedication to fundraising, and added Kristine Kelly and Tommy McClelland as deputy athletic directors, according to The Tennessean. McClelland hails from Louisiana Tech and specializes in fundraising. I'd note that the $100 million already committed says they're off to an incredible start. 
Vanderbilt, as the only private school in the Southeastern Conference, must look outside the SEC to find comparable institutions to gauge itself against — schools like Stanford University in the Pac-12 or Northwestern University in the Big Ten. Perhaps unsurprisingly, Diermeier has worked for both. But this campaign is not necessarily solely about emulating other schools — it is about the commitment of Vanderbilt's leaders working to provide student-athletes the best facilities possible and the best experience possible. "It must start with addressing the student-athletes' needs," Lee told The Tennessean. "We think, obviously, [players' and fans' experiences] are both important. But the reality is that building up the infrastructure for our student-athletes, that has to be the priority." Lee added, however, that fans "deserve this investment" and that the plan is to "improve the fan experience with tangible upgrades starting in Vanderbilt Stadium." There is talk of premium seating and a new hospitality space; more information and renderings of the first phase of facility projects will be released this summer. 
After years of former chancellors talking about upgrades for athletics, Diermeier is putting the university's money to work and, with Lee's help, making it happen. Longtime promises are finally being fulfilled, and the new chancellor promises this is "just the beginning of a longer journey." 
Competing in the SEC is intense, and Lee has said the changes will help give Vanderbilt athletes what they need most in order to be successful. She said Vandy will have made an appropriate investment for who they are, and added: "We've got to maximize what we have. It does not mean that we don't pay attention to what other schools are doing. We're in a competitive environment, but we can win [by] being our very best." 
I agree. This ambitious campaign and its benefits may be what narrows the gap between Vanderbilt and other SEC schools. Vandy fans are waiting to see how it all turns out. 
Bill Freeman
Bill Freeman is the owner of FW Publishing, the publishing company that produces the Nashville Scene, Nfocus, the Nashville Post and Home Page Media Group in Williamson County.