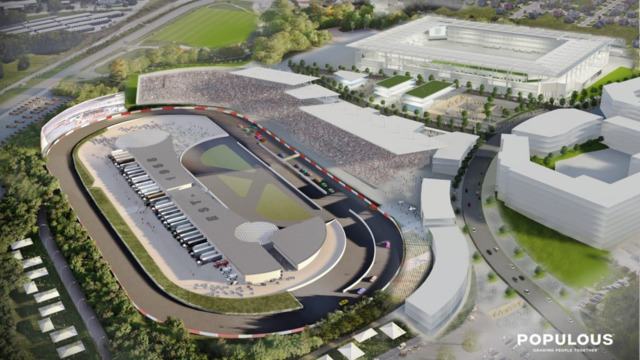 Racing fans have been advocating for the NASCAR Cup Series' return to the Nashville Fairgrounds Speedway almost since the last Grand National/Winston Cup race was held there in 1984. 
Their wish may be granted.
Earlier this month, Mayor John Cooper and Speedway Motorsports Inc. — owners of Bristol Motor Speedway — signed a letter of intent giving the speedway company a long-term lease and shifting to the group financial responsibility for renovations. If a permanent agreement is reached, the fairgrounds track could have NASCAR events as soon as 2022!
The speedway itself, however, is not the only portion of the grounds needing renovations — the entire property has been in need of improvements for a long time. When Nashville bidders won a Major League Soccer franchise, it was on the shoulders of a dedicated soccer stadium at the fairgrounds. It took longer than anticipated, but Nashville SC signed an agreement with Metro to build a stadium, parking and other renovations in 2020. Cooper held out on closing the MLS deal until Nashville SC's majority owner agreed to accommodate a pending proposal from Speedway Motorsports — a plan that offered track and property renovations, a 30,000 seat grandstand, expanding the concourse, implementing sound barriers and more. 
Speedway Motorsports is one of the nation's top racetrack operators, founded by Bruton Smith. Smith originally started as a track promoter in the 1950s and later built the Charlotte Motor Speedway. He incorporated Speedway Motorsports in 1994, and within two years had purchased Bristol Motor Speedway here in Tennessee as well as Sonoma Raceway in California. Today Speedway owns nine racing facilities — eight of which host major racing series, including NASCAR, IndyCar and NHRA races. Speedway Motorsports having an interest in our fairgrounds' speedway is extremely exciting. 
Even as it stands, the Nashville Speedway is a fun, affordable, family-friendly night out. Tickets are reasonably priced and children under 5 are admitted free. The reason our Nashville track has a schedule now is thanks to current track promoter, Bob Sargent of Track Enterprises. Sargent has promoted ARCA races at the fairgrounds for more than five years and continues to work with local and national events, allowing the track to put races on the schedule as the COVID-19 pandemic begins to subside. Sargent will continue promoting ARCA races and the upcoming national SRX racing event in July. Meanwhile, he has a "wait and see" approach to the future of the track and his role in it. Holly McCall of the Fair Board told The Tennessean in 2019 that the "fair board wants a full and successful racing schedule, whether it is with Bob Sargent or SMI or a combination." Sargent is happy to facilitate the return of NASCAR, but wanted to ensure the facility "kept going while all this was going on."
If NASCAR does return to Nashville, it should have a very positive economic impact. According to RacingNews.co, the positive economic impact from NASCAR can be tremendous. Auto Club Speedway, Southern California's premier motorsports facility, contributes more than $105 million annually in economic impact to San Bernardino County.
If a permanent deal is inked here in Nashville, Bristol Motor Speedway would act as a de facto promoter, and NASCAR events could become a light at the end of our fairgrounds recovery tunnel. So there is hope for good things to come, though several obstacles must be navigated for a deal to be sealed. Motorsportsnews reports "the most prominent complication moving forward … is the continued development of a neighboring Major League Soccer stadium." There are concerns about noise levels and concerns over exceeding the number of races currently allowed at the track. The Fair Board is seeking a financial guarantee to protect local taxpayers — and a referendum from 2011 states that any construction, demolition or changes to the property must be passed by 27 Metro Councilmembers rather than the usual 21-of-40 majority. 
I am hopeful that Cooper and Speedway Motorsports executives will work out a deal — one that will give Nashville financial benefits and give fans a great place to take their family for a race and a great game of soccer, right here in our backyard. 
Bill Freeman 
Bill Freeman is the owner of FW Publishing, the publishing company that produces the Nashville Scene, Nfocus, the Nashville Post and Home Page Media Group in Williamson County.