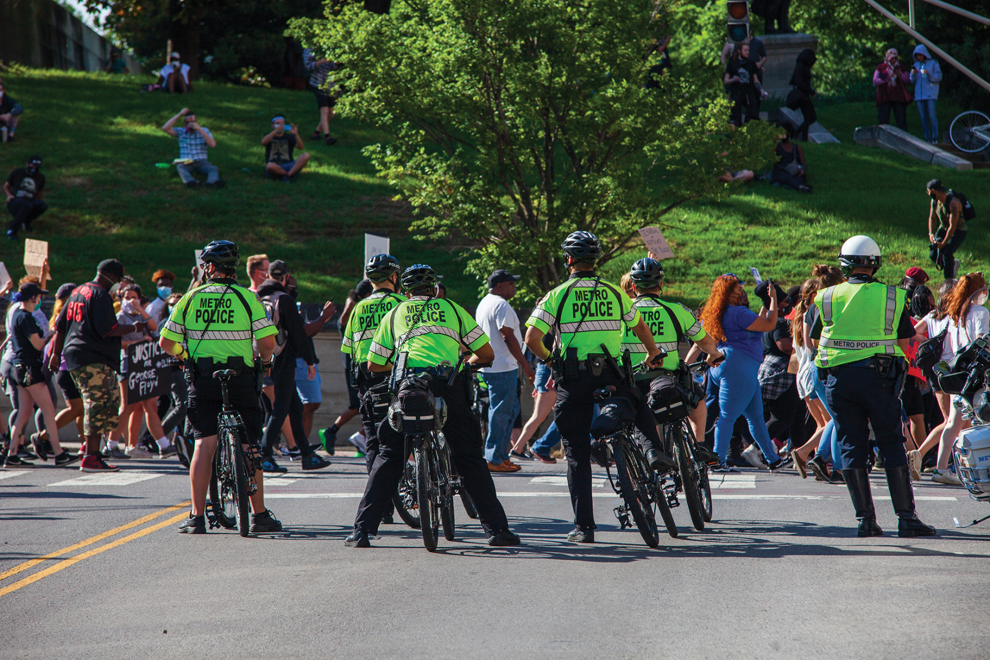 On Nov. 30, Mayor John Cooper took the "interim" out of John Drake's title, officially making the Nashville native chief of the Metro Nashville Police Department. Drake, who had held the interim title since Chief Steve Anderson abruptly retired on Aug. 6, was chosen over four other finalists for the job. 
During his announcement, Mayor Cooper highlighted that Drake needs "no introduction," and said "no training would be required" as Nashville's top law enforcement officer. Drake has built a strong record and reputation in his 32 years with the MNPD. Considering his years on the force, his familiarity with our city and the fact that he has served as interim chief for four months, Drake knows what Nashville needs. "John Drake is someone who can start on day one to make us a greater city, he knows what to do," said Cooper. "He's earned our trust and earned the job." Fraternal Order of Police President James Smallwood said, "Chief Drake's decades of service to Nashville provides the crucial knowledge needed to effectively lead this police department into the future."
Though Chief Drake has the trust of many of his peers and the mayor, building trust throughout the community and with police department critics will be among his greatest challenges. His predecessor was criticized for not being sufficiently cooperative with — and for his lack of transparency with — the Community Oversight Board. Drake, on the other hand, already has plans for change, and recently signed a memorandum of understanding with the oversight board to offer better access to records and increase department transparency. 
In August, Mayor Cooper created the Policing Policy Commission to develop and detail a "model of policing" that our city's next police chief would work to implement. In the commission's report, four major goals are outlined: increased collaboration with community groups and other government agencies; increased gender and racial diversity at every level of the department; efforts to eliminate disparities in use of force and increased transparency about the uses of force; and training that emphasizes "consistent and respectful" interactions with all Nashvillians. Drake has proven to be working toward each of these goals even while in his role as interim chief. 
According to a Dec. 4 Tennessean report that offered info from the mayor's Policing Policy Commission, only 11 percent of the department's sworn officers in 2019 were women, and only 19 percent were officers of color. To handle this challenge, Drake is already adding staff to the recruitment department and partnering with colleges and churches to find more diverse candidates, a plan most would say is creative and shrewd. Further, he's creating teams to oversee community outreach. The new chief has added six hours of new de-escalation training at the police academy to dissuade officers from resorting to violence. In the same Tennessean article, Drake says he wants "officers to be friendly, to engage people all over Nashville," a situation he didn't have as a kid. He is open to collaboration with community advocates and nonprofit groups to improve community relations and create ways of policing that may not always include uniformed officers. 
Perhaps one of my favorite things about Chief Drake is his individual transparency. When he talks about memories of his dad, about growing up in East Nashville as a kid dreaming of playing football, about his love for Nashville or his desire to help young people realize they can be anything they want to be, it feels genuine.
Drake says that he "embraces change." For Nashville, he could well be the change we've been seeking. Ever since being appointed as interim chief, he has strived to help mitigate the effects of the pandemic while working on community outreach. He understands what it's going to take for the MNPD to gain the trust of the people. 
When announcing Drake's appointment, Mayor Cooper said the new chief "has shown he is committed to collaboration, transparency and the dignity of every resident." I believe that to be true. 
Bill Freeman
Bill Freeman is the owner of FW Publishing, the publishing company that produces the Nashville Scene, Nfocus, the Nashville Post and Home Page Media Group in Williamson County.