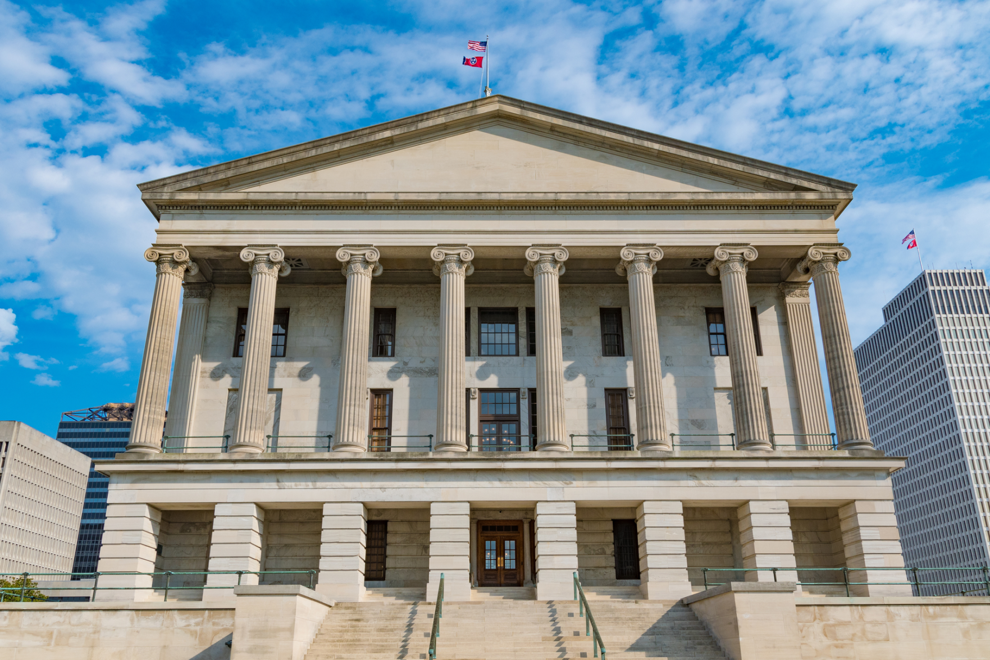 On Tuesday, Nov. 24, Republicans in the Tennessee House of Representatives decided to keep Speaker Cameron Sexton in charge. It was a unanimous vote by members of the GOP caucus, and with only 26 Democrats in the House, it's a foregone conclusion that Sexton will be reelected speaker in January when lawmakers return to the state Capitol. 
Majority Leader William Lamberth (R-Portland) and Tennessee House Republican Caucus Chairman Jeremy Faison (R-Cosby) will also remain in their positions. Lamberth, like Sexton, had no opponents in the party's election. Faison was opposed but won over his challenger, Rep. Robin Smith (R-Hixson).
In August 2019, Sexton — a banker from Crossville representing House District 25 — beat out five other representatives to replace Glen Casada, who had resigned his post as speaker. 
Sexton is proving to be refreshingly dissimilar to Casada, who was at the center of several scandals. You may recall reports of his hiring "research analysts" who were simply hall monitors hired to follow and eavesdrop on certain House members, or the sexually explicit and racist texts he received from his chief of staff. Sadly, those are just small examples of the trouble stirred up while Casada was speaker. Political observers think Sexton can make a very good name for himself and for his party if he simply asks himself "What would Casada do?" and then does the opposite.
Sexton reminds me in some ways of former Tennessee Gov. Ned Ray McWherter. McWherter was certainly partisan, but when it came to doing what was best for the state, he set his partisanship aside. When Sexton was first appointed as speaker, he told The Tennessean, "The good news is we agree on a lot more than we disagree on." Thereafter he mentioned quality education, jobs, infrastructure and health care. He further commented on the need for the parties to work together for the greater good, while recognizing there would be disagreements. Sexton is approachable and has obviously gained the respect of House members, though his pre-election bus tour generated criticism. 
On Oct. 25, The Tennessean reported that Sexton was "leading Republicans on a bus tour," the objective being to "get out the vote." This type of grassroots effort can be beneficial to the party, but some were scratching their heads. Billed as a joint effort between the state party, the governor and legislative leadership, the eight-day tour was mostly paid for by Sexton and organized by his staff. Observers have speculated Sexton could be using the tour for name recognition, to build on his own brand for some future statewide race.
In that same Tennessean article, Sexton downplayed that possibility, saying, "As speaker of the House, my job is to make sure that we're campaigning with our members, and this is a great way to do it." He also stated, "It's old-fashioned, go back to the old barnstorming days across the state and get out the vote." 
That said, Sexton's actions of making stops around the state, having his staff keep local media apprised of his appearances and a professional video featuring him at home with his family during COVID have raised some eyebrows. Are these actions a sign of things to come? Of a potential gubernatorial race, perhaps? If that is his plan, I think Sexton would be a formidable candidate. 
 That may not be Sexton's plan, but he is clearly distinguishing himself in his role as speaker. He readily distanced himself from Casada — an A-plus move in anyone's book — and has received praise from both the governor and the Republican party chair. A quick read of the Nov. 26, 2019, Crossville Chronicle shows Sexton recognizes what Tennesseans need: better education, getting families out of poverty, better mental health and substance abuse programs, affordable health care, and much more. He cares about his constituents and about doing a good job. 
Whether Sexton runs for higher office, he is a good man trying to do good things for his party. If he keeps it up, he could make a fine governor. We'll see.
Bill Freeman
Bill Freeman is the owner of FW Publishing, the publishing company that produces the Nashville Scene, Nfocus, the Nashville Post and Home Page Media Group in Williamson County.