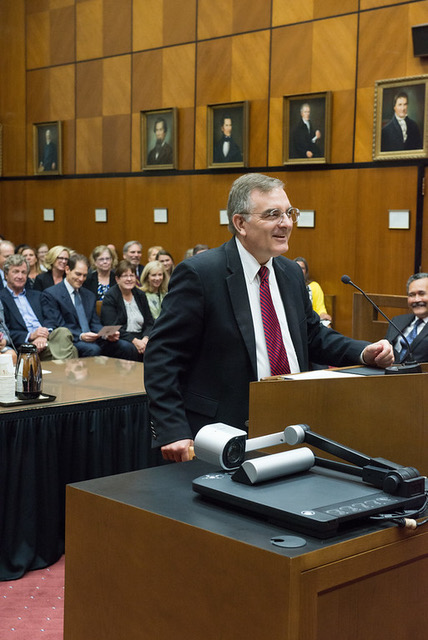 When former U.S. District Judge Todd Campbell passed away on April 11, Nashville's legal community certainly lost a legend — and those who knew him will miss this man of distinction and kindness. His passing leaves a hole in the worlds of public service and judicial workings, but it was his compassion that was always one of the most impressive things about him.
Unless you were present at a ceremony, you would likely not know of Campbell's dedication to welcoming new Americans. He presided over hundreds of swearing-in ceremonies for new citizens, as his recent Tennessean obituary notes. His words to these new citizens were, "We are now the same, with the same rights and responsibilities of citizenship." Of course, the statement was legally accurate, but more importantly, it was welcoming and kind. 
Just a few years out of law school, Campbell served as a political aide to Al Gore during his 1988 presidential campaign. Despite Campbell's youth, he demonstrated a fierce intellect and expertise as a federal elections law expert, and Vice President Gore chose him as his counsel during the administration of President Bill Clinton. Campbell and his wife Margaret returned to Nashville in 1995 to raise their growing family. President Clinton soon appointed him to fill a U.S. District Court seat. His Senate confirmation made him the youngest federal judge in the country. 
Campbell's experience on the campaign trail and in Washington gave him political savvy and a heart for public service — but his experience growing up in Nashville and his memories of his childhood hometown made him the man that all of Nashville will miss.
In reading the many stories written in remembrance of Campbell, a small detail about his quiet convictions has resonated with me. Donelson was my childhood home, and it was Campbell's too. We shared that small detail of our upbringing, and Donelson was the source of one of Campbell's earliest positive influences. Journalist and fellow Nashville native Alex Hubbard knew Campbell well, and Hubbard has told the story of how Campbell first became involved with the Tennessee School for the Blind, which has been a fixture in Donelson since the 1950s. Fearful of riding the bus alone, a young Campbell noticed students from the TSB also riding the bus. He thought to himself that if these students could overcome their challenges of visual impairment to ride the bus, then he too could do so without worry. Those early childhood experiences of being impressed by someone else's bravery and determination were the foundation of his connection to the school throughout his adulthood, where he volunteered his time for many years. 
Just as importantly, this experience as a young boy in Donelson helped build Campbell's lifelong ability to treat everyone with respect, kindness and equality. He treated the thousands and thousands of cases he presided over with seriousness and caution. Campbell handled some of Nashville's weightiest cases, some that still affect us today, but he approached each with caution and while paying careful attention to the law. He stayed out of the headlines during some of Nashville's most horrific news stories, but he ensured that his cases were given the full measure of legal protection and due process. 
Today, compassion and respect are not seen as often in the world of politics and public service as they once were, but those virtues were championed by Todd Campbell. His life and career exemplify the Golden Rule. 
Nashville will miss Todd Campbell, this quiet man of conviction and fairness. 
Bill Freeman
Bill Freeman is the owner of FW Publishing, the publishing company that produces the Nashville Scene, Nfocus, the Nashville Post and Home Page Media Group in Williamson County.