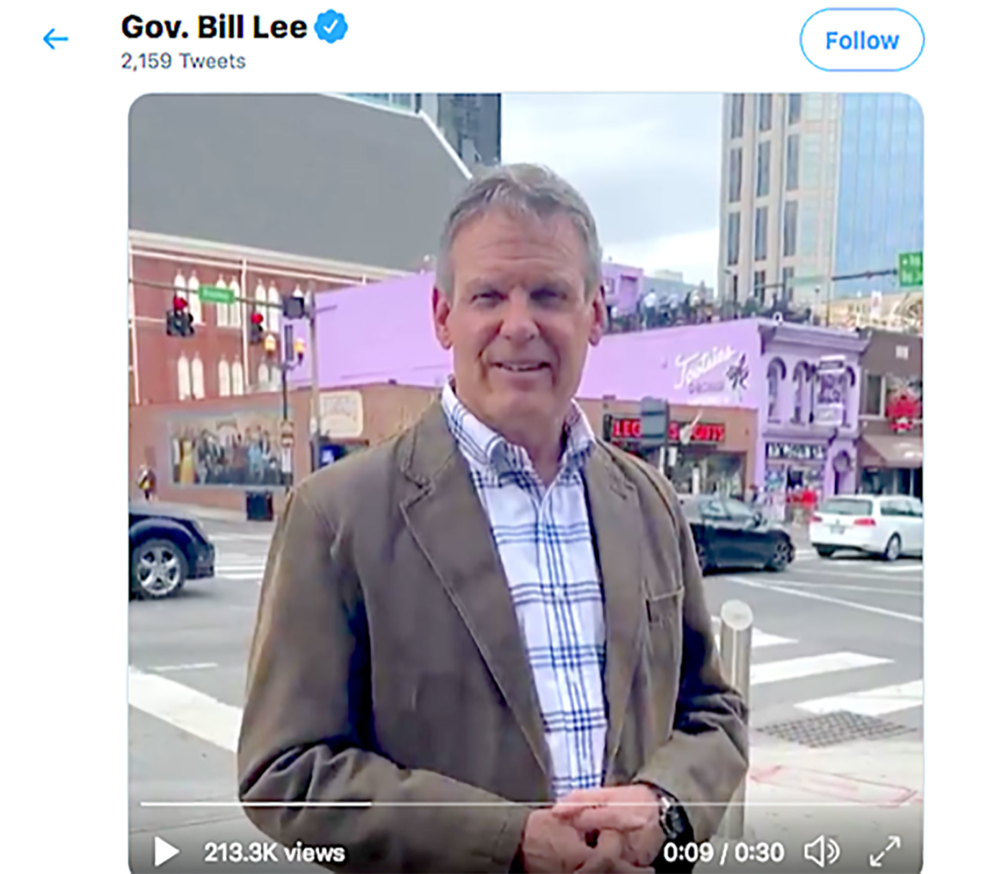 Earlier this month, Gov. Bill Lee shared a welcome to Nashville visitors that has raised questions about his leadership choices — with good reason.
Lee tweeted a video of himself ambling around Lower Broadway, without a mask, touting that Nashville is open for business. As The Tennessean reported, the "maskless Lee [was] mingling with honky-tonk and shop owners, chatting with people outside and shaking hands with a musician in close proximity." This could make it appear to outsiders that Nashville has no mask rules in place, when in fact the city's mask mandate still stands. 
In response to the scrutiny, Lee's staff released a statement saying "established policies were respected." 
Not true.
While Nashville is definitely open for business, we are still in phase 3 of an established four-phase system — a phase in which masks and social distancing are still in effect. Indeed, masks are still required when walking on Lower Broad, and in the governor's video and photos, he is shown not respecting that requirement. As WKRN reported, police are still "handing out citations for violators," yet Lee appeared without a mask. If many visitors follow suit, that will keep police officers busier than they need to be. 
If the governor wanted to make his announcement from downtown, which is reasonable, he really should have followed the rules — as he would expect every Tennessean to do. A picture is worth a thousand words, and Lee's broadcast was a slap in our faces as he wandered unmasked and shaking hands with people in an area that requires masks and social distancing. 
Dr. William Schaffner, an infectious disease expert at Vanderbilt University Medical Center, told The Tennessean he was "very disappointed" with Lee's behavior. "We are [at] a critical inflection point in our struggle against the pandemic," said Schaffner. "While we are vaccinating more and more people, we need to continue to wear our masks and participate in social distancing for a little while longer." 
Even if someone is fully vaccinated, the Centers for Disease Control and Prevention still recommends masks be worn in public settings. As Dr. Schaffner noted, we have vaccines but COVID-19 is still here. On Monday, the Metro Public Health Department Department reported that there were 1,985 cases of COVID-19 still active; nearly 12,000 Tennesseans have died due to the virus, including at least 855 Nashvillians. Further, the Nashville Post reports that, as of last week, only 10.5 percent of Nashville residents were fully immunized — and about the same percentage of Tennesseans.
Since vaccinations have arrived, some people have become complacent, and too many are undecided on taking the vaccine — which could be a result of partisan beliefs or misinformation. On March 18, The New York Times reported that Republicans tend to underestimate COVID-19 risks while Democrats tend to exaggerate them. Those underestimating COVID believed the illness "was killing fewer people than either the seasonal flu or vehicle crashes" when in fact COVID "has killed about 15 times more Americans than either the flu or vehicle crashes do in a typical year." Those who exaggerate the dangers of the virus thought 20 percent of COVID patients had been hospitalized when it's actually closer to about 1 percent. 
The main point of the Times story: "Information can help." Facts show that COVID "has already killed more than a half-million Americans and continues to kill more than 1,000 per day. Under-reaction has been the bigger problem with COVID — but it has not been the only problem." We need accurate information, and we need our actions to reflect our knowledge. But we don't always see that happening. Some still feel their rights are being infringed when they're asked to wear a mask. But we wear seatbelts for the same reason we wear masks — to keep ourselves, our family members and our community safe. As parents, most of us would ensure that our children are strapped in before even pulling the car out of the driveway. Sure, we can choose not to wear one — but it's the law and it keeps us safe, so we wear it. 
The governor's actions were disappointing. 
We have worked long and hard to prove we are a city that cares about its people, community and the safety of our visitors. To reiterate Dr. Shaffner's thoughts, though vaccines are here, COVID is also still here. The governor would have shown real leadership had he made the announcement while wearing a mask, welcoming visitors but asking them to stay safe while having fun. He compounded his failure of leadership with an official statement that willfully ignored Nashville's rules.
Bill Freeman
Bill Freeman is the owner of FW Publishing, the publishing company that produces the Nashville Scene, Nfocus, the Nashville Post and Home Page Media Group in Williamson County.