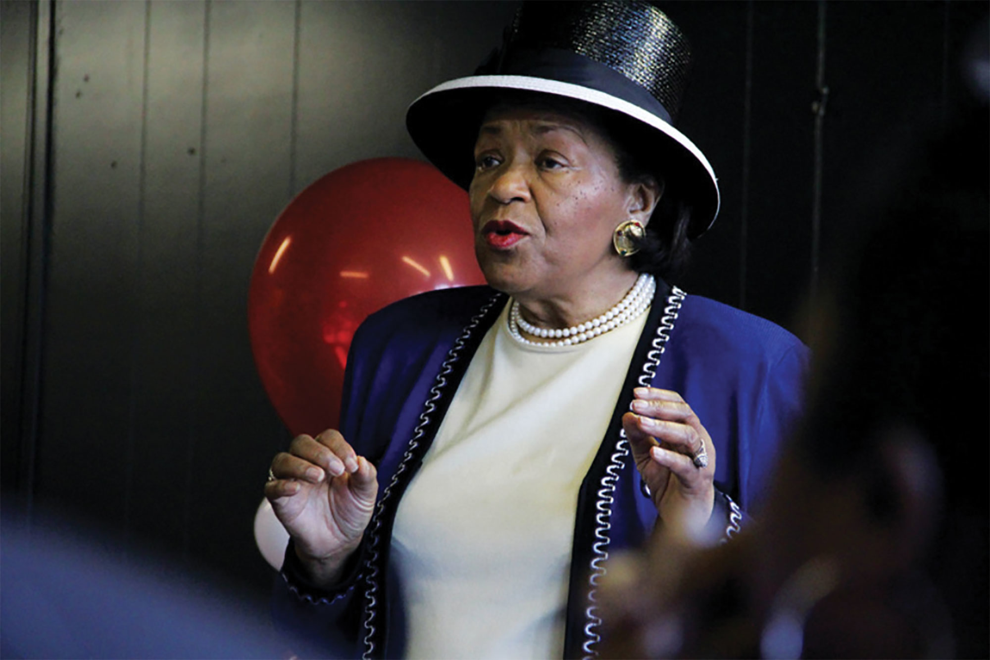 For many years, Sen. Thelma Harper blazed trails and made history. She died last month at 80 years old.
She was the first African American woman elected to the Tennessee Senate, and and she held her District 19 seat for three decades — until 2018, when she decided not to seek reelection. This made her the longest-serving female state senator in Tennessee's history.
Her loss is tremendous. 
Thelma Harper was a kind and caring person, as well as a beloved mother and a great mentor. The Rev. Davie Tucker Jr. called her an "auntie" to the North Nashville community. For me, she was a dear friend whom I had the privilege of knowing and visiting with on occasion throughout the years. It was always a joy to see her. She was the type of person who, even after just one meeting, you could not help but remember always. And that wasn't just because of her stylish hats, for which she was famous, but also because she was a classy, generous and courageous person dedicated to serving her community. 
One of the things she really enjoyed was hosting her "Kids Are Special Too" annual Easter egg hunt, a tradition Thelma's daughter Linda plans to continue. Given Thelma Harper's fondness for people and her community, it's not surprising she blazed a trail in local politics. 
Thelma Harper started her political career in 1981 as the Davidson County Executive Committee Woman for the Tennessee Democratic Party. In 1983, she was elected to the Metro Council. In 1989, she defeated three other candidates to win the state Senate's District 19 seat. Once she was there, some folks seemingly never wanted her to leave. The Rev. Enoch Fuzz said "she made people feel like she cared." She had the respect of both Democrats and Republicans. 
While in the Senate, Thelma Harper became the first African American woman to preside over the body and was appointed by Lt. Gov. John Wilder to chair the Senate's Government Operations Committee. In 2011, she became the first senator to chair the legislature's Black Caucus. She was a state delegate to the Democratic National Convention from 1980 to 2008. Also while in the Senate, she sponsored legislation that renamed a portion of U.S. Highway 41 in honor of civil rights legend Rosa Parks. She aided in passing numerous amendments to state budgets to the benefit of her district — amendments that resulted in job training programs, workforce development efforts and even projects like Nashville's Music City Center. If there was work to be done, Sen. Harper was ready to lead the way. She did not wait for permission — she took action. She lived with conviction, did what she knew to be right and encouraged others to do the same.
Sen. Harper had a way of doing things that made the people around her feel at home. House Minority Leader Karen Camper said Thelma's "constituents were like family to her at every level of service," adding that the senator "woke up every day thinking about how she could improve the lives of the people in her hometown."
"She was proud of Nashville and of her alma mater of Tennessee State University," Camper told WSMV. "She was a champion for children, the elderly and for the disadvantaged among us." Perhaps most of all, she was a great friend to Nashville — to all of us. 
Sen. Thelma Harper left us with one final reminder of the greatness she achieved, becoming the first African American woman to lie in state at the Tennessee State Capitol. It is with heavy hearts we say goodbye to this vibrant leader. She will be sorely missed. 
I truly enjoyed knowing the senator, and was happy to call her a friend. 
Bill Freeman
Bill Freeman is the owner of FW Publishing, the publishing company that produces the Nashville Scene, Nfocus, the Nashville Post and Home Page Media Group in Williamson County.