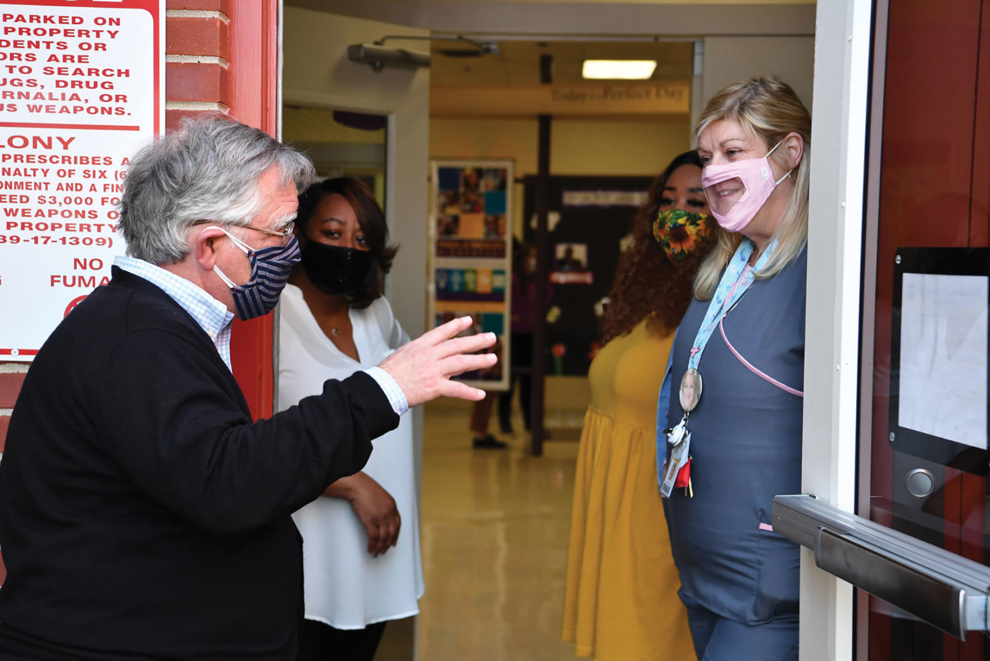 In his April 29 State of Metro address, Mayor John Cooper proposed an increase to teacher salaries to such an extent that Metro Nashville Public Schools' teachers will become the highest-paid teachers in the state. 
Cooper's $81 million investment plan is long-awaited and sorely needed — as the results of a study commissioned by the mayor's office and the Nashville Public Education Foundation showed — just to bring MNPS' teacher compensation to a livable scale. 
When he stepped into the mayor's office, Cooper inherited a fiscal mess that reached back to the administration of Karl Dean — who added $1 billion to the city's debt load while claiming to be leaving the city "fiscally strong and in good shape for the next administration." Thus Cooper postponed his campaign commitments to reward teachers for their hard work and loyalty to Metro schools. The budget-busting impact of the March 2020 tornado and the COVID-19 pandemic created a lot of mire for Cooper to wade through and resolve. 
Teacher retention and classroom experience are two of the most important factors that create a stable, committed and capable school staff. Spending decades at the same school and earning advanced degrees in their field are two of the key factors in developing the best teachers possible. 
The MNPS Teacher Compensation Analysis study, which was conducted by the national group Education Resource Strategies and delivered in April 2020, showed that Nashville has a long way to go to correct the inequities in our teacher compensation. This report highlights many glaring facts, just one of which is that Nashville has been able to retain fewer than 200 doctorate-level teachers who have taught in Metro for 28 years or more. 
The capabilities and loyalty of teachers with both advanced degrees and decades of classroom experience are the very reasons we should work to retain the teachers we hire. The 200 educators in MNPS with those credentials make up just 3 percent of the more than 6,500 certified staff members the system employs. This is a harsh but true reality that both Mayor Cooper and the school board have been working to correct. 
The 2020 study also found that MNPS was losing nearly a quarter of its teachers annually in recent years. More than 18 percent of MNPS teachers left the school system for a different job elsewhere in the most recent year studied. That attrition rate would be difficult for any employer to absorb, much less in a field like public education, where stability, tradition and experience are key to students' success. 
Mayor Cooper, the school board and MNPS leadership are working to change these unsettling facts with this proposed teacher salary increase. Cooper's decision to invest federal stimulus money into public education has also paid dividends. The district has seen the realization of a plan to provide digital tools such as laptops for students during our unprecedented virtual learning experience during the past two school years. We have seen our school district make tremendous efforts to provide food for needy families while everyone remained home during the shutdown efforts. 
Our teachers, staff and administration have done more than a remarkable job during these uncertain times. They have achieved the impossible — they have kept our students learning, our teachers gainfully employed and our communities stable. Those are impressive accomplishments even on a good day, but it is a testament to the commitment of our educators and school administrators that they have done so during these challenging times. 
This proposed pay raise is, arguably, the best we have ever done to reward the fine men and women at our public schools. Mayor Cooper stated in last month's address that Nashville will be "making Metro's largest-ever investment in public education, both in operating and capital dollars." This marks the "first time in a generation we are fully funding the school board's budget request." 
As Mayor Cooper promised in his campaign: "Teachers are the real developers that we need to support. Educators deserve to be treated as the professionals they are; these are the individuals who are preparing our kids for the future." 
With this proposed salary increase, Mayor Cooper appears to be making good on this important promise. 
Bill Freeman
Bill Freeman is the owner of FW Publishing, the publishing company that produces the Nashville Scene, Nfocus, the Nashville Post and Home Page Media Group in Williamson County.