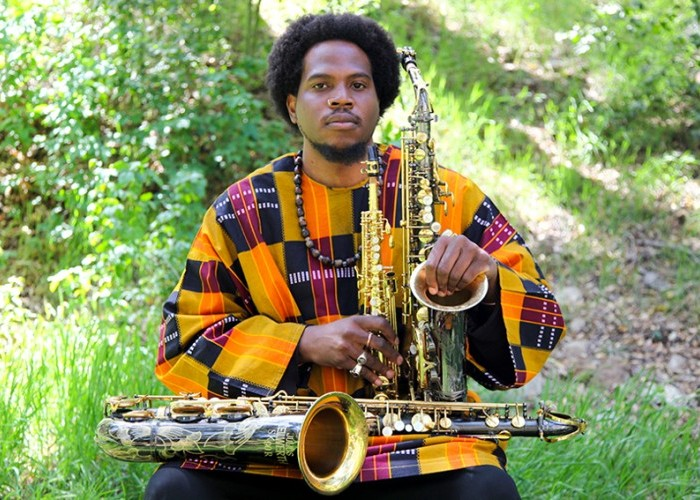 It seems easier than ever to experience music without context. There's a wealth of cultural history and expression bound up in writing and performing any kind of music. That history can be heartbreakingly awful, fascinating and beautiful, or maybe some of both, and it's all very easy to gloss over in this time when accessing music is as effortless as tapping your finger on a screen. 
Baltimore native Jamal R. Moore — a seasoned performer on wind instruments as well as a world-class improviser, composer, musicologist and educator — is deeply engaged with the context of the music he plays. One of his recent works is a 2018 double album by his group Organix Trio titled Psalms of Baltimore, which examines the experiences of black communities in the city, including the demonstrations that followed the 2015 death of Freddie Gray while in police custody. It's improvisational music, but there are layers of meaning to consider before you apply the name "jazz." 
" 'Jazz' is a term that is applied to the African American aesthetic in music or Black American Music, also known as BAM, a term coined by Nicholas Payton," Moore told Downbeat. "When we deal with this aesthetic of music, we know that this art form was created by African Americans, then others came and learned or were inspired by the music and began to play the music. When we get into the capitalism of it—that's always going to exist—[jazz] will be appropriated by various cultures globally. We're dealing with a folkloric art form. As I teach all the time in my jazz history course, [jazz] is at the root of Black music. It's the roots of Black America, the good, the bad and the ugly, which is something no one wants to deal with."
Courtesy of arts nonprofit FMRL, Moore is set to headline a show at Proper Saké (628 Ewing Ave.) Saturday night. He'll perform in a duo with another masterful explorer of jazz, Nashville-residing wind and electronics master JayVe Montgomery. And that's just the tip of the iceberg: Also performing at the show are Animal Collective co-founder Geologist, aka Brian Weitz; Austin, Texas, avant-folk singer-songwriter Adam Ostrar; and Omaha, Nebraska, guitarist and composer Luke Polipnick.
That's a hell of a lot to take in and an incredible deal for the cover charge, which is $10-$15 on a sliding scale. The show starts at 7 p.m. Keep an eye on the Facebook event page for updates, and on FMRL's FB profile and website for information on more shows. Below, watch a video of Moore performing at Baltimore's High Zero festival in 2015, which Baltimore City Paper previewed here with an in-depth interview.