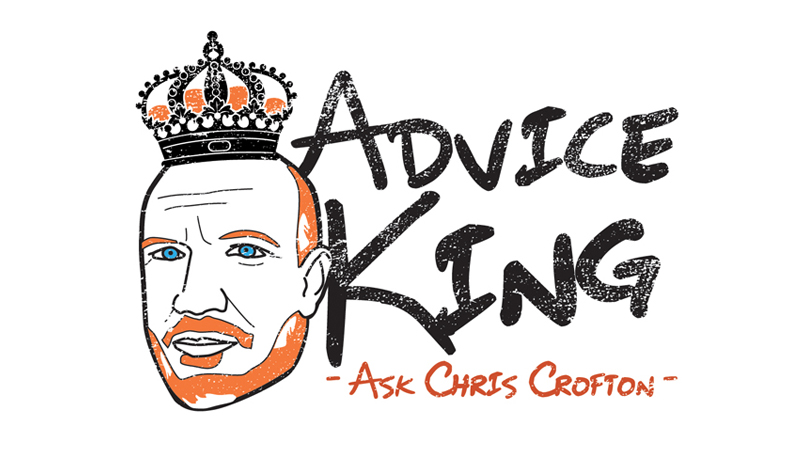 Comedian, musician, host of Chris Crofton's Advice King Podcast and former Nashvillian Chris Crofton asked the Scene for an advice column, so we gave him one. Crowning himself the "Advice King," Crofton will share his hard-won wisdom with whosoever seeks it. Follow Crofton on Facebook and Twitter, and to submit a question for the Advice King, email bestofbread[at]gmail[dot]com or editor[at]nashvillescene[dot]com.
---
Dear Advice King,
This is a two-parter. First, I am not going home for Christmas this year for the first time ever. How can I make the most of a Christmas alone? Also, any ideas for cheap Christmas gifts? I am on a serious budget.
—Patty in Los Alamos, N.M.
Fuck. I just looked up Los Alamos — 12,000 residents; 86 percent white. "Where discoveries are made." That's the slogan on the Los Alamos city website. Aside from the atomic bomb, I bet the main discovery being made is that the town's only sushi place sucks. And I can GUARANTEE the sushi rolls are named stuff like "Atomic Roll" and "Meltdown Roll" — "OUR SUSHI IS THE BOMB," etc. I wonder if they have a "Stop, Drop and Roll Roll." Probably not, but it's a great idea. You are welcome to it, Los Alamos Mass-Casualty Sushi Bunker.
Just kidding. I'm sure Los Alamos is a lot of fun. From the looks of things you can either invent weapons or hike. If I were you, I would go to a bar. I'm a recovering alcoholic so I can't go with you. There should be a "Spend Christmas With the Advice King" contest. Every year I pick one lonely person and I fly to their town and go to the movies with them all day. Airfare, movie tickets and unlimited popcorn would be provided by the Nashville Scene, so I have a feeling this idea is a nonstarter.
Bake! Everybody loves cookies and pies and stuff like that. Bake all day on Christmas Eve and then go around town giving baked goods to all the evil scientists and their families on Christmas Day! If you don't have one, get a record player. A vinyl record player. Go to a thrift store in Los Alamos and buy some scratched-up Christmas records. In a town that's 86 percent white you'll probably end up with mostly Perry Como. Who cares? Perry Como is good! Make some eggnog. Don't make it TOO strong, because you're going to be drinking it all day while you bake. Spin those records, drink that eggnog, and have a contest against yourself to see how many cookies you can make. Talk to yourself! Say stuff like, "I bet you think I'm too drunk to make cookies, huh? Well I'm NOT, asshole."
Even if you don't smoke, smoke a bunch of cigarettes! Treat yourself — it's Christmas Eve for God's sake! I recommend menthols — my stepdad Randy told me that those are what Santa smokes. Speaking of smoke, make sure your smoke alarm has fresh batteries in it in case you pass out with the oven on. My weird Aunt Carly burnt down four houses during her legendary nog-fueled bake-a-thons of the 1970s. She ended up on the TV show That's Incredible! (that's her being airlifted out of the MGM Grand). She didn't care, either. On Christmas morning she'd shake off the ashes and hand out burnt baked goods all over her hometown of Provo, Utah. There's a statue of Carly in Provo. She's covered in soot, weeping and holding what's left of a pie.
OK, so that's takes care of what to do on Christmas, AND cheap gifts. Just for fun, here's a few more cheap gift ideas, Patty:
Goldfish — Real goldfish, in a bag of water. Do not pay more than a dollar. If you can't find a goldfish for less than a dollar in your area, send me a self-addressed stamped envelope, and I'll point you in the right direction.

Old shoes — "I hope these fit! I found them!"

Hug voucher — "Good for one hug!" Make sure the writing is neat.

Spaghetti dinner voucher — "Good for one spaghetti dinner cooked by me!" FUN FACT: You don't have to actually ever make the dinner.

Cat — Give someone your own

cat

.
MERRY CHRISTMAS!!!