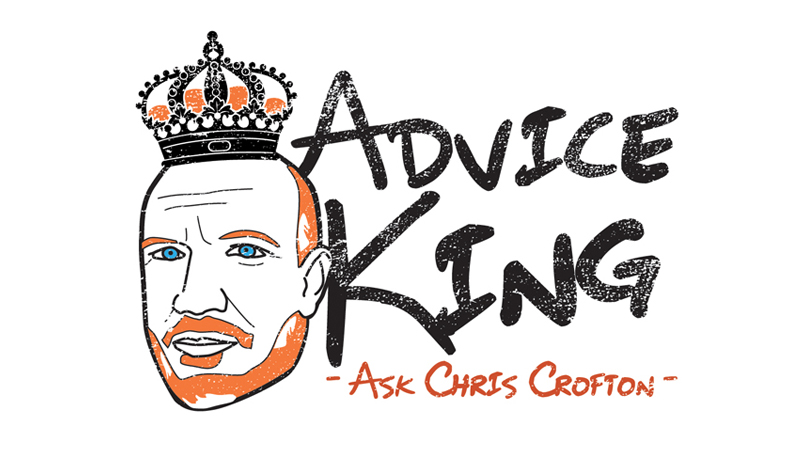 Comedian, musician, host of Chris Crofton's Advice King Podcast and former Nashvillian Chris Crofton asked the Scene for an advice column, so we gave him one. Crowning himself the "Advice King," Crofton will share his hard-won wisdom with whosoever seeks it. Follow Crofton on Facebook and Twitter, and to submit a question for the Advice King, email bestofbread[at]gmail[dot]com or editor[at]nashvillescene[dot]com.
---
Dear Advice King,
My wife and I are going to Nashville on vacation. We're thinking about hanging out in a bro-country bar. Would you recommend ‪Luke Bryan‬'s, ‪Jason Aldean‬'s or FGL House?
—Eli in St. Louis
What? Why? Do you need to get herpes in a hurry? Are you trying to see how sad you can get? Guess what I call Florida Georgia Line. Florida Georgia LINES. Get it? *SNIFF* Get it?
By the way, the last time I mentioned Florida Georgia Line in this column was in 2015, when I said that they looked like "the ghosts of people who died in ATV accidents." Here's the link.
FGL House* is not a good name for a bar. Sounds more like the name of a rehab facility — which is ironic, since YOU, my dear advice-seeker, are obviously in need of SOME kind of rehab (brain?). Healthy people do not want to go to these places**.
Do "Florida" or "Georgia" ever poke their heads into the ol' FGL House to babble incoherently about Oprah? Is Florida the guy who shot the bear in a cage? Or is that Georgia? Is it true that Florida had to be rushed to the hospital after a jalapeño-popper overdose?
Who is Luke Byram? I'm gonna Google him. Oh my Lord God. He's a JC Penney model that does some kind of "fiddle rap" with Republican talking points for lyrics (i.e., self-sufficiency, objectifying women, heavy petting in trucks). And his name isn't Luke Byram. His name is Luke, but he's also named "Bryan." Luke AND Bryan, the Republican fiddle rapper. I think he's Christian, too. I wonder what happens at his bar — drunken hip-hop abstinence? I bet he lives on a golf course. He looks like one of those fiddle-Christian hip-hop golfers.
I'm just guessing, so settle down. I don't actually know anything about Christians or golf or Republican fiddle rap. 
I know Jason Aldean looks like a duck hunter. I do know that. He's supposed to look like he "works as hard as he plays." He doesn't need any stinking health insurance. All he needs are guns and whiskey and ducks and his family. 
Why are country musicians and Republicans OK with all their taxes going toward weapons instead of health care? And how come it isn't socialism to subsidize farmers? Oh well. I'm gonna keel over dirt-poor in a duck blind from undiagnosed high blood pressure while listening to corporate propaganda set to song by rich, healthy, Christian golfers. Just like Jesus did. 
If dying of treatable diseases ain't country, I'll kiss your ass.
Do not go to those bars, Eli. All you and your wife are going to do in those bars is argue. Save money by getting drunk in your hotel room and arguing there. 
Party Psychic Crofto the Magnificent™ predicts: 
There will be a band in every one of those bars that looks like 5 Finger Death Punch. They will all be playing a nu-metal version of "Whiskey River." You are going to have 95 Bud Lights and decide that the bass player is flirting with your wife. You are going to get hit with a bass guitar, your pants are going to fall down, you are going to start crying, and you are going to get tased. These things will not necessarily happen in that order, but they will happen. You will wake up at 3 p.m. the next day with no memory and no money. Your stomach will contain a huge amount of discount cheese. You will find this out when you barf. Your wife left Nashville on a bus in the middle of the night. With the bass player. You were right — they were flirting. When you look at your phone you will have 410 new messages from your mother.
*FGL stands for "Florida Georgia Line," which is the name of a "bro-country" band. "Bro-country" is a special type of country music that sucks.
**If you wanna have some fun, check out the customer reviews for these places. Here's an excerpt: 
We stopped by during the day for drinks. It was not busy at all, and it was easy to get in and out. However, we paid $18 for one drink. In addition, I went to another bartender (because the one on the rooftop was so rude) and asked how much a double amaretto sour was. She said $10. The prices were inconsistent throughout the bar.
I only have one thing to say: DOUBLE AMARETTO SOUR?!?!