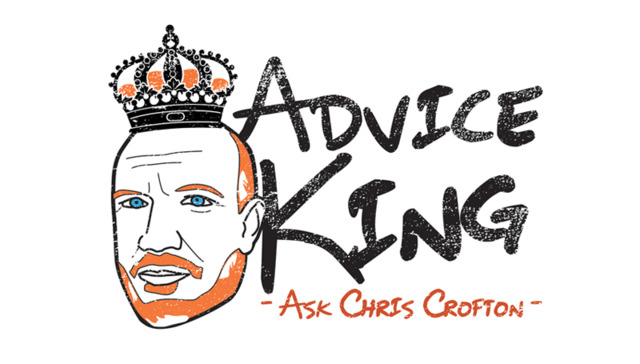 Comedian, musician, host of Chris Crofton's Advice King Podcast and former Nashvillian Chris Crofton asked the Scene for an advice column, so we gave him one. Crowning himself the "Advice King," Crofton will share his hard-won wisdom with whosoever seeks it. Follow Crofton on Facebook and Twitter, and to submit a question for the Advice King, email bestofbread[at]gmail[dot]com or editor[at]nashvillescene[dot]com.
---
First and foremost this week, I'd like to send my love to the city, and the surrounding areas, of Nashville, Tennessee. I'm so sorry for all the suffering the tornado has caused. (If you need help or want to help, here's a post with information, and another specifically about how to participate in volunteer cleanup efforts.) I love Nashville very much, and I still consider it home.
—Chris
---
Dear Advice King,
My friend thinks Pop Tarts are bullshit, but confessed tonight that he has never toasted one. Should I drown him?
—Jeremy in St. Louis, Mo. 
If Joe Biden somehow gets the Democratic nomination by talking about "bad dudes" named "Corn Pop," challenging elderly voters to push-up contests, and lying about being arrested in South Africa, I promise that I'll vote for him, but I sure as hell won't be excited about it. FUN FACT: The best, mostly overlooked, part of Joe Biden's Corn Pop story is when he called Corn Pop "Esther" (as in Esther Williams, the synchronized swimmer/Hollywood star). I guess that was a sick burn in the 1890s. Also, how bad of a "bad dude" was Corn Pop, really? He was SWIMMING.
Oh no! I tried to answer the question without reading it again. I thought you might have asked what you should do if Joe Biden turns out to be the Democratic nominee for president, but you ACTUALLY submitted some gibberish about Pop Tarts! Sorry about that, Jeremy.
Pop Tarts, huh? Where were you and your dimwitted pal discussing this high-stakes subject? I picture you and your friend playing cards on an upside-down cardboard box in a duck blind that doesn't belong to either of you. In the middle of the night. By the light of a pile of burning Us magazines. It is NOT duck season. You are both recently divorced, and have nearly finished a handle of Popov vodka. The atmosphere is tense — and it was tense even BEFORE you started drinking — because you actually don't like each other very much.
You work together at a T-Mobile store? No. You met at one of those pro wrestling matches that happen in bars, and bonded in the parking lot by snorting baby laxative that you both called "cocaine" off the corner of a Starbucks gift card with no money left on it. You were in a PT Cruiser that you bought from your ex-wife Delphine's dad for $2200. It burns oil. This guy who never toasted a Pop Tart is named ... Wayne. Delphine's dad's name, by the way, is ... Pietro.
You don't have to say anything, Jeremy (and you can't!), because I know I am right.
And I've got news for you. You don't want to drown Wayne because of the Pop Tart thing. You want to drown Wayne because YOU told your ex-wife Delphine YOU were going to quit drinking on weeknights — but YOU didn't. You told her that you would stop stealing her back issues of Us Magazine to start fires in the woods. But you didn't. You told her you would brush your teeth after you ate mustard, too. Did you do that, Jeremy? No, you didn't. Have you ever kissed anyone who just ate the amount of mustard that you are INFAMOUS for eating, Jeremy? The DISCOUNT mustard that you, Jeremy, buy IN BULK for some depraved reason? I can tell you right now that you haven't.
Stop threatening to drown people because you are mad at yourself, Jeremy. And one more thing: I think Pop Tarts are bullshit, too — and I've never toasted those bastards either.