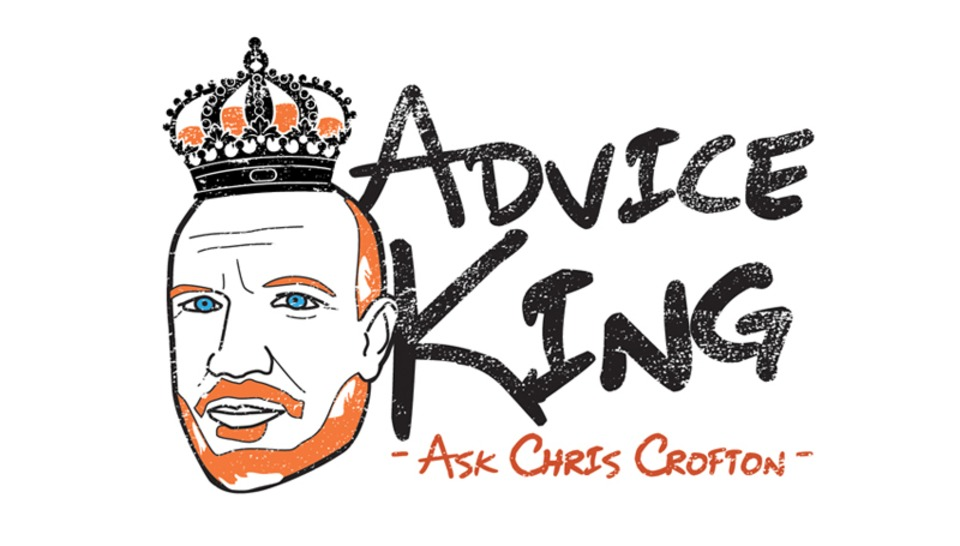 Comedian, musician, and former Nashvillian Chris Crofton asked the Scene for an advice column, so we gave him one. Crowning himself the "Advice King," Crofton will share his hard-won wisdom with whosoever seeks it. Follow Crofton on Twitter and Instagram, and to submit a question for the Advice King, email bestofbread[at]gmail[dot]com or editor[at]nashvillescene[dot]com.
---
Dear Advice King,
Should I "social distance" and self-quarantine like a responsible adult, or should I just be a complete asshole and keep going places and coughing on people because I choose to be a terrible person and not to take COVID-19 seriously? 
Signed sincerely,
Leopold in Nashville
Hi, Leopold! (Leopold is the fakest name I have ever encountered in the five years I have been in the advice business, but I understand the spirit of the question.)
I will answer your question with another question, Leopold. 
What if the fire department was all lawyers? 
That's right. Your house is on fire and you call the fire department, and a bunch of lawyers show up to fight the fire. Only they don't fight the fire. They stand in front of the fire and have a press conference. They say the fire isn't a big deal. And they talk about money. FOR WEEKS. They say the fire is contained. A pillow salesman steps up to the podium and tells everyone to read the Bible. And the fire burns. 
The lawyers didn't bring any water, either. They say that they are not in charge of bringing water. They say it is supposed to be provided by other people, and the fire burns. They give trillions of dollars to banks and airlines, but that doesn't put out the fire. They say that maybe all the old people in America should be willing to sacrifice themselves so the fire will go out. The fire that's not even a big deal. But the fire still burns, and they realize that they can't take that thing back — that thing they said about the old people.
Then, after a month of talking to television cameras about money, they notice that the house has burned completely to the ground. So they say: "We take no responsibility because we are lawyers, real estate developers and a pillow salesman. Why did you put us in charge of a fire department?" They say 200,000 people might die because they don't know how to fight fires. They say they are doing an amazing job for amateur firefighters, though. And they say, "Who could have predicted that there would be fires, anyway?"
Yes, people should stay home. Yes, people should practice social distancing — but you would never know that from the actions of the governor of Tennessee. He's a businessman in charge of a health crisis, after all — it's not his fault. The governor of Florida is the same. A businessman in charge of a health crisis. And they're both Republicans. They, along with Donald Trump, John Cornyn, Sean Hannity and Laura Ingraham — as well as countless others — thought they could "own the libs" by making them look hysterical about this virus. But it turns out "the libs" were right, and it was the governors, the president, the senators and the pundits that got "owned." 
But you know who REALLY got owned? The people who are dying from this virus. Not everything is fake news, turns out, and real life is not a game of "who owns who."
People are not "libs," or "Republicans," or "immigrants." People are just humans. Mortal humans who are in desperate need of masks, ventilators and leadership. 
Take care of each other. We will get through this, and with any luck we will emerge from this more compassionate — and prepared.
Now, a little bit of fun. It's the second installment of the Advice King's Guide to Having Fun During a Pandemic!
The Advice King Guide to Having Fun in a Pandemic
™, Vol. 2 
Follow me on Twitter! I have been doing a thing called "The Poetry Window" almost every day. When the poetry window is open, you can submit a poem topic, and I will write it! It's a free service, and it is helping me stay sane. I hope it will bring some joy to your days in quarantine. If you don't want to actually join Twitter, you can still read the poems! Just put "@thecroftonshow" into your favorite search engine. Here are some examples:
"Bird Watching"
what kinda 
bird is 
that?
I don't fucking 
know 
it's 
my
first day
It's either an eagle
or 
a huge finch
"History"
the hulls
of
wooden 
ships 
on the bottom of 
the 
sea
calling 
us 
home
"Clear Plastic Furniture Coverings"
thank god 
mom
is insane
or we would 
have mustard 
on the
ottoman
And one more thing: Listen to "I Love a Rainy Night" by Eddie Rabbit as often as possible.