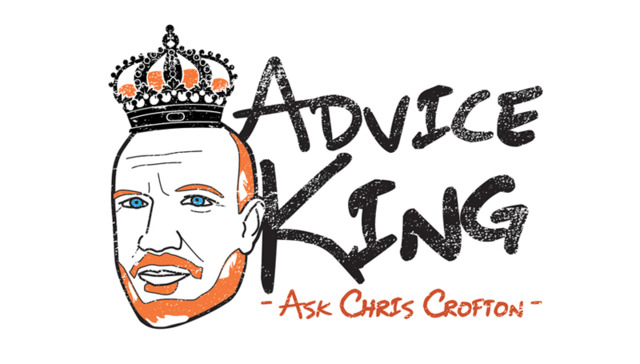 Comedian, musician, host of Chris Crofton's Advice King Podcast and former Nashvillian Chris Crofton asked the Scene for an advice column, so we gave him one. Crowning himself the "Advice King," Crofton will share his hard-won wisdom with whosoever seeks it. Follow Crofton on Facebook and Twitter, and to submit a question for the Advice King, email bestofbread[at]gmail[dot]com or editor[at]nashvillescene[dot]com.
---
Dear Advice King,
What should we do while we're at home hiding from the coronavirus?
—Everyone
HOLY SHIT! It's my time to shine!
I've been living a quarantine-esque lifestyle for years — and I've been having a blast! This week's column will be the beginning of a series: THE ADVICE KING GUIDE TO HAVING FUN DURING A PANDEMIC™.
First of all, I feel like I should mention that right about … NOW, we are all beginning to suspect that giving 26 people half the money in the world might have been a bad idea. And it's pretty fucking funny — but really not funny at all — that the Federal Reserve can magically pull $1.5 trillion out of its ass to try to plug a hole in the stock market. $1.5 TRILLION. TRILLION. But we need to cut Medicare and Social Security.
"Oh, we'll be cutting." —Donald Trump
What's also pretty fucking funny — but not really funny at all — is the fact that ultra-right-wing Christians have been trying to use American foreign policy as a tool (i.e., moving the U.S. Embassy to Jerusalem) to trigger the apocalypse. "But why would anyone want the apocalypse?" you might ask. These maniacs hope to have all of life's big questions answered by God IN THEIR LIFETIME. OK, boomer. They want it all: Coldplay, Facebook, golf shirts, Diet Coke and then, at the end, for dessert — all the answers! Typical Christians, humble to a fault.
You also might justifiably ask why I dragged this particular group of extra-depressing Christians into this super-fun column. It's because instead of rewarding their embassy-moving and Iraq-invading with a heavenly Q&A on the nature of existence, God has gifted US ALL with COVID-19! Nice job, assholes!
One more thing before we get to the fun: In the midst of this crisis — or any crisis — be careful not to drink your own urine TOO EARLY.
There may come a time in the next few weeks when you will feel frightened and confused, and you will be tempted to engage in the time-honored emergency measure of "drinking your own urine." While this is completely understandable, make sure you're not doing it too soon! One time I got stuck in an elevator at work, and I panicked and drank my own urine. It felt like I had been trapped for days! I was just starting my second glass when the elevator door opened and my boss got on. The police report said I was only in there for 45 minutes. You live and learn.
THE ADVICE KING GUIDE TO HAVING FUN DURING A PANDEMIC™, Vol. 1
Watch New England Wildlife & More's YouTube channel.
It's a pretty misleading name for a YouTube channel, actually. The "host" mostly opens old cans of food. I haven't seen him interact with any wildlife at all, as a matter of fact. He's usually indoors. (His distraught mom's basement?) He opens old cans of food from the 1930s, '40s, '50s, '60s and '70s. He's like an oldies station, except instead of playing "Rock Around the Clock," he sniffs (and sometimes eats!) 1950s creamed corn. An oldies DJ has a turntable, New England Wildlife & More has a can opener. Rock 'n' roll has a good beat, this guy opens bad beets. Do you like this metaphor? I do.
This is 100 percent true, by the way, and it is oddly entertaining. This man has sniffed and tasted so much expired food that, in my humble opinion, he is a national treasure. Just like Rush Limbaugh.
Stay safe, everybody. We are gonna make it to the other side of this. All my love!