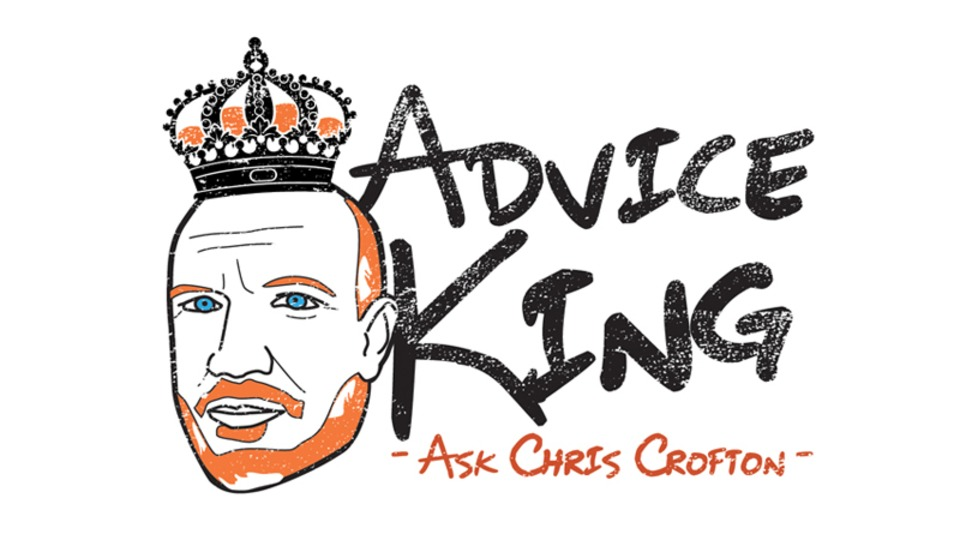 Comedian, musician, host of Chris Crofton's Advice King Podcast and former Nashvillian Chris Crofton asked the Scene for an advice column, so we gave him one. Crowning himself the "Advice King," Crofton will share his hard-won wisdom with whosoever seeks it. Follow Crofton on Facebook and Twitter, and to submit a question for the Advice King, email bestofbread[at]gmail[dot]com or editor[at]nashvillescene[dot]com.
---
Dear Advice King,
I met a guy online who wants to meet up, but when I told him I would only meet somewhere outside — with masks on and socially distanced — he said I'm being overly cautious and that we "can't live in fear forever." Am I being unreasonable? Thanks for your help!
—Joan in Santa Barbara, Calif.
In my experience, if the listing says the turntable "only needs a belt," it means that fixing that turntable is going to be a giant pain in the ass. If it's so easy, why haven't the people who placed the ad replaced the belt? Also, I've never heard of a "Hoover" brand turntable. There's a famous "Hoover" that makes vacuum cleaners, though. Good luck!
I tried to answer the question without reading it again. I thought you asked whether you should buy a used "Hoover" brand turntable that needs a belt.
Hi Joan! Don't ever listen to anything men say. ESPECIALLY horny men. Men "have sex" with modified flashlights.
Women have a higher life expectancy than men. Almost everyone who has gone over Niagara Falls in a barrel has been a man. Here's a sad story about a man who went over Niagara Falls in a barrel: 
"The first Canadian to conquer the Falls was Karel Soucek. Karel survived the plunge, but later that year Karel was killed while recreating the drop from a platform inside the Houston Astrodome. (Karel's barrel hit the edge of the water tank.)" 
That quote is taken from here. Pay a visit for more stories about men with terrible judgment!
But I digress. 
My dad went to a Catholic college in the 1950s. He said he went out with a woman named Helen for three years before they kissed. I don't know why he told me this, because it makes him sound insane — and that's how I know it must be true! My personal policy is that if you haven't kissed in the first TWO years, you might want to seriously look into whether you are, in fact, "going out." However, since Helen (if she existed, and wasn't a broom with a dress on it) and my dad waited THREE YEARS to kiss, the least this COVID cowboy — this pandemic petitioner, this bubonic beau — can do is suffer through a couple of socially distanced dates DURING A HEALTH CRISIS. And when this "flu floozy" inevitably says that his lack of access to sex is the REAL health crisis, tell him to go fuck Niagara Falls.
Now, here are a few suggestions for how to safely pass the time during this worldwide stress festival:
Take a trip down the

Karel Soucek

rabbit hole!

Listen to the Graham Nash album

Songs for Beginners

!

Watch the most deranged "

sporting event

" ever committed to videotape!

Drink cold brew coffee in the middle of the night while writing an advice column and put yourself to sleep with melatonin! Wake up ... confused!

Go for walks, wear masks, and lean on each other. XO.