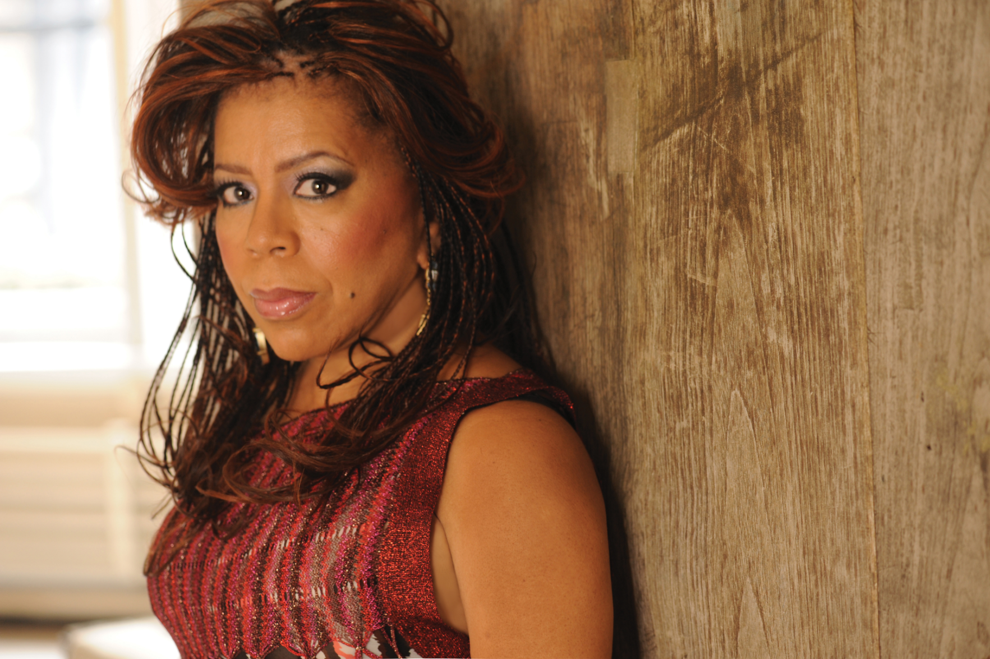 The term "legend" is often overused, but it's certainly accurate when assessing Valerie Simpson's phenomenal career. To the general music fan, she's best known for numerous magnificent tunes co-written with her partner and husband, the late Nickolas Ashford. The Ashford & Simpson team's first big hit was Ray Charles' "Let's Go Get Stoned," followed by majestic tunes for Motown acts like Diana Ross and the duo of Marvin Gaye and Tammi Terrell, and equally brilliant compositions penned for Chaka Khan and Teddy Pendergrass, among others. The duo's artistic excellence was commercially and critically astonishing, and they perfectly blended their professional and personal lives from the early '60s until Ashford's death in 2011.
But because Simpson has been so prolific as a writer, it's easy to forget that she's also an outstanding vocalist. Though her two solo Motown LPs Exposed and Valerie Simpson weren't big hits, they showcased her expressive, powerful voice and precise, soulful delivery, enhanced via some characteristic flamboyant lyrical touches. Her voice was also a key component in Ashford & Simpson's strong decade-plus run as recording artists with Warner Bros. after leaving Motown in the '70s, in addition to a host of other projects. Since Ashford's death, Simpson has revived her solo career. In 2012, she released Dinosaurs Are Coming Back Again, an album that includes duets recorded over several years — one with Roberta Flack, and another that was Nina Simone's final recording before her death in 2003 — plus other numbers that put Simpson's still-powerful and energetic voice front-and-center.
Simpson performs Saturday at Bicentennial Capitol Mall State Park, as the headliner of the 19th annual Jefferson Street Jazz and Blues Festival. Speaking with the Scene by phone, she explains that she still goes by a motto that was Berry Gordy's mantra during her years at Motown: Serve the song. 
"He was instrumental in always matching up the song with the right singer," Simpson says. "When we would do a song, we wouldn't think so much in terms of anything other than who can best serve it — who can tell the story and really put it out there. We never felt like we were married to any song, and we just had to sing it ourselves. He had a vision, and all of us wouldn't necessarily look at any song and say: 'This will be a hit.' Whether it was 'Ain't No Mountain High Enough,' or 'You're All I Need to Get By,' or whatever it was, we thought about the song and the best way to tell that story."
A former board member of performance rights organization ASCAP, Simpson says this will be her first trip to Nashville in quite a while. She's remained active in the industry, thanks in part to her ownership of Sugar Bar, a New York City club with a renowned open mic on Thursdays. Several participants have competed on The Voice, though none have yet achieved the kind of fame that artists like Kelly Clarkson or Jennifer Hudson did after being on American Idol. "We're trying to figure that one out," says Simpson.
She's also had firsthand experience with changes in the ways music gets made since she got her start more than five decades ago. Her single "Silly, Wasn't I" was embraced within hip-hop, having been sampled by 50 Cent and 9th Wonder, among others. Where she and Ashford tended to conceive most parts of a song themselves, chart-topping contemporary pop, R&B and rap songs are frequently the product of collaboration between an enormous number of people. 
"When we were writing songs, we thought about the music and the lyrics," Simpson says. "Today I see songs where you've got 10 people credited for writing it. I've seen songs where they brought in one person to do the drum tracks, and then here's someone else coming in to do the rap, and someone else has provided these lyrics. You might have a situation — and it's happened to me — where they take a few bars out of your song, and then turn it into another song."
All the same, she doesn't seem to feel pressure to change the way she works. And she definitely hasn't grown tired of writing songs.
"It's surprising to me people would even think that, and I get asked that all the time," says Simpson. "It's what I love to do. It's something I want to do and keep on doing it for as long as I'm able. I appreciate now so much more than I did when I was young, that people come up to me and say, 'Those lines that you sang meant so much to me,' or, 'That situation you described really mirrored something that I experienced.' It's a very special feeling being a songwriter, and it's one that I would never, ever want to give up or stop."