It's hard to say who Klypi is exactly. 
They're an electro-pop musician. Klypi is another name for A.C. Carter — who uses they/them pronouns and under their former moniker Lambda Celsius has shared stages with Molly Nilsson, Algiers and Girlpool. They're an accomplished visual artist who graduated from the University of Georgia with a master's in fine arts and a designer who helped create the colorful costumes seen in Of Montreal's dizzying "Plateau Phase / No Careerism No Corruption" music video.
More important than all of that, though: Klypi is a beginning.
In February 2020, before most Americans had heard of COVID-19, Klypi had just wrapped up recording their debut full-length album Consensual Hits with Los Angeles musician and producer Precious Child. The plan was to release it a few months later, in May, but — well, you know.
"I remember Precious being like, 'Have you heard about coronavirus?' " Klypi says with a slight laugh from across a patio table outside East Nashville's Ugly Mugs. "Of course, I was clueless. I was like, 'Huh, what? The beer?' "
We're wearing masks and sitting outside, because sitting indoors increases the likelihood of contracting the virus that we both now know has nothing to do with beer. It's been a hell of a year. But, Klypi says, Consensual Hits is finally ready to see the light of day. 
The album is a banger, a collection of punchy dance tracks full of unapologetic candor. The opening song "High Life" is a self-deprecating jam about partying and drinking that winks at dance-pop royalty like Kesha and Robyn. Klypi quips, "I can't take it at all / You are so boring / I can't take it anymore / You are so annoying," with the same restless impatience as an 8-year-old. Other times, they're more vulnerable. "Notice Me" beeps and bubbles with playful and cartoonish flourishes, but vocally Klypi captures the nagging disappointment that accompanies an unrequited crush. They all but tear their heart out and hand it over on a silver platter in the tender "Will It Be Today," a song that leaves Klypi asking no one in particular, "Will it be today that I feel OK?"
During the year of uncertainty, Klypi turned to their artistic inclinations to bring their music to life in creative ways. For the "High Life" video — in which Klypi's namesake, the obnoxious Microsoft office assistant Clippy, makes an appearance — Klypi went to Chattanooga to film at Stove Works with artist pals C.C. Calloway and Nicholette Milhoan. In the video for "Not for You" — a snarky song seasoned with industrial synthesizer and the LOL-inducing line, "Wearing my lucky Sauconys / When you ask me on a date to Shoney's" — we get a taste of what a Klypi live show might be like. The singer dances and strikes dramatic poses in a variety of costumes and outfits including elf ears, a sheer tailored suit and several feet of colorful chain.
Performing appears to come naturally, but Klypi insists that hasn't always been the case. 
"I remember my sixth-grade play, I'm wearing all green because it's The Wizard of Oz," they recall with a laugh. "I was a citizen of Oz and mortified because I'm onstage in front of people singing and dancing, but onstage I started my period, my first ever. Like, wow! I'm wearing this green outfit, I'm bleeding red, those are complementary colors, and my mom was late to pick me up. It was like, 'I hate performing! I hate this shit! I don't like doing this!' "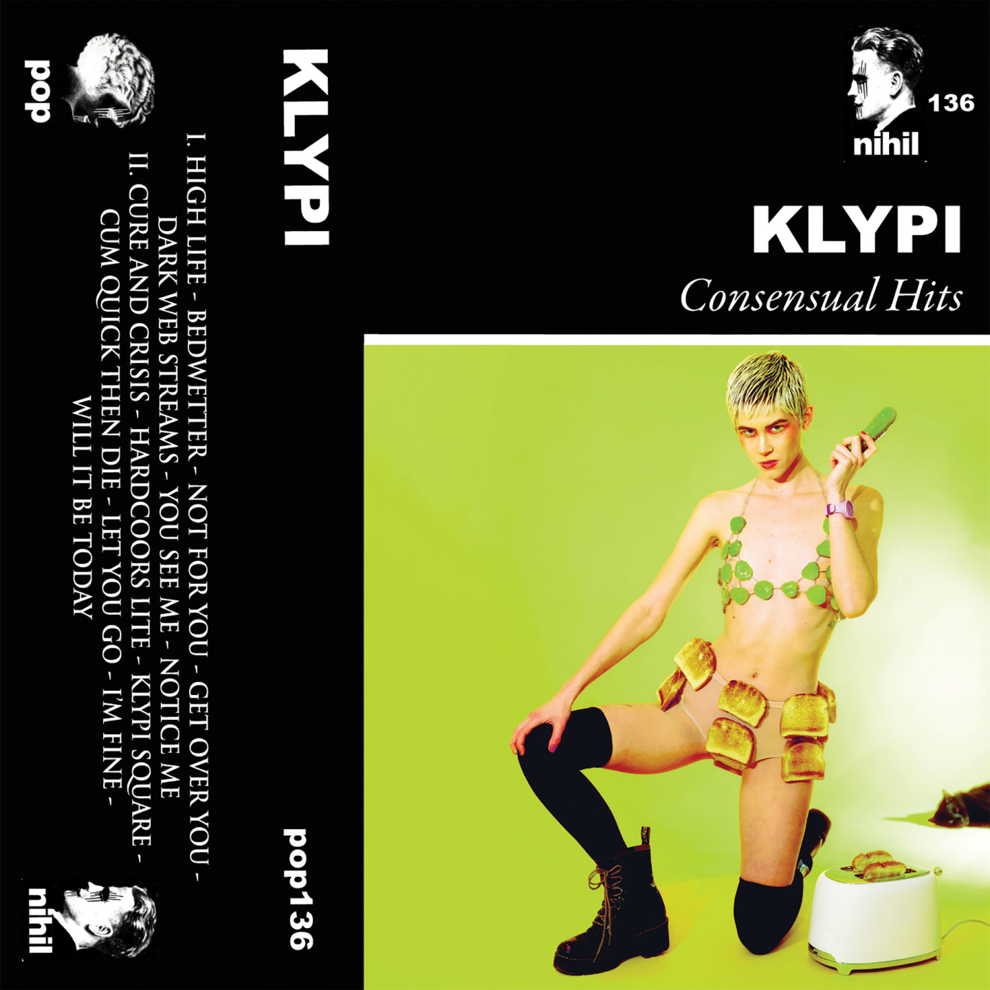 To accompany the song "Notice Me," Klypi plans to create a hotline people can text or call to share their own stories about trying to get noticed by somebody. We all have a few of those. And for the song "You See Me," Klypi dreams about creating a limited-edition eyeshadow palette that would be about the size of a CD case and come with a QR code for a digital download.
"I'm really interested in colors, in visual art and also identity," they say. "Being able to express yourself with makeup doesn't have to be gendered in a particular way[laughs]. It's really silly but that's where my brain goes. 
" 'Whoa, it's so conceptual,' " they add in a goofy voice as if to mock their own (brilliant) idea. "But a Klypi eyeshadow sounds so much fun!"
So often, a record feels like the definitive end to an artist's process. Consensual Hits, though, feels like the start of something new. It's a musical, visual and sometimes even edible — for Valentine's Day, Klypi made limited-edition candy hearts — interactive artistic experiment. 
"I feel like I have so many more records I want to put out in me. I think I have a knack for being able to use my skills as a visual artist and my knowledge of visual language to make that part of the other art that I do."