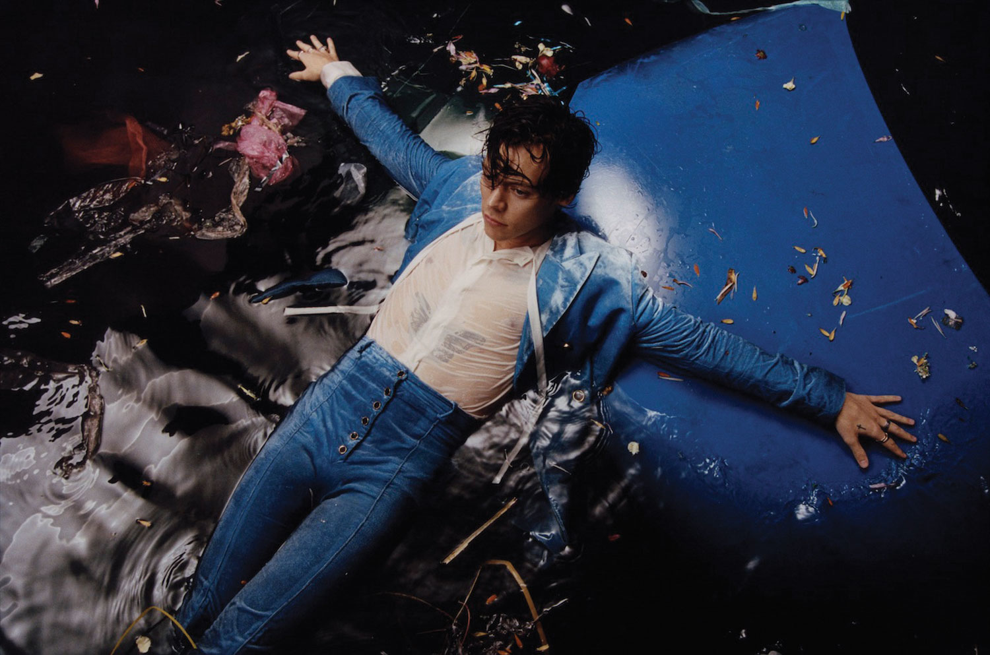 Harry Styles is entering Act 2 of his professional and creative life, at the ripe old age of 23. All due respect to his One Direction bandmates, but it's been clear for a while that Styles was a breakout star, and speculation regarding his inevitable solo career has been around since he was a teen. There's a template for solo success post-boy-band — go a little more hip-hop, and keep being sexy — and his 1D cohorts, Zayn Malik in particular, are following it to a T.
That plan also worked for Justin Timberlake, another boy-bander who made it out alive, relatively unscathed (and who's also playing Pilgrimage Fest on Saturday). Styles is frequently compared to J.T., and not without reason: They both possess the gifts of good looks, good voices, engaging personalities and seemingly stable personal lives. Neither has appeared to seriously struggle with drugs or alcohol, and neither has ever engaged in popping-off-at-the-mouth buffoonery for the lampreys at TMZ. 
But the parallels between the two are either aesthetic or speculative. Timberlake's immediate post-'N Sync career, like that of nearly every other former boy-bander, was all pop and R&B. Over the years, he's worked with Timbaland, Jay-Z and Pharrell. And at this point, Timberlake is almost as famous for his work on SNL as for being the second-best singer on "Tearin' Up My Heart." And at his core, he is one of the most American pop artists of the 21st century. 
But like an overflowing cup of tea, everything about Styles positively drips with Englishness. His first solo single — "Sign of the Times" from Styles' self-titled May debut — isn't just a Prince reference and a five-and-a-half-minute ballad: It sounds like early-'70s Bowie filtered through late-'90s Britpop. It's also got an arena-rock, lighters-out bombast that smudges up the fact that the lyrics are about a young mother dying in childbirth. Or are they about the contradictory emotions of releasing your first album out into the world?
Choosing the thoughtful-rocker route rather than alpha club-goer might be a reflection of Styles' actual interests. Bowie, Pink Floyd, Elton John, Fleetwood Mac, Paul McCartney, heck, George Martin, Badfinger, Oasis, fucking Supergrass — those influences are all over this record. Can someone tell me why all the other 1D solo stars are releasing dance tracks when this group never even danced?
Brooklyn, the vaguely defined "West Coast" and either North or South Carolina are all referenced on Harry Styles, because it's always more glamorous to drop the names of places you've been than the names of the people you were there with. "Carolina," "Woman" and "Two Ghosts" are the strongest tracks on the record, and they're all on the "harder" side. This is where Styles' inner arena rocker peeks out again, and it's further proof that the Timberlake comparison could never really work. If Styles' new career reminds me of anyone's, it's that of Robbie Williams, formerly of '90s boy band Take That. 
That doesn't mean they're exactly alike. Where Styles appears to be without demons, Williams is full of them, exuding rakish, dirtbaggy charm that comes off far cuter than it should. That works well in the arenas and stadiums Williams fills worldwide, where folks sometimes just want to sing along with tens of thousands of others to his hit "Angels," in which he looks at himself from the perspective of a kind and patient woman. This is the interesting place where Styles and Williams intersect: "Sign of the Times" feels like an attempt at "Angels 2.0." 
It's hard not to keep coming back to "Sign." The plausibility of Styles using a female character to examine his own emotions, as he does in this song, is one of the best and most fascinating things about him, as both an artist and pop-culture figure. He's spoken about One Direction fans with a consistent level of respect that's jarring for bitchy old cynical music critics to hear. How many 23-year-old men — especially those who have been screamed at and stalked and built into something unreal by young girls since they were teenagers themselves — publicly refer to preteen girls as "smart"?
Styles is one. At the very least, he is paying attention to the fact that teen girls made him famous, teen girls paid his bills. Teen girls are the people who made The Beatles bigger than Jesus, and most importantly, teen girls love to see live music. The fact that Harry Styles does not appear to be a total dickhead — even though as a young, handsome, white, wealthy, successful man, he could get away with it — is almost more impressive to me than the fact that his record doesn't suck. To be frank, it's not important if Styles' "Sensitive 21st-Century Man" persona is "real" or the result of many boardroom meetings. It's a good look. 
Because once you hit a certain level of fame, the style is the substance. Someone learning from Bowie and Prince should know this intuitively, and Styles appears to. He's wearing nice suits and lots of pink, and giving long, thoughtful interviews to Cameron Crowe. Though Styles is not exactly breaking the mold with his solo career, he's at least indicating there can be more than one path. 
Email music@nashvillescene.com