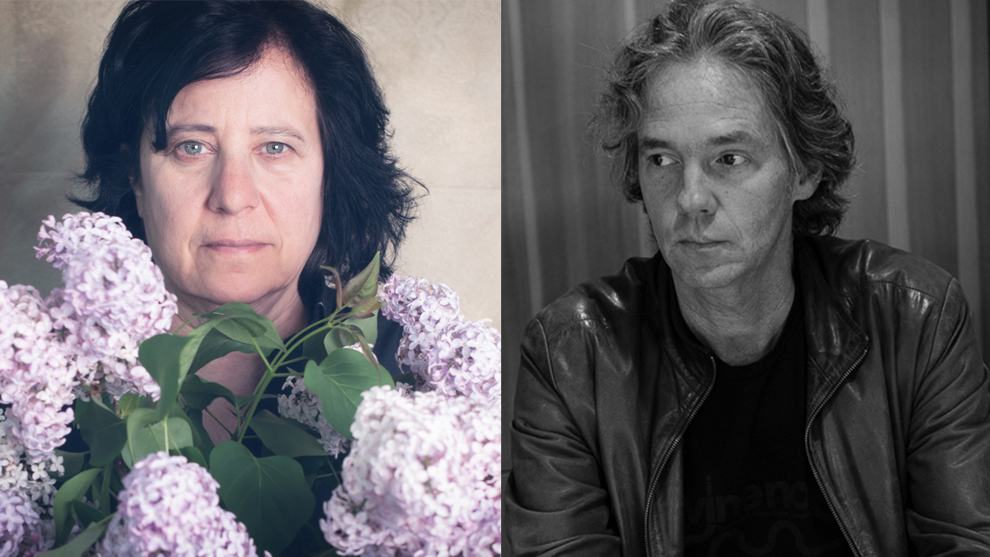 During its original run from the late 1980s through the end of the 1990s, the Boston band Come sold thousands of copies — never millions — of its four records. But the group's indie cred was unparalleled. Fans of Come's crazy-intense, wildly inventive guitar rock included J Mascis, Bob Mould, Sonic Youth and the late Kurt Cobain, all of whom the foursome shared bills with over the years.
Co-founders Chris Brokaw and Thalia Zedek (also see our interview with her) knew they were onto something from the moment they met in 1988. Speaking with the Scene by phone minutes after finishing a set in Asheville, N.C., Brokaw shares Come's origin story.
"The first night I met Thalia, we played electric guitar together for hours, and it was totally amazing," says the New York-born, New England-residing musician. "Immediately, we had this electric rapport with each other. It took a little while to get traction, but we did our first show in '91 after practicing [with a full band] for six or eight months."
From the careening dual-guitar heroics of Come's blues-tinged 1992 debut 11:11 up through its gritty, stirring '98 swan song Gently, Down the Stream, the songs the duo wrote and Zedek sang were emotionally raw, sonically striking and often labyrinthine in structure. (Try 11:11's epic slow burn "Off to One Side" for a good jumping-off point.)
The fact that Brokaw and Zedek never came out and held the listener's hand sealed Come's fate as a band's band. The group's mainstream breakthrough never came, and its principal members continue the freelance-musician hustle to this day. But as he and Zedek revisit the material two decades later, Brokaw finds himself glad it never even occurred to them to compromise.
"The catalog feels very strong to me still," he says. "It's of a particular time, but doesn't feel dated."
The current tour is the first time Brokaw and Zedek have reconvened to play Come songs since a 2013 run following a reissue of 11:11. The itinerary includes a handful of dates at bars like West Nashville's Betty's (where the pair plays a show on Tuesday presented by envelope-pushing local arts nonprofit FMRL) and other offbeat spaces, but primarily consists of performances in people's living rooms. It's a route increasingly favored by veteran musicians with cult followings, a way of staying connected with dedicated fans who may no longer have the stamina to stick it out late into the night at a rock club.
"It's great," Brokaw says of living-room touring. "It's just the two of us together in my Toyota Corolla. We've had some hardcore fans show up, as well as some who were into the music back in the day who we hadn't met."
Throughout the tour, they've been pairing duo performances of Come songs with solo material. Since Come broke up, both Brokaw and Zedek have released a grip of records under their own names as well as collaborations with others. Fighting Season is Zedek's latest for Thrill Jockey, while Brokaw issued a collection of Prince and David Bowie covers last year (The Hand That Wrote This Letter) and plans to hit the studio again this winter. 
Whether there's new Come material in the pipeline is yet to be determined, but they'll test the waters further in late November when the original lineup, rounded out by bassist Sean O'Brien and drummer Arthur Johnson, plays a pair of shows in Atlanta and Athens, Ga., for Chunklet founder and scenester par excellence Henry Owings' 50th birthday. (Come will be joined for the weekend-long, dual-city affair by a host of other sleeping giants of the '90s underground, including Chicago's Tar and Minneapolis' Arcwelder.)
In any case, Brokaw — who moved back to Cambridge, Mass., last year after a stint in Seattle — says the door to further collaboration between him and Zedek is definitely open. That is, when they can find the time. In addition to keeping their erstwhile flagship band alive and continuing to churn out solo work, both have new side projects that are honest-to-God indie-rock supergroups.
Since 2013, Zedek, Jason Sanford of Boston noise-punk agitators Neptune and Gavin McCarthy from jazzy post-hardcore greats Karate have been playing under the name E, releasing a new LP called Negative Work in May. Brokaw, meanwhile, drums in the edgy pop trio The Martha's Vineyard Ferries alongside guitarist Elisha Wiesner and Shellac bassist Bob Weston, and goes way out on guitar on the eponymous 2018 debut from Charnel Ground, a krautrock-inspired combo with Yo La Tengo's James McNew on bass and Oneida's Kid Millions behind the kit.
"Thalia and I have been getting back to it kind of slowly," Brokaw says. "While we haven't written anything new together, we've been friends for such a long time, we share a lot of memories and definitely have got each other's backs. It's kind of amazing to still be doing it, playing together after this long. And the way we play these songs — it just feels right."