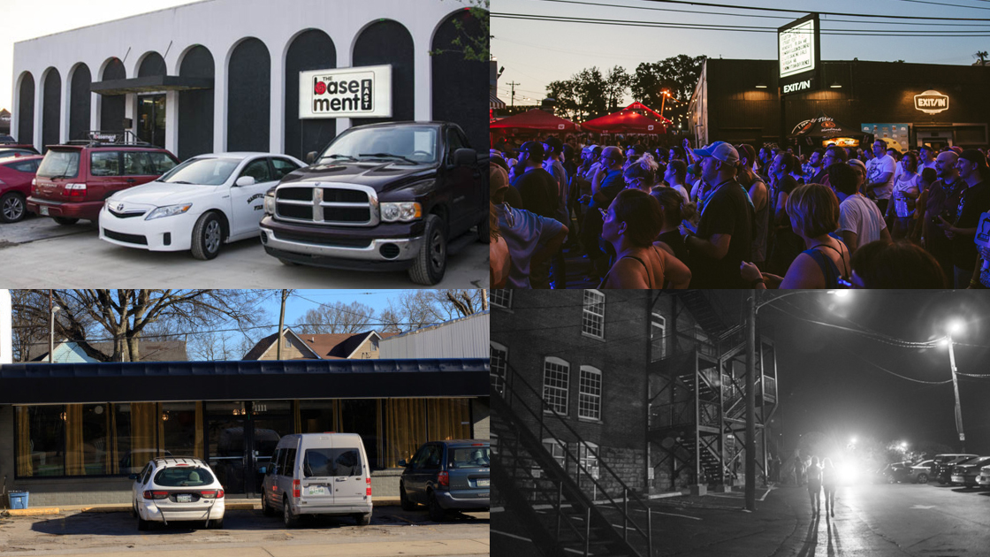 Nashville's jam-packed live music scene has undergone an extraordinary amount of movement — up, down and sideways — in 2019. One of the most exciting stories is the return of all-ages space Drkmttr, whose third incarnation opened in January on Dickerson Pike. Hopefully this will be a permanent home, thanks to '90s DIY-scene veterans Mary Mancini, Kurt Wagner and April and Donnie Kendall (along with David Abbey) purchasing the building. The venue has rarely gone more than one day without a show, running the gamut from local punk, pop and rap artists to nationally touring rock bands.
Music Row songwriter haven Bobby's Idle Hour held a goodbye blowout in January. A month later, it was announced that Bobby's will reopen in a nearby building that's still being remodeled. Much-loved East Nashville records-and-more store and venue Fond Object closed in February, and a planned farewell show was hastily moved down Gallatin Pike to DIY space Soft Junk. Like F.O. in its heyday, Soft Junk hosts a wide array of concerts and arts events.
The news about Fond Object — including its building being demolished in April — wasn't unexpected. But the February shuttering of The Gold Rush (not a venue, but a beloved Elliston Place hangout for musicians and fans since 1974) came with only a few hours' warning. In the summer, alarm was raised about a proposed hotel development a few doors down, on the site of three buildings commonly known as the Louise-Douglas Apartments. While the property is separate from Exit/In and The End — two venues whose importance to local music earned the neighborhood the nickname The Rock Block — it's very close to those venues. 
Chris Cobb (sole owner of Exit/In following an amicable split with business partner Josh Billue, who owns Marathon Music Works) and others suggested that development of the Louise-Douglas Apartments might spell harm to their businesses and drastic changes to the character of the neighborhood. They rallied support that helped fight off a rezoning proposal, though the current zoning doesn't prevent demolition of the apartments. In November, Historic Nashville Inc. announced its annual Nashville Nine list of endangered properties at a press conference outside Exit/In. The Rock Block is No. 1 on the list.
In October, word came that the property off Eighth Avenue South home to the Cannery Row complex — including venues Cannery Ballroom, Mercy Lounge, The High Watt and ONE — sold to New York real estate firm Thor Equities Group for $32 million. While the venues are supposed to remain operational, Thor's plans include adding 500,000 square feet of mixed-use space to the property.
A few days later, a press release announced that The Basement East inked an exclusive booking deal with promotion and ticketing giant Live Nation. Perhaps not surprisingly, there was some negative reaction to the news that a much-loved club appears to be working more closely with a company that doesn't have a great reputation for fairness. (On Dec. 13, The Wall Street Journal reported that the U.S. Department of Justice is planning new civil action against Live Nation, alleging that the company violated terms of a 2010 antitrust settlement.) 
According to an October social media post from the venue, there are no plans to change staff, ticket prices or ticketing services. Like many small and midsize venues, The Basement East was already using TicketWeb, which is owned by Live Nation. It's not clear exactly how the agreement will affect what you'll see at the Beast — in the best of all possible situations, Live Nation will know better than to mess with what club owners Mike Grimes and Dave Brown and their crew (including booker Richard Sloven, who became a Live Nation staffer as part of the deal) have established.
Meanwhile, Grimes and Brown are still looking for a new location for their original club, The Basement. Beginning in January, they'll be on a month-to-month lease at their longtime spot on Eighth Avenue South. Grimey's New and Preloved Music — a separate business also co-owned by Grimes, which opened in 1999 and was above The Basement from 2004 to 2018 — has settled nicely into its new home in a former church sanctuary on Trinity Lane in East Nashville. It has hosted scads of free in-store shows, album signings and Q&A sessions this year.
And there's plenty to look forward to in 2020. The Nashville Jazz Workshop will leave its building by the Cumberland River for a former church on Buchanan Street near businesses like Elephant Gallery and Slim & Husky's pizza parlor. After two years without a home, acclaimed Americana music showcase Music City Roots will set up shop at Madison Station (a development in Madison, as you might guess). The National Museum of African American Music is eyeballing a summer 2020 grand opening on Broadway downtown. And a third outpost of Brooklyn Bowl — the bowling alley/music venue with locations in New York and Las Vegas — is coming to a site near First Tennessee Park. After this issue went to press, it was announced that the 1,200-capacity venue will open March 14.