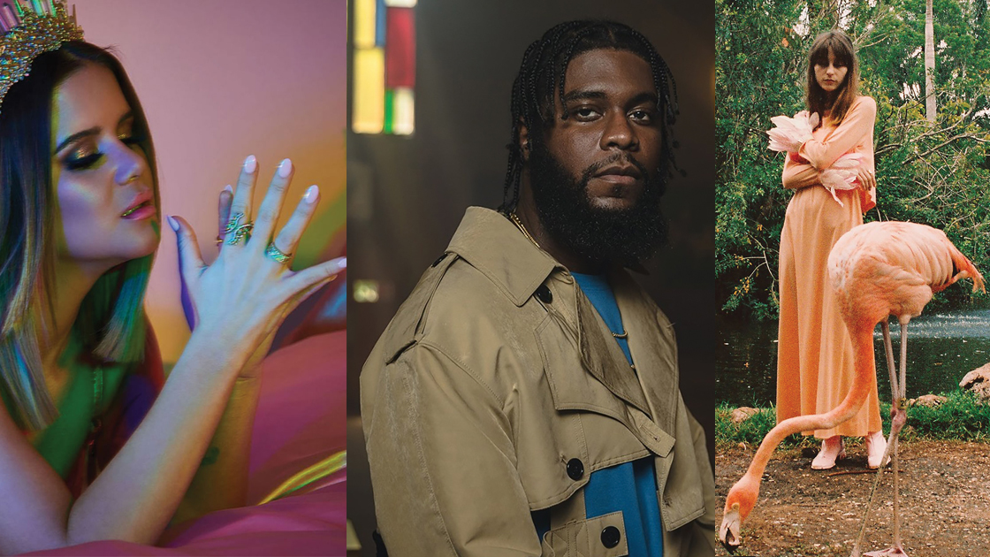 There are tons of notable concerts in addition to Jason Isbell and the 400 Unit's World Series-sized run at the Ryman (get the full skinny on their opening acts right here). We've rounded up a smattering of them for you in a handy calendar. The full list is below, along with additional details on a handful of top picks.
Oct. 9: FMRL — Kendra Amalie at Proper Saké
Milwaukee new-media artist Kendra Amalie is a virtuosic performer on the 12-string guitar, but that's only one facet of the ethereal and intense songs on her new album Intuition. Backed by drums and synth, she'll play as part of the outstanding experiential and experimental arts programming presented by local nonprofit FMRL — see fmrlarts.org and the organization's Facebook profile for more.
Oct. 12: Nashville Cassette Store Day at Grimey's, The Groove, The East Room and Drkmttr
Local label Banana Tapes is curating this bonanza of underground artists — part of an international celebration of independent music released on cassettes — spread across East Nashville. Offerings range from pop (Pet Envy) to stripped-down singer-songwriter performances (Styrofoam Winos) to experimental jazz (Abstract Black) and beyond.
Oct. 18: Commodore Quake feat. Megan Thee Stallion at Vanderbilt's Memorial Gym
The leaves may be turning, but Hot Girl Summer continues. Headlining this year's Commodore Quake is Houston rapper Megan Thee Stallion — the latest in a parade of MCs who prove that women who rap don't have to submit to a false dichotomy between mad skills and an empowered, seductive persona.
Oct. 20: Wilco at Grand Ole Opry House
Just a couple of weeks after releasing their 11th studio album Ode to Joy, Chicago's monsters of folk-rock will make their first visit to Music City as a full band since going on a hiatus from touring in 2017. In addition to cuts from the new album, expect to hear some songs requested through their website prior to the tour.
Oct. 24: Oh Sees at Mercy Lounge
Through all the lineup shifts and name changes in recent years, the California rock outfit helmed by John Dwyer still puts on one of the wildest shows in the business. They're coming to town following the release of the whopping double album Face Stabber, which runs the gamut from hardcore punk to prog rock.
Oct. 30: Halloween Movie Night — Metropolis at the Schermerhorn
Fritz Lang's Metropolis was first screened in 1927, but the silent film's story of love and class conflict remains relevant, and the expressionistic visual rendering still feels phantasmagorical. Renowned organist Peter Krasinski will return to perform live accompaniment on the hall's monumental pipe organ.
Nov. 2: Titus Andronicus at Drkmttr
In June, the New Jersey outfit released their concise and blistering sixth studio LP An Obelisk. It's a pissed-off-but-not-hopeless record about squaring up to our myriad social and political problems, and they seem to be making a point to engage a wider audience by playing a much-loved all-ages club.
Nov. 4.: Elvis Costello and the Imposters at the Ryman
On Sept. 11, Elvis Costello accepted the Americana Music Association's Lifetime Achievement Award for Songwriting at the Ryman, which he referred to as one of the finest singing rooms in the world. Just knowing that he'll be back may be all you need to convince you to go. But just in case: The songs from Look Now, his 2018 LP with the Imposters, are as rich and tough to pigeonhole as ever.
Nov. 12: Big K.R.I.T. at Marathon Music Works
Mississippi rapper Big K.R.I.T. has been repping the South well for more than a decade, and his latest LP K.R.I.T. Iz Here continues the trend. There's plenty of Dirty South DNA in the mix, and just as importantly he keeps rhyming about what's important to him. Maybe that doesn't yield massive sales, but it's something to admire.
Nov. 23: Liza Anne at The Basement East
Georgia-born songsmith Liza Anne chose to follow her instincts and ended up making the best rock album to come out of Nashville in 2018 with Fine but Dying, an LP that is as emotionally literate as it is great for head-banging. Here's your chance to catch her ahead of her next album project.
Kelsey Beyerley, Alejandro Ramirez and D. Patrick Rodgers contributed to this report.
---
Sept. 30: Lizzo at the Ryman
Oct. 2: K.Flay at Marathon Music Works
Oct. 3: Conversations With Nick Cave at TPAC's Polk Theater
Oct. 3-5: Trisha Yearwood With the Nashville Symphony at the Schermerhorn
Oct. 6: Jubilee Day Convocation at Fisk Memorial Chapel
Oct. 6: Boyz II Men With the Nashville Symphony at the Schermerhorn
Oct. 9: FMRL: Kendra Amalie at Proper Saké
Oct. 10: Dancin' in the District feat. Leftover Salmon & more at Riverfront Park
Oct. 11-12: Noise Matter Fest at Drkmttr and Springwater
Oct. 11: Ornament Album Release at The East Room
Oct. 11-13: Exit 111 Festival feat. Lynyrd Skynyrd & more at Great Stage Park in Manchester
Oct. 12: Nashville Cassette Store Day at Grimey's, The Groove, The East Room and Drkmttr
Oct. 12: Mudhoney at The Basement East
Oct. 12: Horror Hootenanny 16 at Little Harpeth Brewing
Oct. 13: Greta Van Fleet at Municipal Auditorium
Oct. 14: Juan Wauters at Soft Junk
Oct. 14: Danny Brown at The Basement East
Oct. 18: Ahmad Jamal at the Schermerhorn
Oct. 18: Maren Morris at Ascend Amphitheater
Oct. 18: Commodore Quake feat. Megan Thee Stallion at Vanderbilt's Memorial Gymnasium
Oct. 18: Jason Isbell and the 400 Unit's Ryman Residency (Oct. 18-20, 22-23 and 25-26)
Oct. 20: Of Montreal at Little Harpeth Brewing
Oct. 20: Wilco at the Grand Ole Opry House
Oct. 20: Mike Watt and the Missingmen at Exit/In
Oct. 21: Sleater-Kinney at the Ryman
Oct. 22: Faye Webster at The High Watt
Oct. 22: Musicians Hall of Fame Induction Ceremony and Concert feat. Garth Brooks, Paul Simon & more at the Schermerhorn
Oct. 24: Don Trip at Exit/In
Oct. 24: Oh Sees at Mercy Lounge
Oct. 25: Kacey Musgraves at Bridgestone Arena
Oct. 26: Andrew Combs at The High Watt
Oct. 27: Stiff Little Fingers at The Basement East
Oct. 27: Trey Anastasio at the Ryman
Oct. 28: Elton John at Bridgestone Arena
Oct. 30: Halloween Movie Night feat. Peter Krasinski: Metropolis at the Schermerhorn
Oct. 31: Hobo Johnson and the Lovemakers at War Memorial Auditorium
Nov. 1: FMRL: Sean Hamilton at Proper Saké
Nov. 1: Kelsey Waldon at the Station Inn
Nov. 2: Titus Andronicus at Drkmttr
Nov. 3: King's X at The Basement East
Nov. 4: GWAR at Exit/In
Nov. 4: Elvis Costello and the Imposters at the Ryman
Nov. 6: Shovels & Rope at the Ryman
Nov. 7: Hiss Golden Messenger at The Basement East
Nov. 8: Schoolboy Q at Municipal Auditorium
Nov. 10: Black Mountain at Mercy Lounge
Nov. 12: Big K.R.I.T. at Marathon Music Works
Nov. 12:

Cautious Clay at 3rd and Lindsley

Nov. 13: Mindy Smith at City Winery
Nov. 15: FMRL: Bill Direen w/J.R. Bohannon & more at Proper Saké
Nov. 15: Dinosaur Jr. at Cannery Ballroom
Nov. 19: Lisa Prank at Drkmttr
Nov. 20: Chastity Belt at The High Watt
Nov. 22: John Hiatt at City Winery
Nov. 23: Liza Anne at The Basement East
Nov. 27: Black Belt Eagle Scout at Drkmttr