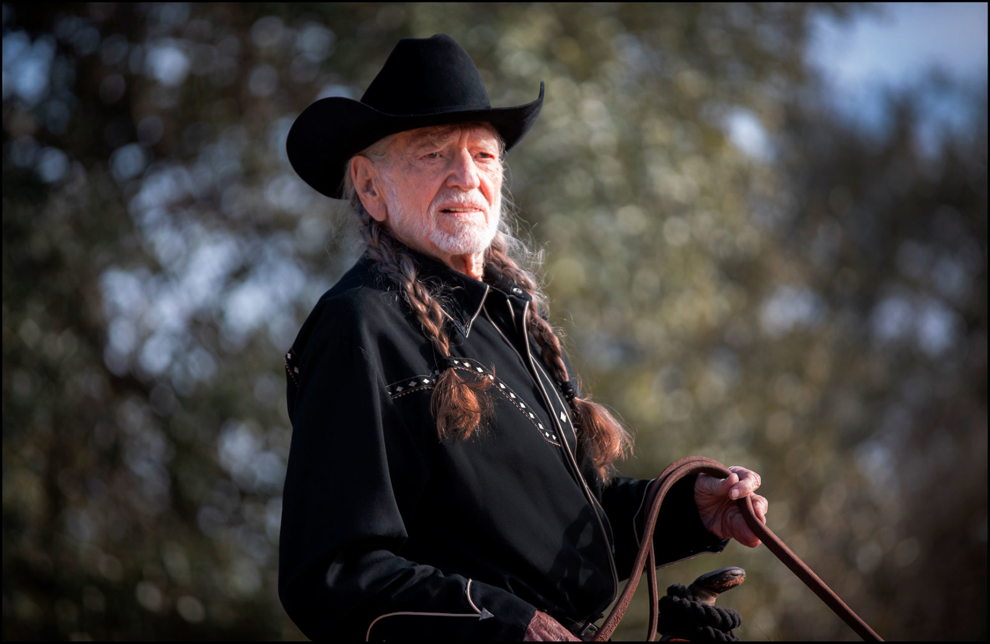 On the title track of his 2018 album Last Man Standing, Willie Nelson sings: "It's getting hard to watch my pals check out / Cuts like a wore-out knife / One thing I learned about running the road is forever don't apply to life / Waylon and Ray and Merle and old Harlan lived just as fast as me." 
This, of course, is a reference to Waylon Jennings, Ray Price, Merle Haggard and Harlan Howard. 
"I still got a lotta good friends left, and I wonder who the next will be."
During two terrible weeks this fall, he learned who the next ones would be. Between Oct. 16 and 28, Johnny Bush, Jerry Jeff Walker and Billy Joe Shaver died in quick succession. And then Charley Pride died on Dec. 12, a month and a day after he received the Willie Nelson Lifetime Achievement Award at the CMA Awards. 
If Nelson is the last man standing, at least he's standing tall. His 2020 release First Rose of Spring is the latest installment of his late-career renaissance, due in large part to his collaborations with Nashville producer-songwriter Buddy Cannon, who's been awarded for his work with George Strait and Kenny Chesney. That album didn't do as well as expected in the 21st Annual Country Music Critics Poll, barely breaking into the top 40 of the Best Albums category. But in a year of death, quarantines and conflict, Nelson remains a measuring stick for us all.
"What's discouraging right now is you can't go and play to your crowd," Nelson says over the phone from his home in Los Angeles — he also has homes in Texas and Hawaii. "How do I cope with it? I cuss a lot. I'm lucky; I count my blessings. I'm glad I don't have that fucking virus. So many people are getting sick and dying. I'm just trying to stay out of the way and stay healthy, so I can get back to playing again."
Even at age 87, Nelson is plugged into country music's best young artists. Chris Stapleton — who had the No. 2 Best Album and No. 2 Best Single in this year's poll — not only wrote "Our Song" for First Rose of Spring but also sang "Whiskey River" and "Always on My Mind" on a recent live release, Willie Nelson: American Outlaw. Recorded Jan. 12, 2019, at Bridgestone Arena here in Nashville, the 24-song, two-CD/one-DVD box set also includes contributions from Eric Church (who landed the No. 6 Best Single in the poll), Margo Price (No. 5 Best Album), Bobby Bare (No. 1 Best Reissue) and Steve Earle (No. 39 Best Album).
It's tempting to see Nelson as a bastion of tradition amid the metastasizing changes of commercial country-pop. But perhaps it's more accurate to see him as a bastion of weirdness in a realm of formula. Few country artists are making records today as adventurous as the ones Nelson has made since he turned 65 — records full of harmonica solos, waltzes, jazz chords, swing phrasing, jokes about death and chronicles of irresponsible behavior. Maybe it's most accurate of all to say that weirdness is the tradition that Nelson best represents. 
"I phrase each song the way I feel it," Nelson explains. "I probably phrase it differently every time I sing it, because I don't remember how I did it before. It would be boring as hell to do it on the beat the same way every time. And I don't like to be bored."
After all, Gram Parsons and David Allan Coe didn't invent nonconformism in country music; it was there all along. In fact, the history of country music can be told as the struggle of an industry trying to counter its best artists' eccentricity by drawing a line between the acceptable and the unacceptable. Nelson has been on the wrong side of that boundary more than once in his career, but that says more about the line than it does about him.
Few country performers were as out-there as the eight-fingered Billy Joe Shaver. In 1981, when he recorded a song he'd written called "We Are the Cowboys," Nelson sang harmony; Nelson sings lead on the version he cut for First Rose of Spring. Nelson leans into a definition of cowboys that, per the song's lyrics, includes "Texicans, Mexicans, Black men and Jews." Back in 1967, Nelson had been the first country star to take Pride, a groundbreaking African American singer, on tour — Nelson even went so far as to regularly kiss Pride onstage. And a few years later, Nelson hired the Jewish harmonica player Mickey Raphael.
In the song, Shaver implies that cowboys are as likely to round up words for a song as they are cattle for a sale. "We are the cowboys, the true sons of freedom," Nelson sings. "We are the men who will get the job done / We're picking our words, so we won't have to eat them / We're rounding them up and then driving them home." 
"Billy Joe wrote a lot of great songs," Nelson says. "I was honored that he wrote one about me, 'Willie the Wandering Gypsy.' 'We Are the Cowboys' pretty much sums up who Billy Joe was. He knew where he was going and how he was going to get there. I loved everything about him, especially the way he wrote. He's an old Texas boy — he knows what he wants to say, so he says it straight out and he says it well. We always say, 'You can always tell a Texan, but you can't tell him much.' "
Jerry Jeff Walker migrated to Austin around 1970 because he heard Nelson was uniting folk-rock hippies and honky-tonk rednecks into one audience. Walker came from the former group, but he embraced the fusion and became the face of the scene almost as much as Nelson himself. They remained friends ever after.
"I talked to Jerry Jeff in the hospital a few months ago when he was sick," Nelson says. He pauses and adds, "I once heard Jerry Jeff say the funniest thing I ever heard anyone say onstage. He said, 'The only difference between Hank Williams and me is that Hank went backstage to throw up.' " Nelson adds, "Johnny Bush and I were great buddies. We started out making music at the same time in San Antonio. I was his first manager."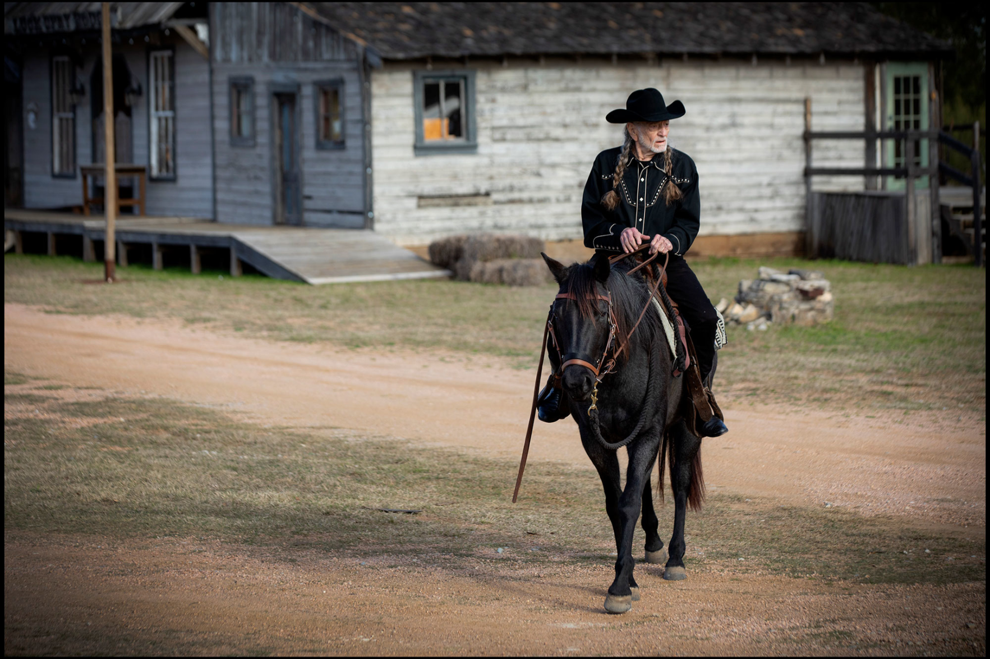 Nelson and Bush were 20-something nobodies when they joined Ray Price and the Cherokee Cowboys in the early '60s as a bassist and drummer, respectively. Nelson financed Bush's debut album in 1967. In 1972, Bush had a top 15 country hit with "Whiskey River," a song he'd written himself. Nelson admired the song so much that he began to open and close every concert with the number. Bush lived off the royalties for years.
Nelson made a name for himself as a songwriter before he did so as a performer, crafting such hits as "Hello Walls" for Faron Young, "Night Life" for Ray Price and "Crazy" for Patsy Cline. But when he reached his peak of popularity in the late '70s and '80s, his songwriting production dwindled, and he shifted gears to become the finest interpretive singer of his era. But since he established his working relationship with Buddy Cannon, which first bore fruit in 2008's Moment of Forever, the creative spark has come back. Nelson has contributed strong original songs to most of the albums he's made since; Last Man Standing is all originals. 
"Roger Miller once told me, 'When the well runs dry, you have to let it alone for a while and let it fill up again,' " Nelson recalls. "And that's what I did. You know it's full again when the ideas start bubbling up inside you again. You don't have control over it; you have to wait for it to happen."
Cannon helped Nelson get the well flowing once more by coming up with an unusual co-writing methodology. The singer texts his producer with a stanza or a handful of lines, and the producer texts back with some rewritten and/or additional lines. After some more back-and-forth texts, when they've reached a critical mass of words, Nelson will email a sound file with some musical ideas.
"He'll send it back after he's messed with it," Nelson explains. "We go back and forth, and pretty soon we have a song. Buddy's up there in Nashville, and I'm usually in Texas when I'm not on the road, so we have to do it that way. I don't know why it works so well. I just accept it and [am] thankful for it."
Nelson likes this approach because he can stick to his schedule of touring and relaxing at home — and during the pandemic, touring isn't part of the equation. More importantly, he doesn't have to endure those awkward pauses in a co-writing session where each writer is wincing, trying so hard to think of the next line that they seem to need a laxative. This way, he can wait for the next line to come when it wants to.
No matter who writes the songs, Nelson puts his signature vocal stamp on every one. He never seems to land his accents where they're expected; instead he lands them early or late if the resulting tension will get across the narrator's emotional state. And when he performs the songs live, he'll phrase them differently than he did on the record. Nelson attributes his strange phrasing to an unusual blend of the hillbilly and pop-jazz singers of his youth.
"To me, Ray Price is the greatest country singer ever, followed closely by George Jones," he says. "Frank Sinatra is my favorite singer ever. First of all, they had great voices, but their phrasing is what made them great singers. You can just say the words, but that doesn't mean anything. It's how you phrase the words that lets people know how you feel about the words. You move the accent off the beat, and that adds some feeling."
Unhappy as he is to be off the road, Nelson is keeping busy. He's writing more songs with Cannon for another album. He's working with Cannon and Nashville producer-pianist Matt Rollings on a sequel to My Way, their 2018 album of Sinatra songs. He just finished a gospel album with his sister Bobbie and his children. He contributed to a Roger Miller tribute album that his sons Lukas and Micah are assembling. In all these projects, there are three constants: Nelson's voice, his harmonica accompanist Raphael and his longtime acoustic guitar named Trigger.
"I used to have a steel guitar in my band," Nelson says. "For a while, I had Jimmy Day, one of the best in the world. When he retired, I couldn't find anyone as good as Jimmy. Mickey stepped in and filled that role really well. 
"When I got that guitar, it sounded like Django Reinhardt, the best guitar player who ever lived, so I kept playing it and named it Trigger," he continues. "I called Scott Jackson at his music store in Nashville, and he said he had a Martin I might like. He said it was $150, and I had just paid $150 for a roping horse, so that seemed like a good deal. I told him over the phone that I'd buy it sight unseen. That was one of the best decisions I've ever made."