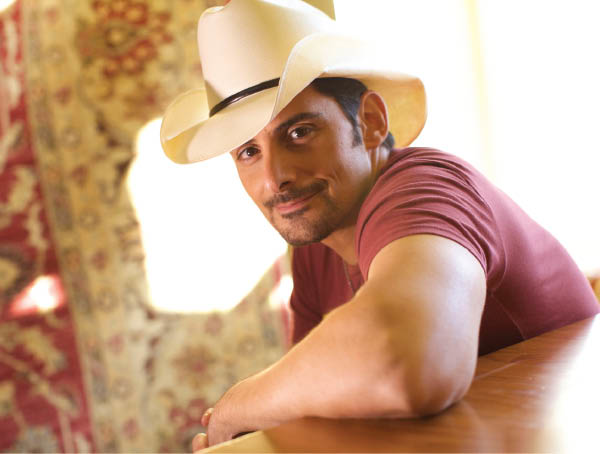 Brad Paisley has appeared on ABC's Nashville at least as often as any other legitimate country act, and up until her character caught a bullet, his wife, Kimberly Williams-Paisley, got significant screen time too. But just to be clear, he doesn't actually watch the show — when it comes to escapist viewing, he's a Homeland and House of Cards kind of guy.
"Nashville — that's not a respite," Paisley says. "But I like being on there, helping out. I think it's the most important part of the Nashville Chamber of Commerce plan of anything that exists."
Paisley is dedicated to making the city — and more to the point, the music it's famous for — look good. He understands the value of showing up when he's offered a decent pop cultural platform, and in putting his best, most contextually astute foot forward. That's a big part of why the Telecaster-wielding, arena-packing optimist-traditionalist is contemporary country's best ambassador to the outside world, not to mention an excellent reason to slap his wry mug on the cover of the Scene's People Issue.
Paisley is one of the few Opry regulars covered by such highbrow outlets as NPR, The New Yorker and New York Magazine along with supermarket tabloids. But the barrage of attention he received last April was intense even for him. Someone posted a lyric video of a certain L.L. Cool J-featuring cut from his album Wheelhouse on YouTube, it went viral, and — well, you probably know the rest.
It's hard to imagine another rap-collaborating country singer would be daring enough to address the racial elephant in the room with a song, or handle the extra-genre backlash so well. Rather than backpedaling, Paisley fielded questions about his intentions and his blind spots, took seriously critiques from African-American public intellectuals he respects — Questlove and The Atlantic's Ta-Nehisi Coates among them — and got a kick out of the SNL skit in which Kenan Thompson and Jason Sudeikis, impersonating Cool J and him, took a victory lap for eliminating racism with a song they threw together in 11 minutes flat.
"The Saturday Night Live thing was great," Paisley says. "Make fun of myself and L.L. for this all you want." He notes his friendship with Seth Meyers and adds, "They did it right."
Paisley didn't feel the same way about Stephen Colbert's musical spoof "Oopsie-Daisy Homophobe."
"That's the one I didn't watch," he says. "They were sort of saying something about country music there, and I didn't like that."
As a general rule, though, he's up for being a comedic prop or the butt of a joke. He'd love to make a third appearance on South Park. Last summer, he grinned his way though Jimmy Fallon's oil spill ditty "Balls in Your Mouth." And he recently filmed an episode of Robin Williams' sitcom The Crazy Ones, in which he insisted on playing "a narcissistic, greedy version of myself," as opposed to the more likable version the writers pitched to him.
"Let's face it," Paisley says. "I stand up there [at the CMA Awards] every year and joke about Luke [Bryan] and Zac [Brown's] feud and whatever. Who am I if … I can't take it when somebody says, 'Now, let's make fun of him.' Go for it. I'm a Don Rickles fan."
His sense of humor and ideological slipperiness combine to earn him invitations to a pretty staggering array of settings, from bantering with Fox News' Sean Hannity to exchanging good-natured ribbing with CNN's Piers Morgan. "I have great, fun, behind-the-scenes conversations with Sean Hannity, and I've had the same with Piers Morgan," he says, adding that he knows and likes them both, "for different reasons."
And Paisley doesn't shy from apparent contradictions. "I've gotta be the most confusing political figure in the history of country music," he says, with audible satisfaction. "If I'm No. 1 in anything in country music, it's gotta be that. ... And I'm fine with nobody really understanding what I think." He makes a point of not disclosing how he votes, but this much is certain: Paisley's twice been summoned to sing at 1600 Pennsylvania Ave. by President Obama, and he played at an inaugural ball last year. That he's gotten grief for showing up at such occasions, and been called a "socialist" a time or two, didn't deter him from entertaining at the CIA Christmas party a few months back.
"Country music, it doesn't realize how important it is," Paisley reasons. "At times it might. But it really is very important to our society. … In a big, big way musically, we represent the reality, at times, better than anyone. At other times, we sort of retreat into clichés and parody. But it needs to be present at these things. It has to be there.
"If you don't agree with this administration, or with any administration, or with Congress, or with issues, boycotting things is not going to help. Declining the invitation to play something like the inauguration would be a slap in the face to our democracy. It would be a missed opportunity for country music to be present."