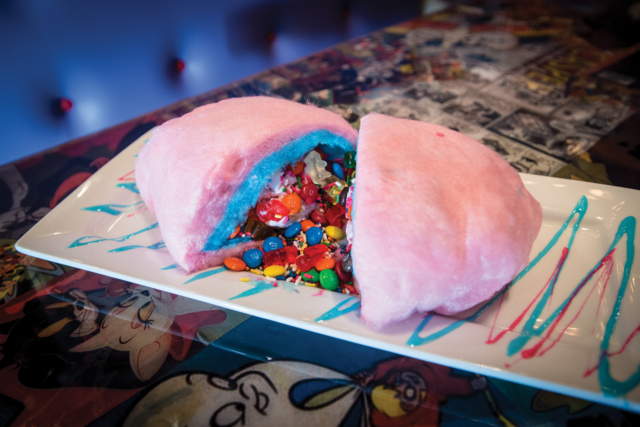 The Ice Cream BarPhoto: Daniel Meigs
Jumbo toasted marshmallows. Rainbow-sprinkle-covered churros. Chocolate-drizzled bacon. A waffle — yes, an entire Belgian waffle. At some of Nashville's newest ice cream shops, ice cream is taking a backseat to the dizzying selection of decadent (and at times absurd) ingredients kept on hand to build statuesque desserts that look better-suited for a photoshoot than human consumption.
I've been watching these new shops on social media for months, double-tapping and drooling over their latest towering concoctions.
Cosmic Creamery, which opened in Germantown in October, infuses and tops its soft-serve ice cream with some of your favorite breakfast cereals — Cocoa Puffs, Froot Loops, Fruity Pebbles, Cap'n Crunch Berries and more. At Legendairy Milk Shake Bar on Third Avenue North downtown, your shake is made Instagram-ready with a candy-coated rim, toppings like crushed potato chips or gummy worms, and your choice of sweet — a slice of cheesecake, a cupcake or a brownie as big as the palm of your hand, to name a few.
These dishes look amazing, and the physics involved in keeping the toppings from melting into a sugary landslide is in itself an impressive feat. But how do they taste? Well, to answer that question, I ate far too much ice cream in far too few days. Read the results below.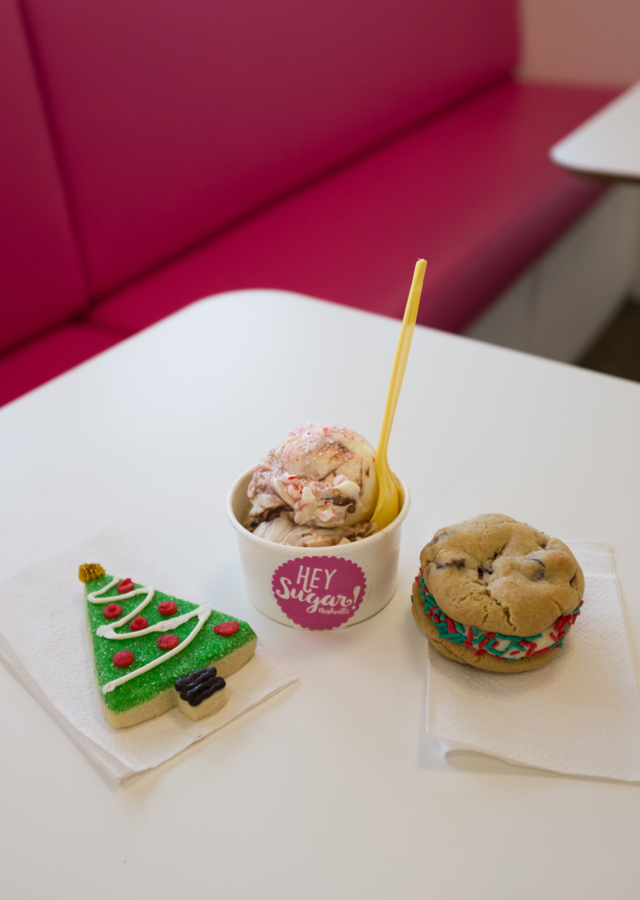 Hey Sugar!Photo: Daniel Meigs
Hey Sugar! 
6045 Highway 100
Score: 80 percent edible, 
20 percent Instagrammable
Hey Sugar!, which opened in Belle Meade in September, is a sweet little frozen-custard-and-cookie shop with a small but thoughtful selection of gifts and party goods. With just three flavors of custard — chocolate, vanilla and third rotating seasonal flavor (peppermint swirl when I stopped in) — Hey Sugar! has the least overwhelming selection of the four new shops. I consider it a plus that their toppings list isn't so long that my eyes start to glaze over as I read. Along with the usual whipped cream and sprinkles, they offer familiar add-ons like gummy bears, M&Ms, Skittles, Lucky Charms marshmallows, Oreos, cookie dough and more. The scoops of frozen custard don't look especially noteworthy, but don't be fooled by their simplicity — the custard is wonderfully rich and creamy. And unlike all the other shops battling to cover their concoctions in an entire candy store's worth of sweets, Hey Sugar! hides the best part of their sundaes from the camera — they put your topping choices on top of and under the custard. Do you know how many ice cream shops don't think to do that? Always add some toppings to the bottom of the cup! ALWAYS!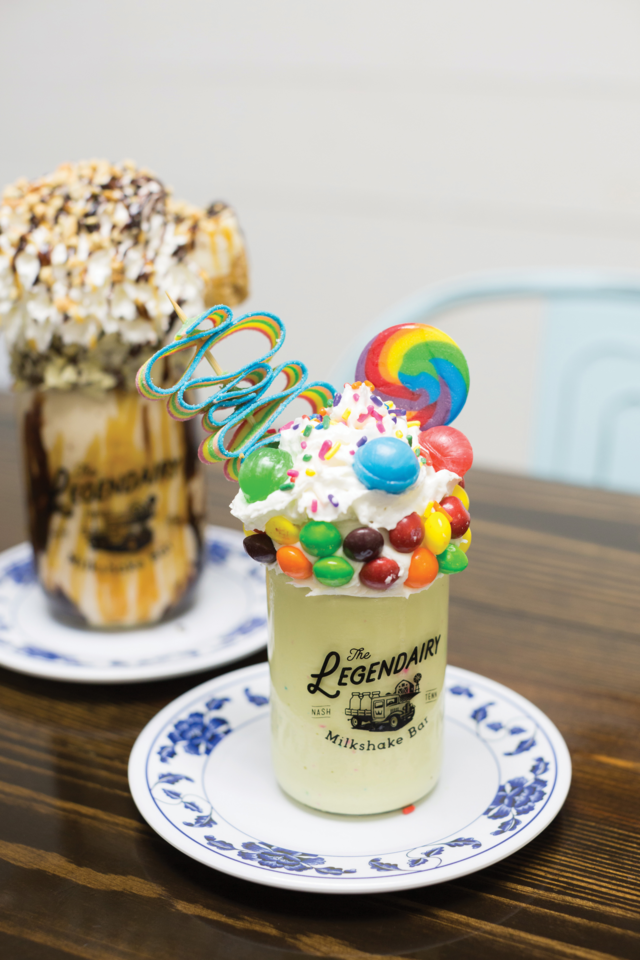 Legendairy Milkshake BarPhoto: Daniel Meigs
Legendairy Milkshake Bar
171 Third Ave. N.
Score: 40 percent edible, 
60 percent Instagrammable
On the other side of the spectrum is Legendairy Milkshake Bar. As I stared at the "Create Your Own" menu, feeling a little dizzy from all the options — more than 20 kinds of Blue Bell ice cream and nearly twice as many toppings — an older man next to me exclaimed, "I don't want a 16-ounce shake — that's gonna put me in the hospital!" (Legendairy does have a few 8-ounce "kid shakes" available, and you can also skip the shake altogether and get a less-complicated creation in a cone or bowl for $3.59 and up.)
Overwhelmed, I went with the Shake of the Day, the Peppermint Elfie ($12.99). It was tasty — cool and creamy with a little peppermint crunch — and it definitely wasn't the kind of shake I could make at home. But that's not the point at Legendairy. Here, they want you to eat with your eyes (and phone's camera) first, so the totally serviceable shake was prettied up by dipping the rim of the glass jar (yours to keep for an additional $6.99) in marshmallow creme and crushed peppermint candy that looked like candy glitter. It was topped off with a mountain of whipped cream dotted with mini marshmallows, red sugar sprinkles and two candy canes. It looked great, like the kind of shake Will Ferrell's Buddy the Elf would eat for breakfast, but the candy-coated rim was probably a pain in the ass to wash off the glass, and the two candy canes, sticky with melted ice cream, ended up in the trash. As I left, passing a plate of half-eaten cheesecake in a pool of melted whipped cream, I couldn't help but wonder just how many other milkshake props meet the same landfill fate.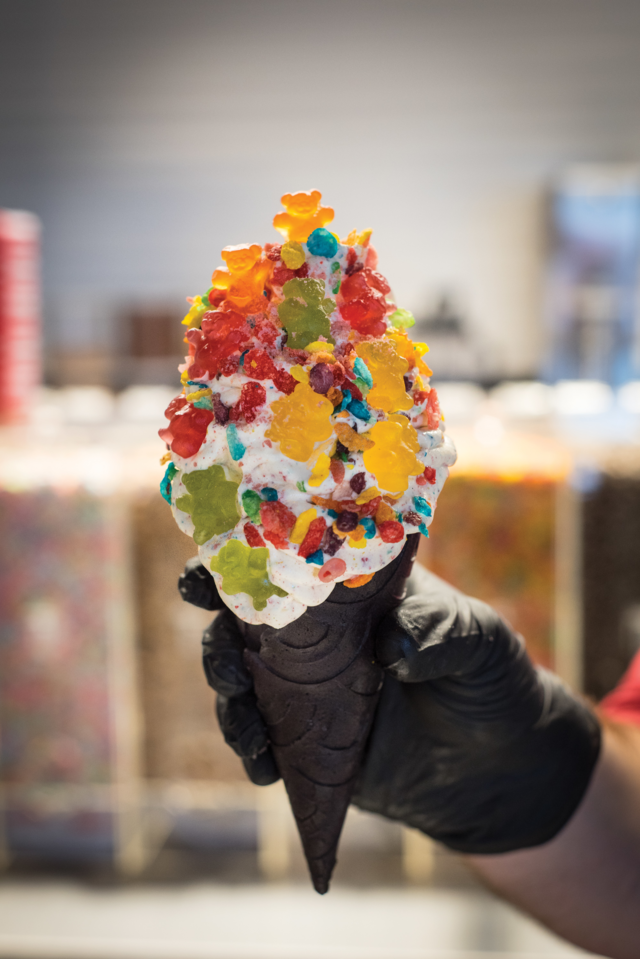 Cosmic CreameryPhoto: Daniel Meigs
Cosmic Creamery
1120 Fourth Ave. N., Suite 102
Score: 50 percent edible, 
50 percent Instagrammable — the best of both worlds
Cosmic Creamy makes its ice cream in a manner I've never seen before — by using the large metal drill found inside soft-serve ice cream machines to simultaneously pulverize your choice of cereal or candy and swirl it into the ice cream. The result is a creamy mountain of soft serve with a little bit of goodness in every bite. And when it comes to toppings, Cosmic Creamery isn't just dumping them on with a spoon — each piece of cereal or candy is placed by hand, with the care of a perfection-craving food stylist. A Teddy Graham here, a Froot Loop there. My Astro-Nut — a peanut-butter lover's dream, with Cap'n Crunch Peanut Butter Crunch mixed in and finished off with more cereal and a Nutter Butter — was far more balanced than I expected it to be. It tasted just as good as it looked.
The Ice Cream Bar
5572 Nolensville Pike
facebook.com/theicecreambarnash
Score: 30 percent edible, 
70 percent Instagrammable
The Ice Cream Bar on Nolensville Pike — just a few doors down from Sichuan Hot Pot, one of the very best places to fill your belly with tasty broth this winter — promises more than 35 different ice cream dishes on its menu. Many come from culinary scenes around the world. The Rolling Cream ($8.99) is The Ice Cream Bar's take on the rolled ice cream sundaes that were first popularized by street vendors in Thailand. The Bubble Waffle Cone ($9.45) — a treat that has long been enjoyed in Hong Kong — is a soft bubble waffle filled with scoops of ice cream, toppings and Pocky candy. The shop even has a version of the famous cotton candy burrito, a sugar explosion that went viral on Instagram after being popularized by a shop in Ontario in 2017. Cotton candy is flattened out like a tortilla, filled with scoops ice cream, candy and sweet sauces, and rolled up Mission-style.
Sadly, when it came to my Loop Churro sundae ($8.99), the eye-catching wonder ended with the first bite. While the Nutella ice cream was good, the churro was … not. It was warm, but dense, hard and flavorless, and the coating of rainbow sprinkles started melting into a weird waxy coating. God, it looked good, though — there was whipped cream and gummy bears and sprinkles and a totally useless but aesthetically pleasing bubble-gum-pink lollipop.
A trio of ice cream tacos ($7.99) was better — thin and crispy waffle taco shells were filled with a reasonable amount of ice cream and topped with whipped cream and gummy bears, chocolate sprinkles and shimmery candy-coated chocolate balls. They were presented on a plate painted with brightly colored sauces and puffs of rainbow-sprinkle-covered whipped cream. It was as pretty as it was tasty (though it looked far different than the photo on the menu). If you want to eat what you order, and thoroughly enjoy it, stick to simple. Leave the $15 Extravaganza — a milkshake delivered with "a crazy combination of toppings" including a doughnut, lollipops, an ice cream sandwich, cotton candy and kebabs of gummy candy — to the thirsty lifestyle bloggers.