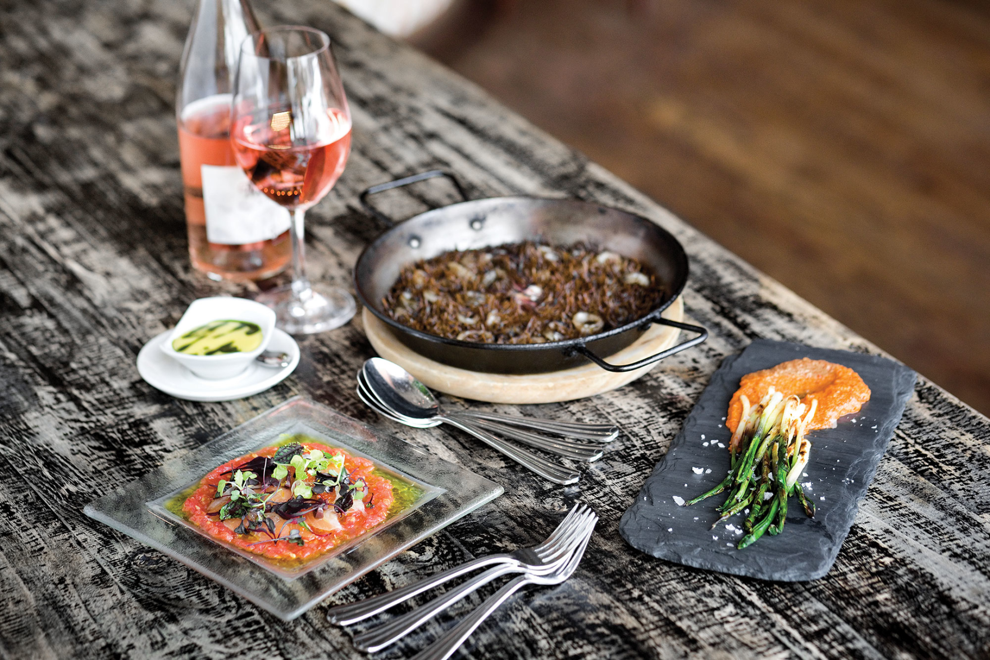 Asheville is no well-kept secret when it comes to eating. Any Nashvillian who treats food as sport goes often, but never has the time been so right as now.
First, the North Carolina city's mask-wearing success rate is far higher than ours. Second, you can book a hotel downtown for a crazy-reasonable rate — parking, pool and pet included (which is good, because your dogsitter won't come into your house right now anyway). Third: You can eat your way around the world without ever getting in your car. Mexico, Africa, India — Asheville has it all, and all within walking distance.
Here are five local places — all downtown and within a mile of each other — where you can safely globe-trot in place. And as with any journey you take outside the house, Nashville, please don't fall prey to Maskless Chad syndrome. Masks on face, social distance in place.
Cúrate (Spanish)
Cúrate is as close as you can get to Spain when you can't get to Spain. (You can't. We checked.) Chef Katie Button's résumé is guaranteed to make you feel like a failure. She graduated from Cornell before earning her master's in biomedical engineering in Paris. She fell in love with cooking, worked for José Andrés, Jean-Georges Vongerichten and then Ferran Adrià at a little hole-in-the-wall called El Bulli. Then, she and husband Félix Meana moved to Asheville and opened Cúrate, the restaurant that launched a thousand love affairs with vermouth, cockles and Ibérico pork.
Your Cúrate plan of attack should be two-fold. First, make a dine-in reservation as soon as you book your trip. They fill up fast, but you have to eat there to order showstoppers like the Catalan specialty Rossejat. Rossejar means "to toast," which is how Cúrate gives these thin noodles a roasty, al dente richness. They're cooked paella-style — shellfish stock, squid in its ink — until the bottom forms a crackly crust, and the whole thing is drizzled with salsa verde and garlic mayonnaise. The menu bills this as "the essence of the ocean," and I have no better words to describe it. Rossejat is briny, creamy, toothsome and decadent. It's the best dish I've had this year, particularly paired with Atxa Blanco Vermouth on tap.
Next, hit up the bodega a few blocks away. Build the world's most ludicrous picnic by ordering prepared dishes like the Ibérico pork burger (mushrooms, piquillo peppers, freakin' lardo), the hot-'n'-ready paella of the week and fresh churros. Then plan to go back on your way out of town and run the table on take-home. Musts include zesty gazpacho (bottled, as they do in Spain), albondigas (meatballs made with jamón) and cochinillo, the brined suckling pig. Throw it in your oven to get the skin crispy and the meat melting, and you will instantly become a dinner-party legend.
Benne on Eagle (African, Appalachian)
John Fleer is Asheville food royalty, so when the Rhubarb owner and perennial James Beard Foundation nominee decided to open a spot on Eagle Street, people knew he'd do it right. Located on The Block — the central African American business district in the early 20th century — Benne modernizes and honors culinary traditions that once thrived here. Chef Ashleigh Shanti cooked everywhere from New Orleans to New York before landing at Benne, and she's putting all those influences to work.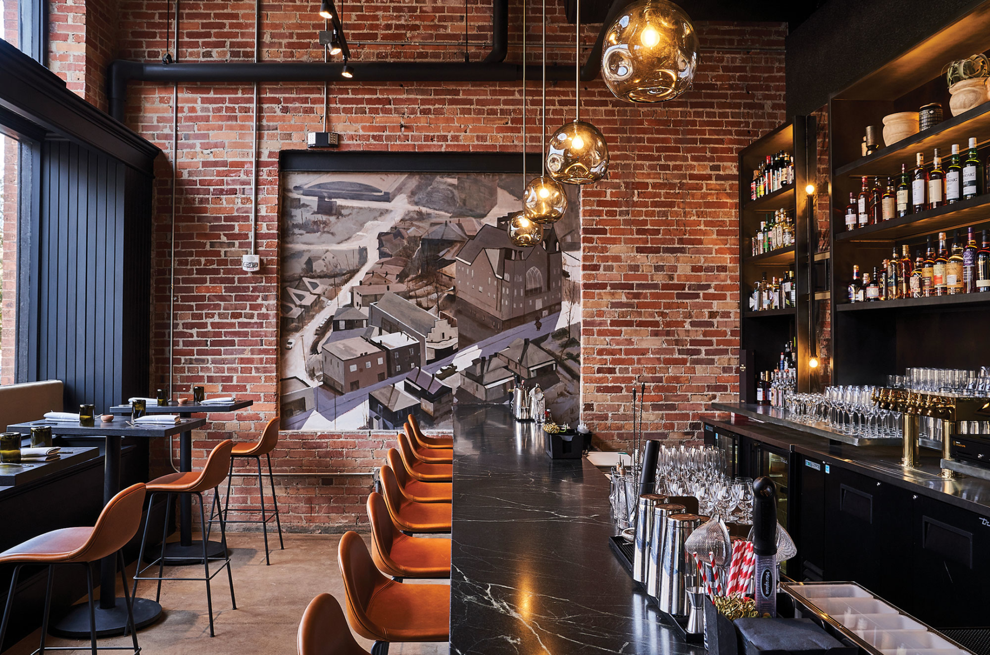 Take the chicken and grits. A pan-fried thigh is served on creamy heirloom grits, topped with gremolata and suya-tomato gravy. Suya is a popular Nigerian street food typically made with grilled beef, seasoned with dry-roasted peanut powder, ginger, cayenne, garlic and paprika. Putting those flavors in a tomato gravy gives the dish a smoky, sweet, umami flavor that's at once recognizable as Southern yet also new in its complexity.
The menu's nods can be subtle — a sweet-pepper sauce drizzled over a perfect French omelette, a cinnamon-infused tequila cocktail — but they're always there. Even dishes like pork-sausage scrapple, which the Pennsylvania Dutch lay claim to, have the inherent use-everything ethos that feels at home in the South, and particularly on The Block.
El Gallo AVL (Mexican)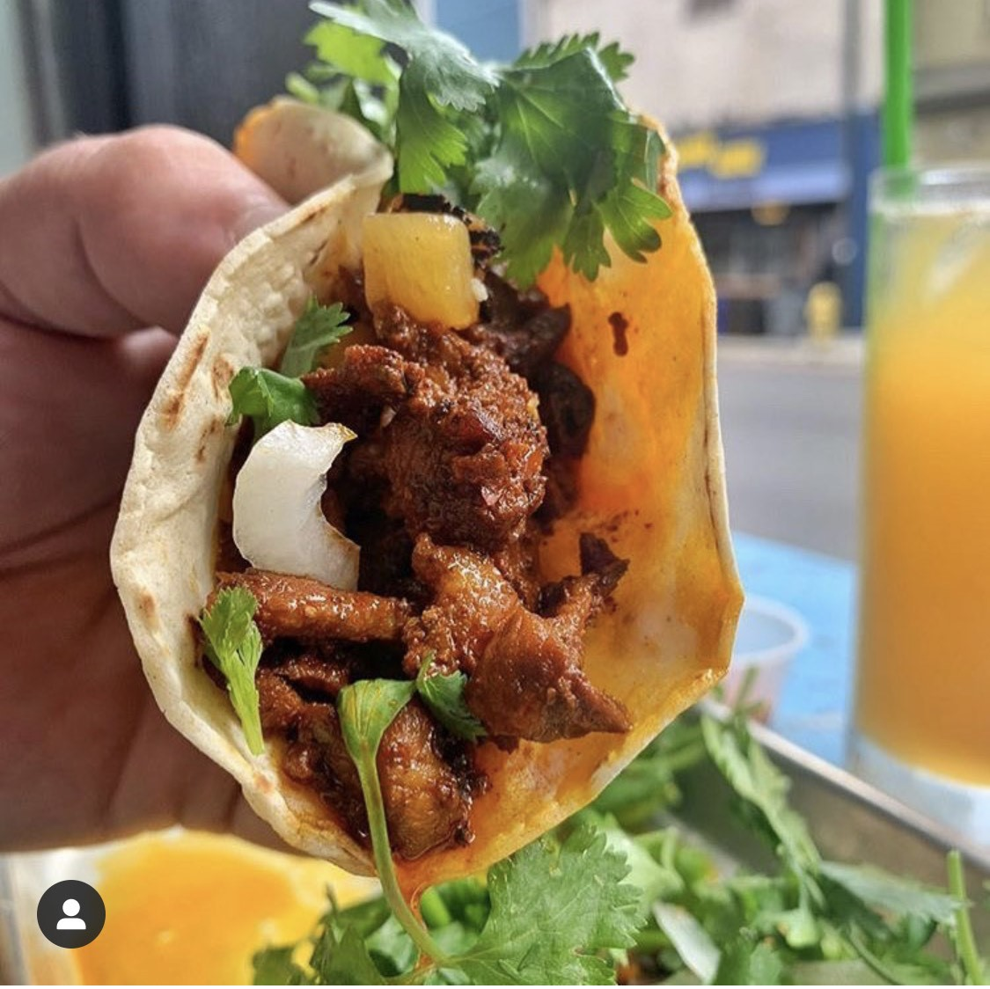 If you're an Asheville veteran, you may have dined at Table, which is where you'll now find El Gallo AVL. (Table isn't closed — it's just moving around the corner.) El Gallo is a collaboration between Table chef Jacob Sessoms and Luis Martinez, who came to the U.S. in 2005 as a refugee from Mexico. Martinez worked on a farm in California before becoming a graphic designer. Eventually, he found his way into the kitchen, and now he's bringing Indigenous Mexican cuisine to Asheville.
Growing up, tacos were a special-occasion food for Martinez. You can see that reverence in his menu. Heirloom varieties of corn — bolita, cacahuazintle — are used to make everything from tortillas to masa to panna cotta, and that earthy, sweet-corn flavor underpins El Gallo's dishes.
Start with aguachile (chili water) de mariscos (seafood), made with North Carolina shrimp, summer veggies and avocado. Similar to a ceviche, it's bright and pickly, served with shatteringly crisp just-fried tostada. The pastor taco is as flawless as you'd expect, but the cauliflower barbacoa is the most interesting for my money. Laced with tomato chamoy — a sauce made with salted pickled stone fruit — and salsa diablo, it has the same depth and funk you'd find in Oaxaca's lamb variety.
To drink, there's a michelada — a brunch drink I maintain is superior to a bloody because it's less filling but still savory — made with roasted tomatoes, chili peppers and Victoria lager. However, I'd opt for their house margarita, which is simple and stunning. Made with blanco tequila, curaçao, lime and agave, it's the closest any margarita has come to the paragon I had in the Before Times in Mexico City at the famous Cantina Tío Pepe.
The Med (Greek, Diner)
Across the street from El Gallo, there's the blink-and-you'll-miss-it spot The Med. This Greek diner was not on our itinerary, which made it the great stumble-upon of our trip.
The Med's longtime owner, Pete Apostolopoulos, was born in Greece in 1949 in the midst of his country's civil war. At 18, he left his 30-person village and immigrated to Asheville. He opted for a job at McDonald's rather than at his uncle's Greek restaurant, because he feared he'd never learn English if he was surrounded only by his native tongue. In the '80s, he purchased The Med from Pete "Papa" Moysakis, and Apostolopoulos ran the beloved local hangout for 44 years before retiring at age 70 a couple years back.
Thankfully, not much has changed since he left, and that's by design. The team who took over The Med (locals Samantha and Chris Kronberg, Rachel Goodman and Eli Scott) wanted to keep it the way they loved it — tasty, high-quality food at reasonable prices. (The most expensive thing on the menu is a $12 patty melt.) The timelessness of the place is obvious, even the first time you step inside.
The Med is a damn fine diner, so order whatever you want, or pay homage to all the Petes with a lamb gyro. For breakfast, grab a bodega sandwich, made with ham, cheese, bacon and egg smashed to perfection on a brioche bun. For lunch, I judge all diners by how good their club sandwich is, and this one — thick-cut turkey, simply dressed with mayo, precisely assembled — is simply the best I've ever had.
Chai Pani (Indian)
If there's a common thread in the Asheville culinary scene, it may be folks who've quit their day job. That's what Meherwan Irani did back in 2009 when he decided to ditch his sales job and open an authentic Indian street-food restaurant. In the decade since, he's been nominated for Best Chef: Southeast by the James Beard Foundation four times, which undoubtedly softens the blow of those lost sales commissions.
Chai Pani has the crowd-pleasers, of course, like butter chicken in aromatic tomato-cream sauce, served with jaggery (cane sugar), raita (yogurt sauce) and pickled masala slaw. But the sandwiches are the go-to since Pani isn't currently open for dine-in. The chicken tikka roll is richly flavored with lime juice, Kashmiri chili paste and North Indian spices, and the crispy masala fish wrap is lights-out, wrapped in hot-buttered naan and topped with slaw, cilantro and chutney. Throw in some okra fries or cholle — a Punjabi dish of garbanzo beans slow-cooked in a spicy-sweet tamarind broth — and you'll forget all about that passport collecting dust in your drawer.
Can't get to Asheville? You can still take a culinary trip with Irani thanks to his company Spicewalla (spicewallabrand.com). Growing up in India, Irani learned that spices are seasonal just like produce, and every fall, his family dedicated a week to making their own blends at his grandmother's house. Now you can get his ginger chai or tandoor masala mix delivered to your door. Bonus: Irani has partnered with other locals like pitmaster Elliott Moss to offer their secret recipes, including the chicken rub from Buxton Hall, Asheville's best barbecue spot, which also happens to be located within Asheville's Magic Mile.