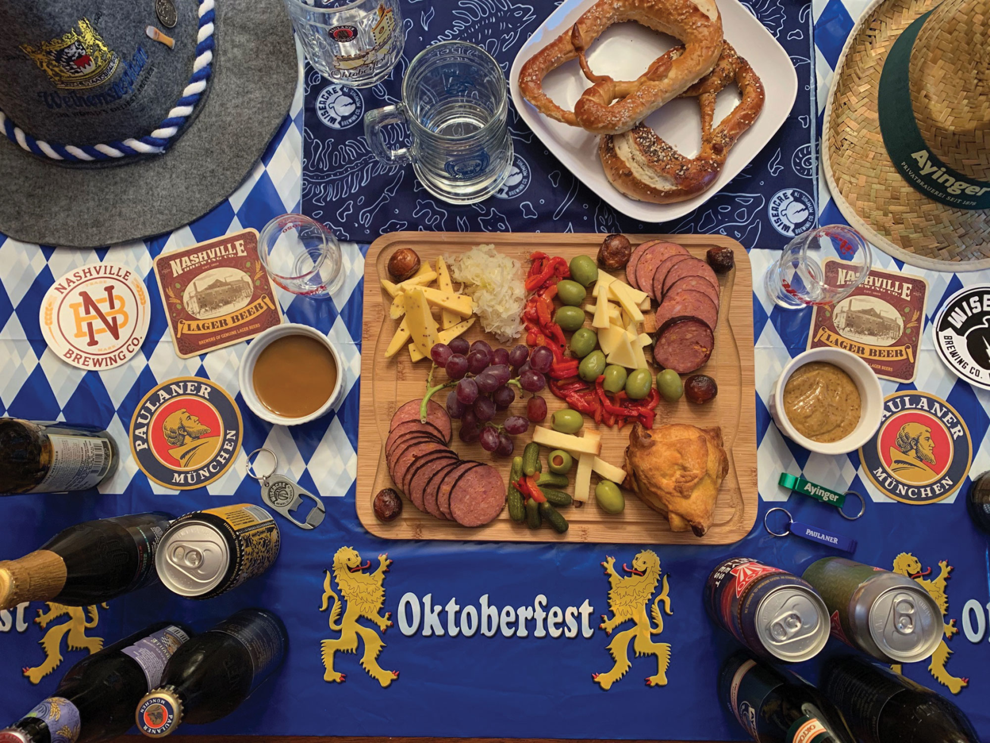 Lost amid the plight of local bars and restaurants dealing with capacity constraints and depressed sales during the pandemic is an adjacent hospitality industry also severely impacted over the past year — food and drink festivals. Lest you think food fests are small potatoes, consider what a big splash the Music City Food + Wine Festival made when it first hit the scene in 2013 with a roster of nationally recognized celebrity chefs and rock stars. Sometime in the first half of 2020, that festival pulled up stakes and departed with nary a whimper, deleting its website along the way.
While MCF+W at times had a problematic relationship with some local chefs and foodies, it certainly shined a spotlight on Nashville as a culinary destination, and the prospect of trying to stage an event of that scale is just unimaginable in the current climate. But what about smaller events that traditionally drew most of their talent and audience from the local community?
Matt Leff runs Rhizome Productions, a company known for putting on the best beer festivals in town and across the region. In fact, the company's tagline is, "We probably threw that party you liked." Leff and his talented team have been responsible for events such as Winter Warmer, the East Nashville Beer Festival, Nuit Belge and Tennessee Volksfest — which all depend on shoulder-to-shoulder interaction as attendees stand in line to sample beers while brewery representatives offer education on their products.
With a busy calendar already planned for 2020, Leff knew early on in the COVID-19 pandemic that his world was about to turn upside-down. "Our first in-person event of 2020 was March 12 to 13," he tells the Scene via email. "When the NBA shut things down that week, we knew we were going to have to follow suit. At first, we figured maybe a few weeks, which turned to a few months, which turned into the year, sadly."
Relying on festivals for the vast majority of his company's revenue, Leff sought alternatives.
"Around late May/early June, we decided it was time to give our audience opportunities to engage via virtual events," he says. "We didn't want to host a virtual festival, but more so offer intimate tastings that speak to Rhizome's focus on the great people and products offered by the craft beer industry." Leff's solution took advantage of the sudden popularity of livestreaming as people sought any sort of interaction while sheltering in place.
His virtual tastings are much more than just an opportunity to discover some new favorite beers. At a Rhiz(H)ome online event, as they're called, attendees actually interact with each other and the representatives of the breweries, cideries, kombucheries, etc., while tasting samples. Leff lays out the logistics. "Generally, our virtual events take place on a Saturday from 2 to 4 p.m. on Zoom," he says. "Packages support at least two people if not more, and they include 8 to 12 beers, cheese, charcuterie and brewery merchandise like glassware, koozies, stickers, etc. Representatives from breweries join us, plus there's usually a concert midway through the event performed by local Nashville-based musicians curated by [Grimey's and The Basement co-owner] Mike Grimes. Some highlights include geeky beer talk between professional brewers and homebrewers, virtual tours of participating breweries and special guests from breweries in Belgium."
Leff says the streamlined logistics have actually been a nice change for all involved. "In many ways, these virtual tastings are much easier to put together since they're geared toward 50 to 100 people. We have worked exclusively with Woodland Wine Merchant on our virtual events, so guests visit their locations to pick up a single box of all items for each event. From the guest's perspective, we have received great feedback, and we have seen a lot of repeat customers. They've shared that they really like the intimacy and direct access to people behind the participating breweries, and a few even said they would like to do this once our in-person events return. … We felt it was important to keep our audience engaged, as we've been part of the Nashville event and craft beer community for 10 years. It was very much worth doing, and allowed us to offer a fun and safe experience for our guests and help numerous breweries stay connected to consumers in a new way."
As for the future, Leff wants to remain flexible. "I do think in the colder months we'll continue offering virtual events. We hope that toward the third quarter of 2021 we can start activating in-person events again. We're working closely with the city/Metro Parks to stay up to date on how they're handling things. Our top priority is and will always be the safety of our guests, team and amazing partners, so while we are anxious to get back to work, we'll only do so when the time is absolutely right so we can deliver above and beyond the expectations that our guests (new and old) have from a Rhizome Production. Having 2020 as, let's call it an unplanned sabbatical, has allowed us as a team to consider how we move forward, things we want to change, things we can improve and how we want to grow when in-person events continue. In some ways having the year off will be very beneficial to us as a company, despite the stress and anxiety it may have caused."
Since 2014, Paul Patel has run the Nashville Wine and Food Festival — not to be confused with the bygone Music City Food + Wine Festival, although we always did anyway — which was produced in conjunction with his Corkdorks Wine, Spirits and Beer shops in Midtown and Green Hills. Patel made a quick decision in late March to change course. "We postponed the Wine and Food Festival to Aug. 8 in hopes that efforts to 'slow the curve' of the coronavirus outbreak would allow us to meet," Patel says in an email. "When that logic failed in June, we knew we'd have to cancel both the Nashville Wine and Food Festival and the Nashville Whiskey Festival."
But Patel didn't completely punt on festival season. "We still had the time and means to create a virtual whiskey festival that was relevant, timely and entertaining for our consumers," he says, "and immediately began to brainstorm ideas for what a virtual festival would look like, which brands would participate and how to make it a memorable event."
His Nashville Whiskey Festival has been one of the premier tasting events on the tippler calendar, attracting distillers from across the globe and presenting multiple days of educational seminars as part of the fest. But you can't just carry Wild Turkey's Jimmy Russell around door to door to charm potential Corkdorks customers, can you?
Patel capitalized on his connections and emerging technology for an ingenious solution that actually brought more customers into his stores to pick up their samples for tasting events. "In many ways we were able to keep the same format of multiple tastings and ticketed seminars held over three days," he explains. "The twist was found in meeting the logistical demands of preparing sample packages and food supplied by the producers, while bringing distillers/brand ambassadors online in a virtual meeting to speak knowledgeably about the product.
Both sponsors and attendees were enthusiastic about the new model. "For the most part everyone was on board almost immediately with the change to a virtual event," says Patel. "We sold out of half the events in a single day, which let us know that our guests were excited to participate in the festival regardless of whether it took place in a ballroom or a basement. Sponsors were equally optimistic and honestly curious to see how we would pull it all together."
It took a lot of work from his team, but Patel pulled it off. "We were given a lot of room for error because no one had ever participated in an online event of this magnitude before. We received overwhelmingly positive feedback, especially from our patrons, who were genuinely grateful that we produced an event rather than cancel as so many others had. I'm proud to say our virtual Nashville Whiskey Festival 2020 has become a template for other brands to execute similar tasting events with Corkdorks this year."
While Patel hasn't yet canceled his ballroom space at the Omni for the 2021 Nashville Whiskey Festival, he's hedging his bets. "The changes we made to continue the festival's legacy may be here to stay for the next few years, who knows? We are currently working to fill our calendar with tastings to bring to our fellow Corkdorks simply because we believe in educating our guests about the products in our store while keeping them safe. I think this is the new normal, and there will always be a combination of online and in-person events of this size going forward.
"Keeping the online aspect of the festival going opens up our corner of the world to a national/global audience of whiskey lovers and whiskey suppliers. As long as our team has the capabilities and people are not burned out on virtual meetings, we'll be keeping a lot of the changes we made to the festival's format."