A local community-health nonprofit focused on increasing fresh produce availability has partnered with a program in Texas to fundraise for a vehicle to mobilize their operation all over town. Trap Garden — a nonprofit founded and directed by Tennessee State University alumnus Rob Horton — leases spaces around Nashville to maintain community gardens that grow fresh fruit, vegetables and plants with an emphasis on providing healthy, high-quality produce to food-insecure communities. Drawing on TSU's agribusiness education, program director Kanita Hutchinson leads volunteers from disadvantaged communities in South Nashville to equip soils with requisite grid structures and sow seeds to deliver crop yields from those community gardens.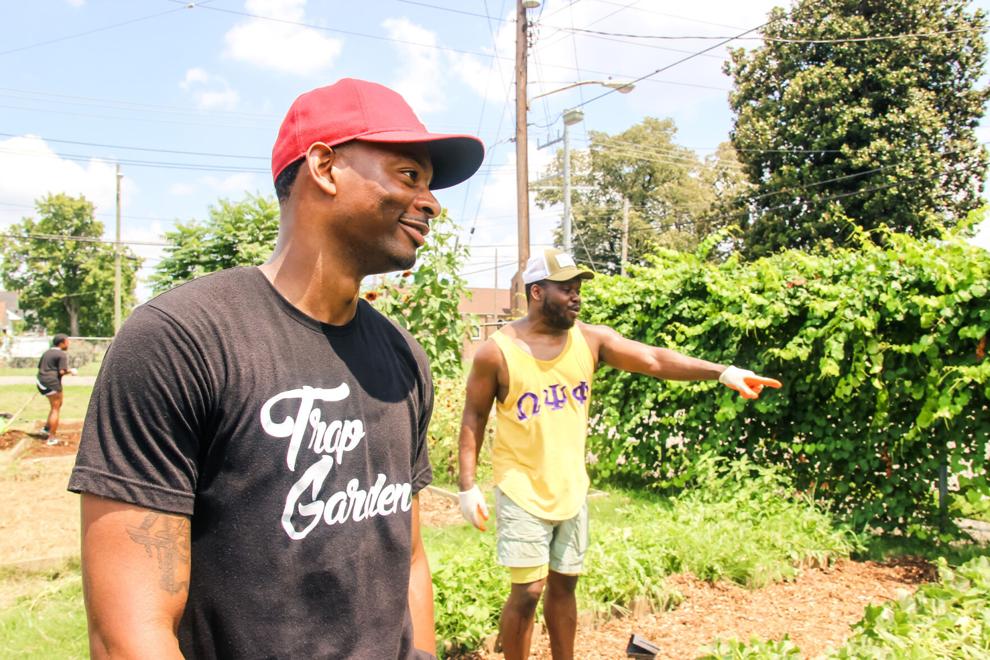 With the help of Austin, Texas-based Love, Tito's Block to Block — the philanthropic arm of Tito's Handmade Vodka — Trap Garden transitioned to fashioning GroBoxes in 2020. These boxes are supplied to residents with no affiliation or involvement in the community gardens who then can grow their own crops in the house or wherever they are. Trap Garden aims to expand the operation beyond South Nashville, where it primarily operates, to reach North Nashville and fan out in all directions, even into neighboring counties like Williamson and Wilson. To accomplish this, they aim to raise $25,000 for what they call a "pop-up truck."
"Our goal has always been to meet people where they are, to be able to pull up to any neighborhood and create a dope experience centered around food," Horton tells the Scene. "Love, Tito's Block to Block program is not only helping us to go mobile but allowing for us to create memorable experiences for the community."
Hutchinson explains that the purpose of Trap Garden is to inspire low-income residents to expend the same savvy that some put into illicit efforts like drug trafficking into providing themselves with healthy food options. Affordable foods tend to be unhealthy, which is where GroBoxes come in.
"The same energy people put into trapping, we want to help them put into this," Hutchinson says. Hence the name Trap Garden.
The fundraising effort began Sept. 1 and ends Sept. 30. Trap Garden is accepting donations that will be matched dollar for dollar by Love, Tito's to make it possible for the organization to acquire its custom truck and get it equipped for all their needs — and for recognition on par with that of an ice cream truck, Hutchinson says. They plan for the truck to play trap beats the way ice cream trucks play nursery rhymes to get noticed from a distance and invite community members to meet them in the street.
The multipurpose vehicle is expected to facilitate educational activations like the Trap Garden Master Class, grocery delivery akin to that of Instacart, pop-up events and more. Funds will also be used for substantial upgrades to the South Nashville Garden with help from the eco-friendly landscapers at Nashville Foodscapes.
This marks the second consecutive year Trap Garden has partnered with Love, Tito's, and both times, the latter has helped assemble and deliver 50 GroBox kits. In 2020, the two organizations were slated to launch their first in-person collaborative service project, but COVID-19 curbed their plans and caused them to opt instead for Love, Tito's donating funds to Trap Garden for COVID relief efforts. They followed up with Dallas-based Restorative Farms to bring its GroBox concept to Nashville through Trap Garden, and thereby provided the first fleet of 50 kits to residents so that people would not have to risk virus transmission to visit the garden for the soil and seedlings to grow their healthy foods.