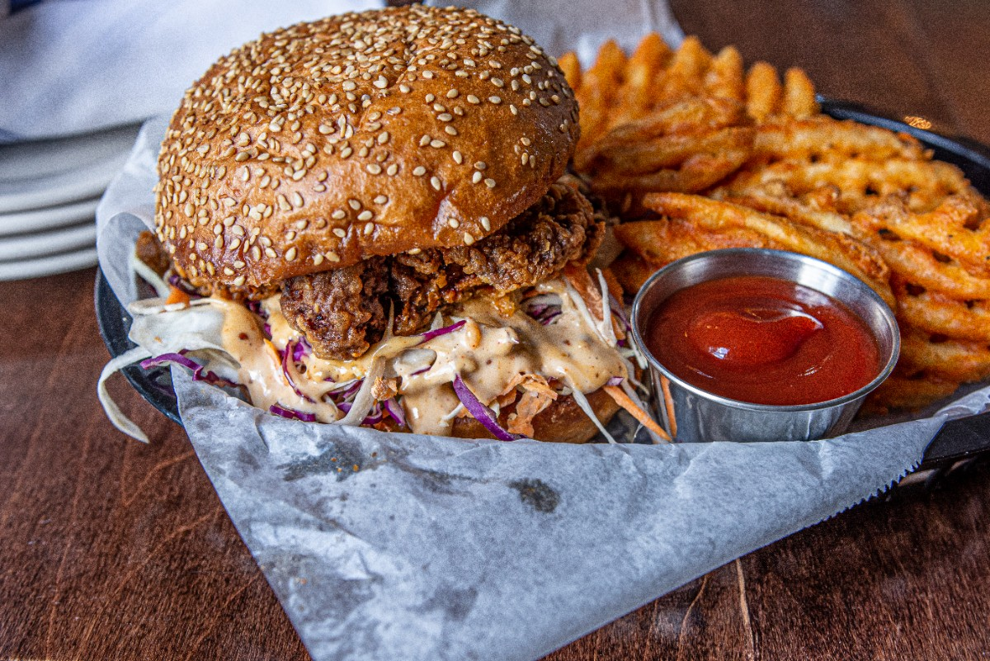 Much of the restaurant industry has had to rapidly change its business model due to COVID-19, and we're highlighting the Nashville places that are attempting to stay open. We will give you a critic's pick for a restaurant and a dish, as well as a running list of restaurants still open that you can support. Today: Mother's Ruin.
Really, the raison d'etre of many restaurants is to provide a place where crowds can gather to paradoxically share some intimacy among a crowd of like-minded diners. Mother's Ruin in Germantown was perfectly set up for that as soon as it opened, with cozy tables and communal seating options set close together in a comfortable former home. It featured a crowded bar run by efficient bartenders who relied on a short menu of pre-batched cocktails and fun beers to ensure that drinks flowed quickly to offer some social lubrication to the entire proceedings, which ran until the wee hours.
In other words, exactly what you probably don't want to be doing during a global pandemic. Mother's Ruin had quickly become an important neighborhood hang for Germantowners, and even though the team quickly switched to a carryout model, it lost some of the appeal without access to the amiable atmosphere. Now that some socially distanced dining is allowed (at least as I type this), folks can again gather in smaller numbers to enjoy the food and drink at Mother's Ruin. But I'm supposed to be reviewing takeout options, and I'll admit I'm still not quite ready to patronize indoor dining rooms yet. So I wondered how the food at Mother's Ruin held up, objectively, without the extra layer of conviviality and a couple cheap cans of Tecate. As it turns out, quite well!
Early in the pandemic, Mother's Ruin wasn't quite prepared for online ordering, instead taking orders via Instagram direct messages. While I do have an IG account (with exactly one photo on it), that just wasn't my preferred way of doing anything, so I put off carrying out from there until they got their online system online.
Management took that time to really get their systems in order, and online carryout or delivery options are very simple to use. I arrived at my desired time (early, I'm old), and idled in front of the restaurant while I called the front desk. In less than a minute, a gloved and masked employee was at my passenger window ready to efficiently deposit two bags in my front seat. Seriously, the whole transaction couldn't have lasted longer than a commercial break on the sports radio I was tuned into.
So, to quote the late complicated Southern rock poet Charlie Daniels, "I threw the man a twenty and jumped in and fired that mother up." (OK, it was $10.) The staff had been kind enough to pack the box filled with their addictive Old Bay waffle fries on top of the bag closest to me, and I'll admit that the alluring scent overwhelmed my self-control, so not all of the fries made it home. (Don't tell my girlfriend, but they really are an ideal road snack to combat I-440 road rage.)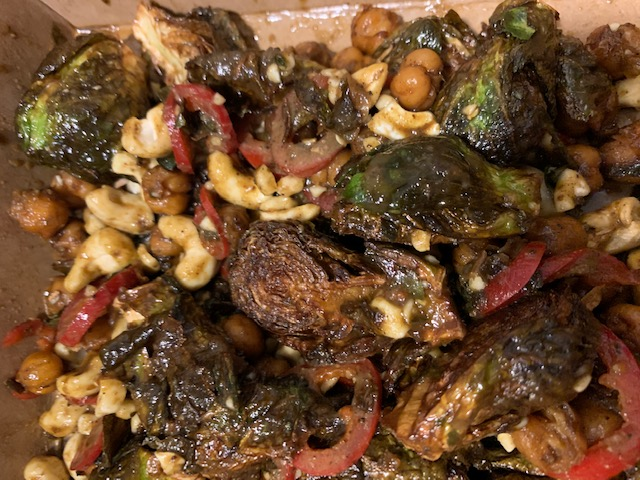 But it turns out we over-ordered, and everything we picked ended up being some pretty spicy food that slowed down our gluttony. In addition to those fries (oh, those fries!), we asked for a couple of apps, the hot and sweet Cholula Honey Wings and charred Brussels sprouts. Surprisingly, the wings weren't the spicier of the pair, although they were perfectly fine, cooked well even if they could have used a little more time in the fryer or oven to crisp up the skin and render a little more of the schmaltz out of them. We remedied that with leftovers the next day with an extra pass through the oven on a sheet pan, and they were even better as leftovers. The sprouts were appropriately carbonized to contribute that lovely roasted flavor that gave them their place in the spotlight on every menu a few years back, but the main punch came from the pickled chiles that were liberally applied to the dish, along with some nice crunchy cashews for textural contrast.
For mains, we picked two sandwiches, one healthy and one … not so much, but awesome. Our veggie option was the House Falafel Burger, an intriguing patty served with cauliflower tahini, cured cucumbers and radicchio on an fresh-baked bun. I really appreciated that it was not pretending to be a meat-substitute burger, nor was it just a huge smushed falafel ball. It's its own unique thing, a brand-new dish with a lovely crunchy exterior and an interior that manages to be creamy without leaning to mushy or pasty. I was also struck by the fact that the two sandwiches were served on different kinds of buns, a sign of the thoughtfulness of really building a dish from the plate up during menu creation.
That second type of bun was more of a pillowy brioche with sesame seeds, and it was an ideal accompaniment for the main ingredient that it contained, a shatteringly crunchy, huge filet of spicy buttermilk-brined fried chicken. The Spicy Chicken Sandwich at Mother's Ruin has immediately vaulted to top-five status in my local pantheon of chicken sandwiches. Almost too big to eat (I said "almost"), the massive breast was cooked perfectly, and juicy from edge to edge. The shredded slaw that topped it was also crunchy and not slathered in so much dressing as to make the delightful mess unmanageable. Oh yes, multiple napkins were used, but my sleeves came away unscathed. Yeah, it was a good thing that it was hot outdoors and I was wearing short sleeves, but I'd still order that sandwich in the heart of a winter night. Hopefully by then, I'll be able to enjoy it amongst the buzzing crowd of the dining room!
#CarryOutandCarryOn
---
Below is a list of Nashville restaurants (with links) remaining open for takeout and delivery during the COVID-19 shutdown. While some may have had existing relationships with delivery providers, most of this list are offering the service for the first time. Most offer curbside pickup, but check when you order. As this list is a moving target, please leave any changes, suggestions or omissions in the comments.
Places with takeout or delivery as of Wednesday, July 15
12South Taproom (Postmates)
312 Pizza Co. (Grubhub)
51st Deli (Uber Eats, Grubhub, Postmates)
51st North Taproom (11 a.m.-8 p.m., Thursday-Sunday)
Adele's/The 404 Kitchen (Friday-Sunday)
Arnold's Country Kitchen (Most delivery services)
B1281 (Uber Eats)
Barista Parlor (Postmates)
Barr's Music City Soul Food (Uber Eats, Tuesday-Sunday)
Big Bad Breakfast (DoorDash, Uber Eats)
Biscuit Kitchen by Loveless Cafe
Black Dynasty via Bar Sovereign
The Bluebird Cafe (Grubhub)
BoomBozz West (DoorDash)
Brightside Bakery (ordering open at 3 p.m. Tues.-Sat. for next-day pickup Wed.-Sun.)
Burger Joint (Uber Eats, Grubhub)
Caffé Nonna (Uber Eats, Postmates)
Carniceria y Taqueria Don Juan
Central BBQ (DoorDash, Postmates)
Cinco de Mayo (9 locations)
Char (Postmates)
Cilantro Mexican Grill (Eighth Avenue location)
City Winery (Grubhub, Uber Eats)
Corner Pub (DoorDash)
The Cupcake Collection (Sunday-Friday)
Doll's Family Cafe (Postmates, DoorDash)
Double Dogs (Uber Eats, Grubhub, Postmates)
Eastern Peak (Uber Eats, Grubhub)
Ed's Fish House (Thursday-Saturday)
Ellington's Mid Way Bar & Grill
Far East (Postmates)
Farm Burger (DoorDash)
Fat Kat Slim's (Uber Eats, Grubhub)
Fido (ChowNow)
Five Points Pizza (Postmates)
Folk (Postmates)
Frothy Monkey (Postmates, Uber Eats)
Ghot Wingz (Tuesday-Saturday)
Green Chile (Friday-Sunday)
Hattie B's (Uber Eats)
HoneyFire Barbeque Co. (Grubhub, DoorDash)
Hugh Baby's (DoorDash)
Hunters Station (The Grilled Cheeserie, Vui's Kitchen, Hugh Baby's, Tacos Aurora, Citizen Market)
IT'Z A Philly Thing (Wednesday-Sunday)
Jack's Bar-B-Q (Trinity Lane location only)
Jamaicaway (DoorDash, Grubhub, Postmates)
Jonathan's (Grubhub)
Josephine (Postmates)
Korea House
Lafayette Soup Company (Richland Park Farmer's Market)
Las Palmas (DoorDash)
Local Distro (Tuesday-Saturday)
McDougal's (Hillsboro Village only)
Miss Saigon (All delivery services)
M.L. Rose Craft Beer & Burgers (Postmates)
Moto (Uber Eats)
Nicky's Coal Fired (Postmates)
North Italia (DoorDash)
Nectar Urban Cantina (Grubhub, Uber Eats, Postmates)
Nomzilla! Sushi Et Cetera (Uber Eats, Postmates)
Pancho & Lefty's (Uber Eats, DoorDash)
The Party Line (Julia Sullivan's catering service through Strategic Hospitality)
Party Fowl (Uber Eats)
PDK Southern Kitchen and Pantry
Pinewood Social (Postmates, Grubhub, Uber Eats)
Pork Belly Cafe (Uber Eats, Grubhub, Postmates)
Prince's Hot Chicken (Nolensville Road)
Proper Bagel (Takeout & delivery only)
Red Bicycle (Postmates)
Red Perch Monday-Friday, 11 a.m.-2 p.m.
Red Phone Booth (DoorDash, Grubhub, Postmates)
Riddim N Spice (Postmates,DoorDash)
Rolf and Daughters (Postmates)
Rosemary & Beauty Queen (Postmates, Uber Eats)
Rosepepper Cantina (Postmates)
Saint Anejo (Uber Eats)
San Antonio Taco Co. (DoorDash)
Seafood Sensation (DoorDash)
Shugga Hi Bakery & Cafe (Friday-Saturday; Uber Eats) 
Slim & Husky's (DoorDash)
Southside Grill (DoorDash)
StrikeOut Wingz (Grubhub)
Subculture Urban Cuisine & Cafe (Uber Eats, Grubhub, DoorDash, Postmates)
Sushi Circle
Sweet 16th (Tuesday-Saturday, 8 a.m.-1 p.m.)
Tacos y Mariscos Lindo Mexico
Taj (Uber Eats)
TailGate Brewery (Postmates)
The Tasty Wheel (Postmates, Grubhub, DoorDash)
Taziki's (Postmates, Grubhub)
TennFold (Grubhub, Postmates)
TKO (Postmates)
Tower Market and Deli (Grubhub, Postmates, DoorDash, Bite Squad)
Union Teller (Uber Eats, DoorDash, Grubhub)
Vege-licious Cafe (Tuesday-Saturday; Chow Now)
Virago (Uber Eats)
Von Elrod's Beer Hall & Kitchen 
VN Pho & Deli
Walden (Postmates)
The Wild Cow (Postmates, DoorDash and Chow Now)
Wildman Smoothies, Soups & Salads
'Za Wood Fired Pizza (Grubhub)