If there is one thing we learned from the Great Sourdough Baking Experiment of 2020, it's that you need friends and family willing and able to eat all those carbs you bake. Jessica and Brandon Morrison started The Baking Notification Project to solve that exact problem.
In the summer of 2021, Jessica was taking a break from her work as a journalist and a chemist. She was baking often, but she, Brandon and their toddler son couldn't eat as much as she wanted to bake. (Fun fact: At 17 months, Henry can say "cookie," "cake" and "pie," but usually just calls everything Jessica bakes "more!") 
"The pastries were starting to pile up," she remembers. "I would text my friends and neighbors to try to give away what I baked, but it was always a bit hit or miss. I pitched the idea for an automated, opt-in messaging platform to Brandon, a software engineer, and we prototyped the BNP in a weekend." 
After a couple of months testing it with their East Nashville neighbors, in October 2021 they launched The Baking Notification Project, a text-centric system for home and hobby bakers to connect with their neighbors in order to share baked goods. Subscribers pay a monthly fee (around $10 per month) to get notifications when the baker of their choice has baked goods to share. Each baker explains how often they bake, what their specialties are, and where and when subscribers can pick up their carbs. Subscribers claim which items they want at no additional cost. When all the goodies are claimed, that round of notifications closes. Bakers choose the amount they charge, and all subscription fees go to the baker. In exchange, the baker pays BNP a monthly fee.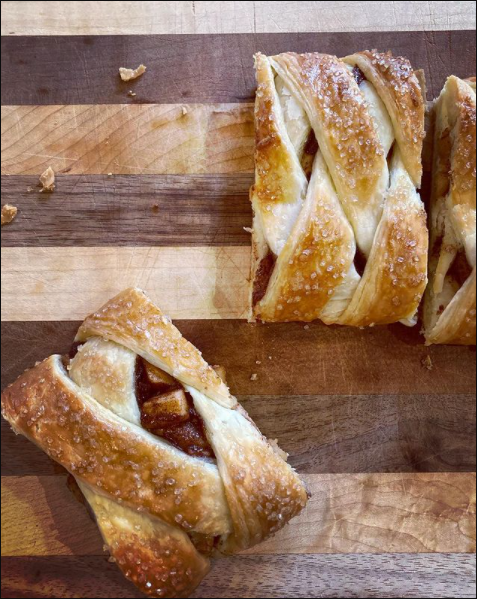 Morrison doesn't have any formal baking training, but her chemist background and her love of A Good Bake, a cookbook written by a chemical engineer, clicked for her. She started making croissants and other pastries. 
This month The Baking Notification Project introduced its first test baker (in addition to Jessica), Alexandra Payne. Payne used to bake and sell at the East Nashville Farmers' Market. She decided that baking was her passion and her therapy, but not her way to make a living. 
"I've continued baking in the years since, but it's hard to be motivated to do so when there's only so many family members you can bake for, only so many bakes that freeze well and only so many recipes that are easily halved or quartered," she says.
So she signed on to BNP as a way to make the cookie sandwiches, whoopie pies and breakfast pastries she loves, and as a way to be able to afford to experiment with new ingredients and new techniques. Payne recently moved to Madison and also hopes BNP will connect her to her new neighbors, too.
Morrison was clear with prospective bakers "that being an early tester on the platform requires a high tolerance for experimentation, tech hiccups and light chaos. We're a small team, and we're building the BNP while parenting a toddler and juggling other work. [Payne] has professional experience, and she was ready to get started right away."
Participating bakers at BNP are hobbyists and agree to follow Tennessee rules for home bakers selling food to the public, such as labeling requirements and restrictions on some food preparations.