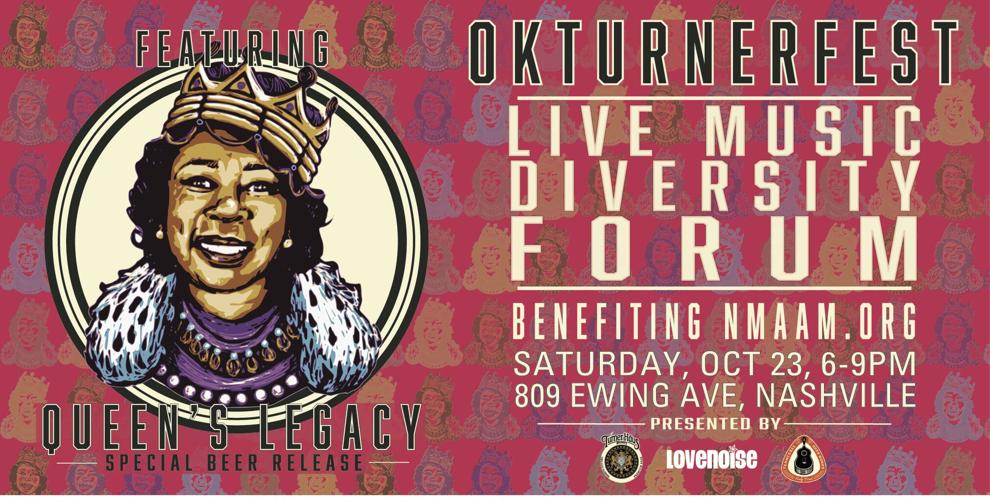 You may recall that earlier this year I told you about a collaboration between Tennessee Brew Works and Chicago-based Turner Häus Brewery to create a special beer to commemorate Black History Month. They also hosted a very entertaining and informative evening of discussions about diversity in the alcohol industry and two sets of live jazz courtesy of the Nashville Jazz Workshop.
To ensure that this wasn't just a one-off event to recognize a particular month, Tennessee Brew Works' head brewer Matt Simpson and Turner Häus Brewery's head brewing consultant Jason James have developed a new brew together named Queen's Legacy.
The Caribbean-style stout is brewed using 100 percent millet as the grain, a practice that is still common in African fermented beverages. The duo sourced South African hops and a yeast strain specifically to add a little fruity character to the earthy millet. But wait, that's not all!
The beer was then aged in Uncle Nearest Premium Whiskey barrels from the Shelbyville distillery that pays homage to the Black man who legendarily taught a young Jack Daniel how to make whiskey. The flavors of caramel, vanilla and spice traditionally contributed by the used barrels should complement the base beer quite nicely.
The collaboration is named Queen's Legacy in honor of Uncle Nearest's master blender Victoria Eady Butler, the great-great-granddaughter of Nearest Green. Butler chose the particular barrels by hand to contribute to the project, and she wants the name of the beer to recognize all the "queens," the matriarchs who have positively affected our lives.
They plan to officially launch the new brew with a celebration they're calling OkTurnerFest on Oct. 23 from 6 to 9 p.m. at Tennessee Brew Works at 809 Ewing Ave. in Pie Town. The event will feature tastings of Queen's Legacy, a tasting of Uncle Nearest Premium Whiskey led by an Uncle Nearest team member, plus featured Uncle Nearest cocktails, a sneak peek of Turner Häus Brewery beer releases, performances by Brassville, Jason Eskridge and Larysa Jaye, and a panel discussion that will again look at diversity in the alcohol industry.
Proceeds from all OkTurnerFest ticket sales will benefit the new National Museum of African American Music, the only museum dedicated to preserving and celebrating the many music genres created, influenced and inspired by African Americans.
Tickets are now available for $75 each or two for $125 at this Eventbrite link. Doors for ticketholders open at 4:30 p.m. with the panel discussion starting at 6 p.m. Tennessee Brew Works' full dinner menu will be available for purchase until the first intermission.
Christian Spears, founder and president of Tennessee Brew Works says he is proud of this second project meant to celebrate community through craft beer. "We are honored to once again partner with Turner Häus Brewery and now our neighbor, Uncle Nearest Premium Whiskey. OkTurnerFest celebrates the power of collaboration, diversity, and unification," says Spears. "We can't wait for our guests to try Queen's Legacy and enjoy a truly unique hand-crafted beer touched by the essence of Uncle Nearest Premium Whiskey."